Available in two guises, the 2019 Mercedes-Maybach S-Class retains the same 463 hp 560 4MATIC and 621 hp S 650 models as before. While the luxury flagship car is almost the same on the inside, the outside has seen several improvements. A pinstripe suit-inspired grille has been borrowed from the Vision Mercedes-Maybach 6 concept, while the two-tone paint scheme is now available in nine colour combinations and looks even better atop one of three new 20-inch wheel offerings. Read ahead to find out more…
The refreshed Maybach S-Class differentiates itself from the standard sedan with a new grille that uses vertical slats instead of the standard horizontal ones. Metallic trim around the lower fascia gives the vehicle a flashier look, too.
The biggest change though, is noticeable in its profile. The Maybach S-Class measures 215 inches (5,461 millimetres) in length and rides on a 132.5 inch (3,365.5 mm) wheelbase. These figures make the more luxurious sedan nearly 10 inches (254 mm) longer in both metrics, than even the long-wheelbase S-Class Sedan. This largely translates to a lot of extra room for folks sitting in the back.
The Mercedes-Maybach has a little something for the chauffeur, too, beyond plush leather seats with massage functionality. This S-Class comes in two flavours: the S 560 4Matic with a 463-horsepower V8 and the S 650 with a 621 hp V12. Should the said-chauffeur need to get somewhere in a hurry, the Maybach obliges with 0-60 mph in 4.8 and 4.6 seconds, respectively.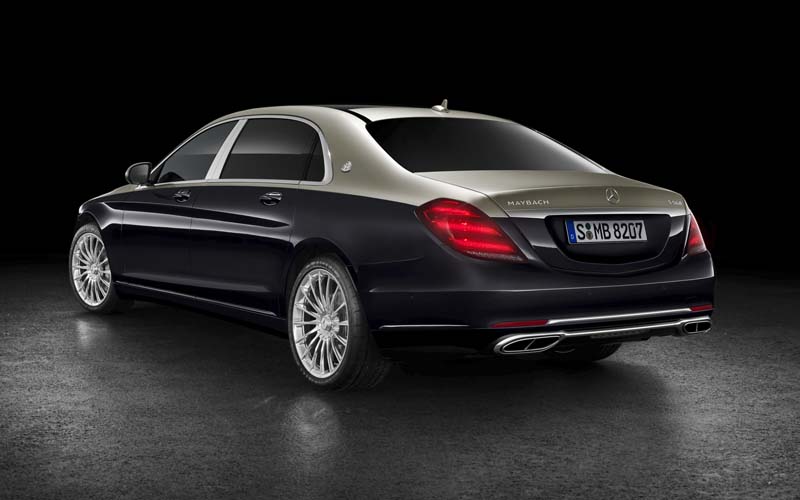 Visually, the 2019 model instantly cuts a more elevated figure than before. The grille, inspired by a pinstripe suit, strikes a note of sheer exclusivity. A two-tone exterior paint finish — now available in nine different colours — conveys the vehicle´s classic pedigree. An optional double clear coat lends an unsurpassed sense of elegance to darker paint options — with the second coat hand-applied by trained specialists.
The increasingly spacious interior continues to host a range of comforts and conveniences to cater to passengers like no other vehicle. These include massaging and reclining Executive rear seats, individual power seats with optional folding tables, as well as the finest stitching, materials and colour combinations. Enhanced by S-Class driver assistance technology, the world´s finest automobile has never been more formidable.
– Source: Press Release