Dipannita Sharma had been eager to visit Italy ever since a brief visit to the nation's capital some years ago, when she fell in love with the sheer beauty of the landscape. When she finally got the chance to travel there with her husband, it was an opportunity she just couldn't turn down. Check out what Dipannita got up to in this travelogue!

I'd been dreaming and hoping for a trip to Italy for a while now. I visited Rome for a fashion show many years ago, but it was a very short trip. That's when I made up my mind to travel throughout Italy. Since I'd heard so much about the country's different terrains and stunning architecture, I knew I wouldn't be satisfied with seeing just the capital. I was really looking forward to a more comprehensive trip, which finally came earlier this year.


My husband and I both enjoy travelling. He's an excellent travel partner; we never have differences in what we want to do because we enjoy similar things. I'm not too much of a group traveller, but one or two heads for company is great. We covered the Lake Como area of Lombardy, Venice, Rome, Florence and Milan. An entire week was dedicated to the Tuscany region alone. Lake Como was just so charming, especially the settlement of Bellagio. The area is full of such hamlets around the lake, which you get across by boat – very romantic!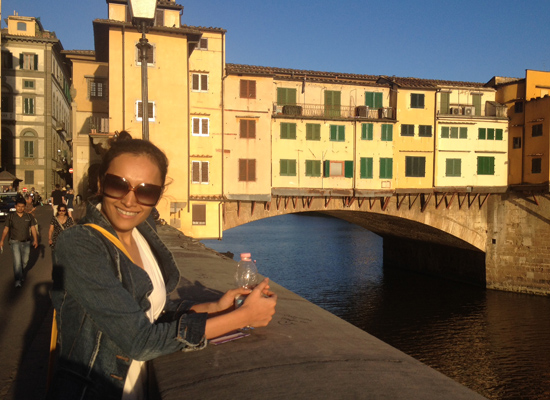 Milan is known primarily for its shopping and football teams, but what I thoroughly enjoyed was the changing light of the sun on Il Duomo di Milano. This stunningly beautiful structure with intricate details features tiny towers resembling icicles, with figurines on each. Sitting at one of the open-air cafés at Piazza San Marco in Venice as the sun is setting, while well-dressed musicians play lilting music, is a memory that'll stay with me for a long time.




The Colosseum has always been my definition of Rome, so spending half a day there made my trip worthwhile. But Rome has much more to offer than this. The global city is architecture at its best; at every corner, you can't help but draw a sharp breath when catching a glimpse of the many spectacular structures. My favourite locations were Piazza Venezia, Fontana di Trevi, and the Spanish Steps, where you can sit back and watch the world go by.

Tuscany and its capital of Florence were the highlights of this trip. I'm so glad we spent six days in this beautiful haven, where I walked and walked but never felt tired. If there's one place in the world where you can feel art in the air, it's got to be Florence. The walks by the river and across the many bridges were just wonderful, but the must-see sites are the Museo Galileo and the Uffizi Gallery. Spend an entire day (or several) in and around Il Duomo di Firenze, one of the most beautiful structures in all of Italy. Take a walk, albeit a long one, to the hilltop Piazzale Michelangelo, which affords the most unbelievable view of the city.


We stayed in a variety of accommodation, ranging from hotels to hired apartments to homes. In terms of culture and tradition, Italy is a lot like India. The people are extremely warm and very proud of their rich history, and family and food dominate their lives. My husband and I would strike up conversations with the locals to get amazing information about the history of the area. One young restaurant owner we met in Florence was most bothered by the fact that his patrons were more concerned about whether he had Wi-Fi than about how his food was! 'Can she survive one day without this thing called Wi-Fi?' he asked my husband in a thick Italian accent! Unlike some other European countries, Italy is ideal for vegetarians.

Though they are diehard fans of meat and fish, they rely on a variety of pasta, pizza and risotto dishes with vegetables and cheese as their base ingredients.

I highly recommend this trip to anyone who wants to see the world. Italy is a beautiful country with happy people, good food and great shopping. It's a vast nation, so my advice is to plan your itinerary carefully to save travel time between cities and regions. It's also important not to pack too much into your schedule if you have just two weeks (or less). Our itinerary was evenly planned, because we came back home feeling as though we'd thoroughly enjoyed our experiences in each place. – The Creative Access