With the 2018 Regal Sportback, Buick builds on its track record of making bold moves outside traditional vehicle segments to deliver unique customer offerings that fit modern lifestyles. The Regal Sportback provides a sleek, sporty, coupe-like design, the spirited performance of a premium sports sedan, and unexpected versatility in a single sophisticated package for a perfect balance of form and function.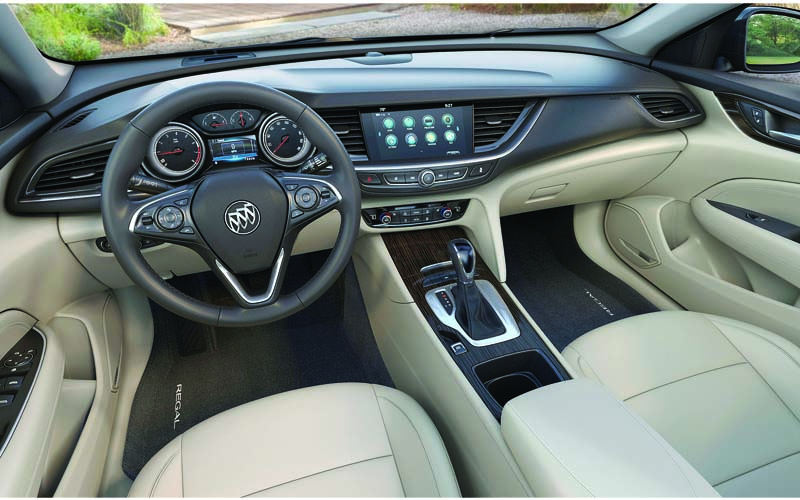 The coupe-like roofline captures the expressive style and passion customers want, while the five-door layout enables easier access to cargo space. With the split-folding second row seats in place, the new Regal Sportback offers 31.5 cubic feet of cargo space, more than twice of the 2017 Regal.
In keeping with its sporting nature, the luxury car's cabin takes a driver-centric approach, with the centre stack skewed towards the driver for a cockpit feel. The cabin's craftsmanship is characterised by clean lines, uncluttered surfaces, and premium seating materials.
The Sportback's spirited performance comes by way of a 2.0-litre turbocharged four-cylinder engine that produces a GM-estimated 250 horsepower and 260 lb-ft of torque. The power is routed to the front wheels via an all-new nine-speed automatic transmission. An available 295 lb-ft of torque is sent through an eight-speed automatic transmission, on models with optional intelligent AWD with an active twin-clutch differential. The engine comes standard with advanced start/stop technology.
With the new Sportback, Buick continues to establish itself as a leader in all-wheel-drive technology. Also available on the Regal TourX, Envision, and LaCrosse, Buick's innovative new system uses two clutches at the rear wheel for seamless, smart torque distribution.
The exterior design is visually low and tailored, hinting at an advanced body structure that is stiffer, stronger, and approximately 200 pounds lighter than the previous generation Regal. Customers will notice this reduction through more athletic handling and improved efficiency. With wheels pushed farther to the corners and a wheelbase stretched more than three inches of its predecessor, more expressive proportions are paired with improved passenger space.
The chassis has been tuned for refined control and a confident everyday driving character. AWD models feature an all-new five-link rear suspension that provides improved road noise isolation and tuning designed to match that drivetrain's advanced capabilities.
The 2018 Regal Sportback offers new levels of crash prevention and protection. It is the first Buick to offer a standard active hood pedestrian safety system that senses the imminent impact of a pedestrian between 16-30 mph. It uses a pyrotechnic actuator to lift the back of the hood up about four inches to lessen the impact and potentially reduce injury.
Every Regal also comes equipped with an OnStar 4G LTE Wi-Fi hotspot (AT&T data plan purchase required after limited data trial period) and five years of the OnStar Basic Plan at no additional cost.
Among other benefits like an industry-leading myBuick app, this connectivity plan features OnStar Smart Driver, an opt-in service designed to help Buick owners maximise their vehicle's overall performance and become better drivers.
A seven inch infotainment system with Apple CarPlay and Android Auto compatibility is standard, while an eight inch system with available embedded navigation is optional. Bose premium audio is also available, while Sportback offers standard active noise cancellation on all AWD models. – Source: Press Release