Understanding India's COVID-19 Vaccines

It's been more than a year since we discovered the deadly virus that brought the world to its knees. A lot has happened across the globe ever since then. From the outbreak of SARS-CoV-2 in Wuhan, China, in December 2019, the virus spread all across the world in no time. Countries, states and cities were shut down, hospitals ran out of beds and healthcare facilities, thousands and thousands of people got infected each day in India and abroad, families lost their loved ones, and people were forced to follow the new norm in order to keep themselves safe. Once the number of infected people went down a little, the lockdown was partially lifted and people and industries got back to normal life. The trials of the vaccines began and so did the vaccination drives. Now after the surge in the number of cases in India, Maharashtra and a few other states have gone under lockdown again. After all this, one thing we know for sure is that the pandemic is real and it's here to stay!
The threat of novel Coronavirus is way bigger than what one can imagine. Specifically speaking of India, the spike can be seen clearly. Reportedly, on March 18, 2021, Maharashtra recorded 25,833 new Coronavirus cases. This is the highest one-day spike ever since last year. And several other states, including Punjab, Kerala, Karnataka, Gujarat and Chhattisgarh, have seen the surge too.
On one hand, the new wave is hitting the country and on the other, the vaccination drives are picking up pace. Union Health Minister Harsh Vardhan, on March 19, 2021, said that the COVID-19 vaccination drive would be extended in the coming days. He assured people to get vaccinated and not have any misconceptions about the two approved Indian vaccines Covishield and Covaxin administered in the country. The Health Ministry also said that India has crossed the landmark milestone of four crore COVID-19 vaccinations.
With all of this happening in the country, we spoke to Dr Hemanth Nandigala (MBBS, PGDM), who is currently working with a Pharma/Biotech company called Virchow Biotech(p) Limited, and tried to get a better understanding of several aspects of COVID vaccines, specifically Covishield and Covaxin. – Srivalli
Understanding Vaccines
There are two proved vaccines as of date, one Covishield produced by Serum using the technology from Oxford, and another indigenously developed Covaxin from Bharat Biotech, with the technology of their own platform, which they have used in the past. Both are using different vaccine strategies to make it work against the Coronavirus. Note that many strategies can be used to develop a vaccine.
Covaxin: Dr Hemanth tells us that Bharat Biotech uses a traditional technology where they take the Coronavirus and inactive/kill it by using some chemical means or materials and then inject it into the body. This is a well tried out vaccine strategy. The theory is that you have already dismembered or broken that virus so that it cannot cause the harm as would the intact virus. But still, because it retains the identification markers as seen in the intact virus, our body will produce antibodies to attack the virus.
If an intact virus attacks the body instead of this, the body will be overwhelmed with the disease in no time. There is not enough time for it to react in that case, but because the dead virus is given more like learning to the body, the body would develop antibodies and be prepared for any forthcoming attack of the intact virus. So technically, if an intact virus enters our body after vaccination, the body will use the antibodies developed for the killed virus to fight it. This is the vaccine strategy that has been used forever; Bharat Biotech uses that and has utilised the same strategy for other vaccines produced in the past.
Covishield: Serum utilises a slightly different strategy; they take a part of the virus that actually enters the body. If one notices the pictures of Coronavirus, one sees there are spikes to it. So Serum takes the part called spike protein and puts it into a different virus (cold virus) that routinely attacks a human being, known as Adenovirus. That virus is then put into the body. Now since our body knows how to react to the cold virus, it also reacts to the protein part of the corona that it is carrying. That's how you develop an antibody for it.
Both use technical strategies to teach the body to fight the disease. In this manner, all the people coming out with a vaccine will have many such strategies. So these are the two that are currently authorised in India and are being used.
Sputnik V: Russian Direct Investment Fund and Indian drug maker Dr Reddy's in last September signed a pact for the latter to study Sputnik V and distribute does to 100 million people after its approval, which was later increased to 125 million. The efficiency rate of Sputnik V has been 91.6 per cent in the interim analysis of Phase 3 clinical trials. According to the Business Standard reports this included data on 19,866 volunteers in Russia who received both the first and second dose of the vaccine.
Though Sputnik V is still under review for emergency use authorisation in India, we asked Dr Hemanth about the strategy it uses. He notes that Sputnik is another variation that uses an interesting concept. It is almost similar to the Serum's vaccine; it also uses a cold virus and another virus used in the Johnson and Johnson's strategy. What they believe is that no single cold virus will give you effective boosting; hence they use two different viruses, one shot of each.
"All these are theories; you think this will be working; the proof only comes on clinical trials. Now, as of now, the data for all three has seen a decent response," he added.
Why do we need two doses of Covishield or Covaxin?
The first dose is to infect, and the other one to boost that response.
Do vaccines carry any risks?
It does involve some amount of risk; it is an intrinsic part of any vaccine. The worrying part is more in the first and second phases. If there are drastic causes of life-threatening situations, they come out in the first and second phase of trials. First studies, the risk, second studies what doses are to be given and third phase confirms these two. It should not be something to worry about; I won't say it's immaculate as any vaccine carries some risk, including our old Tuberculosis and Polio vaccines. But we have always taken those. Similarly, this will have that too, but it will be worthwhile.
Does the vaccine protect us in the long RuN?
The long term protection of data is yet to come for all vaccines because they have only been tested for six months at most. We don't have data beyond that for any vaccine in the world. Usually, nobody rushes into the vaccine of this nature; they study it for years. But, in this case, we don't have time, people are dying, and so they have taken calculated risks, saying that as long as it doesn't harm, and as long as there is a certain amount of protection being achieved, let us not bother too much about long term consequences and protect as many people as we can. For instance, everybody thought that we'd be done with Coronavirus in January, but it's March now, and we have seen the surge. The second wave is on the way, and this will go up. So the only thing to counter this is by effective deployment of the vaccine. So you need to do that; even if it gives you short term protection, you can hopefully prevent the spread of the disease by cutting the transmission; even if it doesn't help in the long run. As of now, cutting the transmission and protecting as many as we can is important.
Vaccine for Different Bodies
Our bodies react differently; some can produce more antibodies, some can produce lesser antibodies, and some might not produce any. For instance, even in this pandemic, we have seen some people recovering faster than others. So the vaccine too reacts differently to different bodies.
Who can get vaccinated?
Other than pregnant women, children and some very elderly immunocompromised people such as cancer patients, the vaccine is recommended for all population with existing diseases as well, including diabetes, hypertension etc. Having said that, the approved indication, since trials were not done in such advanced conditions, on the leaflet may not include every patient, but the doctor can take a call if it can be given or not.
Usually, in the trials, you first test it in healthier people than you go after diseased people. But based on the data seen in healthy people, they are recommending in diseased people as well. The trials are underway for children.
Vaccine Controversy
As reported by numerous publications, several European countries have suspended the use of the AstraZeneca COVID-19 vaccine after people reported blood clots post-inoculation. This led Indians to question Serum Institute's Covishield vaccine, which is developed by AstraZeneca and Oxford University. According to PTI reports the centre had recently said that there are no sign of concern regarding the use of Covishield and hence the vaccination drive will continue.
Speaking of suspension of vaccines, Dr Hemant comments, "This is a call that needs to be taken by individual countries based on the threat perception of the virus. The cases reported for blood clots for Serum's vaccine abroad and Europe are very minimal. In a country like Europe, they have the luxury to take other vaccines; they can pause, study, check links and carry forward. The cases are far too small in number to get a conclusive result to ban the vaccine. However, they are studying."
Adding to the Indian vaccine, he said, "Covaxin at this point is available in smaller quantity, and with the cases rising, it's a risk v/s benefit situation. And at the end of the day, saving lives is what matters."
On similar lines of the possible side-effects, the mohfw.gov.in states that, "COVID vaccine will be introduced only when the safety is proven. As is true for other vaccines, the common side effects in some individuals could be a mild fever, pain, etc., at the site of injection. States have been asked to start making arrangements to deal with any COVID-19 vaccine-related side-effects as one of the measures towards safe vaccine delivery among masses."
How effective are vaccines?
As of date, the trial data does not exist for the variants, as we have not had enough variant cases to be tested on. There's not enough data to comment on it. Having said that, in places where the vaccines have been deployed and where there is enough variant strain in population, this particular vaccine seems to have worked for the UK, and Brazilian variants. The South African variant saw less success; also, we don't know how much of the South African variant India has. Tomorrow if you have to work against this variant, you'll have to work on the vaccine and redo it.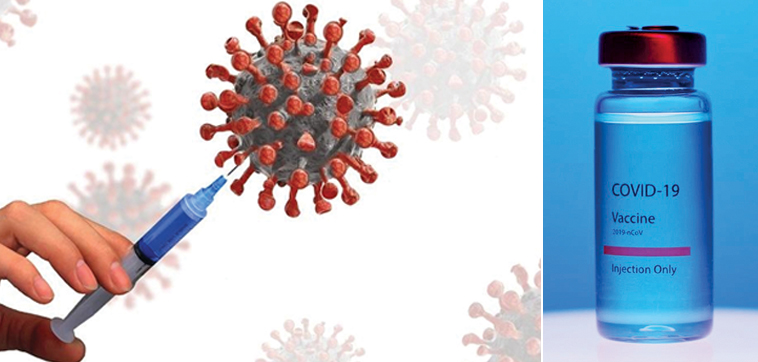 As Bharat Biotech uses a killed coronavirus for the vaccine, it is being said that it might work on South African variant as well. However, there is no data as such.
Storage Measures
Vaccine generally needs to be stored at 2-8 degrees Celsius. Most of these vaccines can be stored in a regular refrigerator, not the freezer but a regular refrigerator. That should be sufficient. When it needs to be transported, usually it is done in an ice pack kept inside a box that doesn't melt the ice too fast.
What impact did COVID-19 have on the pharmaceutical industry?
In general, what it has brought forth in terms of COVID is the idea that the pandemic is real. Earlier, we only heard and read about something like this but never saw such a worldwide spread, which has affected every sphere and profession of life. Pandemic response will improve in future and pharmaceuticals, being a major part of the response, will improve their speed towards it. Earlier it used to take 4-5 years to come out with a vaccine, but because of COVID, it has been done in one year. And not just one or two; you have around ten approved vaccines across the world. The world will probably have many more numbers by the end of the year. It is unheard of in history. They have deployed strategies, resources, tried everything; the political will to enable it, the regulator to review it, the financial institutions to fund it, all things got together, which will stay with our lifetime.
At this stage, how can the country contain a virus?
As citizens, we need to follow the same sort of protocol that we have followed during the height of lockdown. Social distancing, washing hands, masking, etc., are all our duties. That is how it came down to a certain extent. But we seemed to have relaxed as we saw fewer cases and every county who did so saw a surge. Within our friends, and family we have seen everyone relax and if this continues, it probably will worsen the situation.
From the government side, a lot of things need to be done. The state government, should quickly deploy the same measures of lockdown, partial lockdowns, curfews etc. What the central government can do is direct the vaccine to locations where they see the surge. Say Maharashtra sees the spike, I would say deploy more vaccine there; make sure in those surroundings vaccinations happen quicker. If not now, in a month, you'll get it under control. The virus will continue to spread and make it worse. So vaccinate more and more. Once the centre does so, the states can facilitate that and make sure it's happening properly.
Is masking important for vaccinated people, too?
Yes, most definitely. Vaccinated people need to put their masks on, too, because they can transmit the virus to another person who hasn't been vaccinated. And secondly, we don't know if it's a variant of the virus that is in play. Only because you have been vaccinated doesn't mean you don't need a mask. We still need to wait for the diseased level to come down. Vaccination being 100% effective is a myth to a certain extent. As long as it's the same classical strain, it doesn't cause severe disease. You might be infected even after vaccination, but the chance of you getting a serious disease is nil. But, what about the variants that can affect your body and the ability of you to transmit it to other people!
Herd Immunity
It will work by the time everyone's antibodies are developed. They say that around 50 % of the population has to have antibodies for that and we are still away from it.
Role of Homoeopathy
For the past one year, there have been a lot of conversations about combating COVID with homoeopathy. And there were different opinions on the topic. Dr Ruchika Bhalla, MD (Homoeopathy), Founder & Consultant Homoeopath at Vihaan Homoeo Clinic, New Delhi, gives us an additional understanding. Speaking of treating COVID patients, she says, "The vaccine came recently, until now we didn't have any other option, and speaking of conventional treatment there is no dedicated medication for only COVID or specific anti-viral for this novel Coronavirus. But in homoeopathy, what we have seen in the past is a few epidemics, which have been successfully dealt with, with homoeopathy. Based on that, the government issued an advisory recommending certain medicine, which was given to boost up the immunity. So that is what we have done during the lockdown time."
She further adds, "We gave medicines which acted as immunity boosters. When it came to the treatment part, it was an add-on."
Dr Ruchika shares with us that at present, it has been seen to reduce the duration of complaints and also their severity. "Say if a patient is having conventional treatment, so with homoeopathy as an add-on, we can reduce the duration of complaints and boost recovery."
So how does homoeopathy work?
"The basic principle of homoeopathy is very different from that of allopathy. In homoeopathy, we have medicines that work on the basis of symptoms. So in COVID, too, we saw the symptoms and matched that profile with available medicines, keeping in mind which will act the best for that particular set of symptoms. Every patient has a certain set of pathological features in every disease, be it because of a virus or a bacteria, the body reacts a certain way. And homoeopathy acts on that level –how your body is reacting to a certain invader."
"People have been very sceptical about going for homoeopathy. I would say as an add-on treatment; it has really worked wonders. So one shouldn't hesitate to approach homoeopathy in such situations," she notes.
Can vaccinated people continue their homoeopathic medication?
Yes, they can continue with the medicines provided. However, they need to inform their homoeopathic doctor about the vaccination. The doctor might ask to stop the medication for a while, as when vaccines are given, we expect some kind of fever or rash because of the body's defence. So, we prefer to pause the medication for some time, and continue later.