Tribute to Meena Kumari on her 50th death anniversary

March 31, 2021, marked the 50th death anniversary of Indian cinema's one and only superstar, Meena Kumari, whose iconic beauty and indubitable acting skills lives on and have a special place in the hearts of millions of her fans and admirers. I, being one of them, write out this humble tribute to our beloved tragedienne, Meena Kumari, the one who remains immortal for her exemplary acting skills.
She played the "damsel in distress" to perfection! Her beautiful eyes, full of pain, and her deep voice, dipped in sadness, created an effect that established her as an irreplaceable and unique actress.
A timeless beauty, here we pay tribute to her elegance and undoubtedly to her acting and poetry skills.
She reined the Indian film industry for 30 years and closed her eyes at the age of 40. Even today, Meena Kumari's name evokes so many sentiments – melodrama, tragedy, pain, sacrifice, sorrow, loneliness and sufferings. Her unhappiness was appreciated in each role she played in many movies. Not only was she an actress par excellence but also a poetess. She recorded some of her gems under the guidance of iconic music director Khayyam under the pen name "NAAZ."
Born on August 1, 1933, in Bombay, she was the second child to Ali Bux, hailing from Punjab and Iqbal Begum, originally from Calcutta. She was named "Mahjabeen", meaning "forehead of the moon". Both her parents had careers as struggling stage artists. According to a popular Bollywood legend, Meena's father had left her at the door of an orphanage as a child. After some time, he returned to fetch the baby and, to his shock, he found ants crawling all over her body. This was one of those incidents that remained in her subconscious mind.
Meena Kumari started her career at the age of 4 and was taken to the studios to supplement her family's income. In 1939, she started as a child actor in the movie Leather Face and soon became a popular child artiste.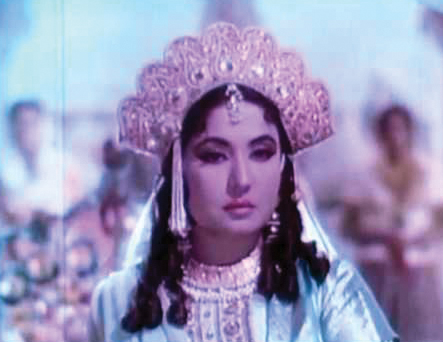 Director Vijay Bhatt rechristened Mahjabeen as "Baby Meena". Given her early start, she had no formal schooling but was fluent in many languages and a voracious reader. She never went to school in any meaningful sense, and her education was the result of private tuition, and more significantly, the result of individual interest; in every sense, she was self-educated.
It is said that Meena Kumari never travelled to outdoor locations without her books and her favourite set of pens and papers. After pack up, she usually spent her time in her room jotting her thoughts on paper, and when she got exhausted, she went down for a stroll in the hotel garden because she liked watching the moon.
The film that won her fame and also almost killed by drowning was Vijay Bhatt's Film Baiju Bawra in 1952. From here on, there was no looking back for Meena Kumari. In years to come, Meena Kumari won four Filmfare Awards in the Best Actress category and was the recipient of the inaugural Filmfare Awards (1954), Best Actress Award for Baiju Bawra and had a consecutive win in the second Filmfare Awards (1955) for Parineeta. Meena Kumari made history at the 10th Filmfare (1963) by receiving all of the nominations for Best Actress and won for her performance in Sahib Bibi Aur Ghulam. She was the only actress in Hindi cinema to have been nominated thrice for the Best Actress award in the same year. She appeared at Filmfare award functions in her trademark white sarees and recited her own or Faiz's ghazals on such occasions.
Prominent actors like Dilip Kumar, Nargis, Madhubala, Pradeep Kumar, Raj Kumar, and many more were all great admirers of Meena Kamari's talent. Music maestro Naushad Ali found her to be a quintessential actress with a golden voice. Her voice had a definite metallic tinge and was perfectly suited for reciting Ghazals and Nazms that she often did. Eminent filmmaker Satyajit Ray described Kumari as "undoubtedly an actress of the highest calibre". Legendary singer Lata Mangeshkar mentioned that Menna Kumari was one of her favourite actresses, and her voice suited her the most. If you ask me to define her career as well as her life, I would describe it by those two stanzas from one of her poem, "Tumhara naam hai, yaa aasmaan nazaroun mein smiat gaya mera gham-ghasta zidagi ki tarha. And the other one ……….. "Tum kya karoge sun kar mujhse meri kahani, Be luft zindagi ke kisse hain pheeke pheeke". And everything else that comes in between.
In 1952, on the sets of one of her films, Meena Kumari fell in love with film director Kamal Amrohi. They got married and produced a film considered to be their own love story, Daera (1953). Meena Kumari often Kamal as "Chandan" and Kamal to Meena as "Manju". Pakeezah was their dream project that followed. But sadly, due to their strong personalities, Meena Kumari and Kamal Amrohi started to develop conflicts in their married life which led to their separation in 1960 and ultimately divorce in 1964.
Highly affected Meena Kumari, who was once a happy woman, became depressed and found solace in alcoholism. Her life and prosperous career were marred by alcoholism, troubled relationships, and an ensuing deteriorating health. At the same time, this loneliness became the solitude she needed to create poetry and beauty for the world. She became a "shayara" to the core. She had started composing poetry, and in her later years, Kaifi Azmi acted as a mentor. In her poetry, published after she died in 1972, we can sense the haunting loneliness that was part of her being. No friendship or relationship could make that loneliness leave her.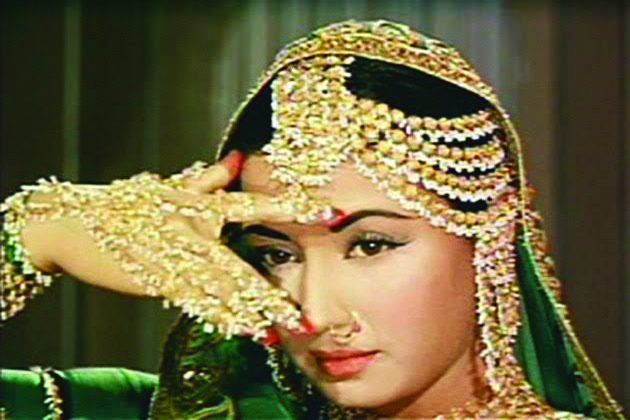 The movie for which I believe Meena Kumari was born was Pakeezah. No other actress could ever have brought to this film what she did. She lived the role and became Pakeezah.
It took over 14 years for the movie to complete, mainly because of Kamal and Meena's tumultuous relationship. Pakeezah was made for her by her husband Kamal Amrohi to showcase this beautiful personality and immortalise her posterity.
Every line he wrote for Pakeezah, had Meena in mind. He wished and succeeded to present her on the screen as no one had before: beautiful, sad, sanguine and dejected. He captured as many dimensions of Meena Kumari's personality in this movie- her beauty, sadness, her regal look, her poetic soul, her languid movements and her golden voice – all beautifully depicted in Pakeezah.
The surging desire "to love and be loved" was the entire theme of Pakeezah, and it was this theme in which Meena saw a reflection of her own life. Meena Kumari felt she was born with a surging desire to love and be loved. During its making, it seemed that the story of the nautch girl in Pakeezah was Meena's own story, and really on the screen, there was no need to act. Nobody could reach the heart of her loneliness. Yet, when she died, as the woman who had held sway over her audiences for two decades, the entire nation mourned her loss, and her admirers still await another actress like her.
During her last days, she sold her bungalow to co-star Mumtaz and helped rescue the bankrupt director Sawan Kumar Tak, who was making Gomti Ke Kinare (1972). Meena Kumari shot for the film despite her failing health. It was her last film, which released posthumously after she succumbed to liver cirrhosis on March 31 1972. It was the death of a star who had in everything she did and in the life she had lived showed rare passion and talent, and reflected through the integrity of her acting skills the secret hopes, fears and tears. The epitome of superstardom is no more amongst us. There was none, there is none and there won't be any like Meena Kamari!
In my platonic learning: What is seen is not a reality. The reality is ideal; real impressions of the legend's characters living in minds, love, respect and honour for her are reality. Meena Kumari, you are cherished and that is reality. May Almighty Allah bless you peace endlessly." I conclude my tribute to this great actress by praying to almighty that her disturbed soul rest in peace and also quote the verses from Allama Iqbal's poetry, which I think are very apt to life lead by the legend – Meena Kumari……… "Hazaaron saal nargis apni be noori pe roti hai………..badi mushkil se hota hai chaman mein deedawar paida." - by Saad Farooqui