Treasuring Art and Memories - Anju Poddar, Vinita Pittie, Vijit Pillai, Parvathi Reddy, Miki Sharma, Kamlesh Mehta, Vasu Reddy, Rohit Tandon

Art is often defined as the expression and application of one's creativity, something that speaks to people. It brings out beautiful thoughts and wonderful memories that one cherishes for life. From being a passion to a form of meditation and being poetry to a source of inspiration, art has different meaning and importance in everyone's life. While some people create their piece of art, the others acquire someone else's work; what binds the two are the emotion and the message that art evokes. Celebrating that essence, people from around the town speak to You & I about their prized possessions and stories behind it that they have been treasuring for years. – Srivalli
Anju Poddar
"Art, to me, is bliss, contentment, and happiness. It takes me to another world, where I don't want to be disturbed," says Anju Poddar, a writer and a passionate art collector. Speaking to us she tells one of her dearest possessions is a portrait of her made in 1986 by renowned artist, M. F. Husain. "I used to live in Somajiguda back then, and Hussain Saab would visit me often. There was a huge wall alongside my dining table where I hung a painting, he asked me to take it down, and we went canvas shopping. When we came back home, he asked to drape my Ikkat saree paired with a bindi; I obeyed, and that's how the portrait happened. It is minimal, but the lines and colours are strong, and the fact that an artist like Hussain Saab made it for me makes it way more special." Besides this, the writer owns 20 more portraits of her from other well-known artists, including Ravinder Reddy, Muzaffar Ali, and Jogen Chowdhury.
The writer developed an eye for art in 1976-77 when she moved to the city and met Laxma Goud, M.F Hussain, and Jagdish Mittal. "I call them my mentors; even though they never helped me pick up an art piece, they build that confidence in me and make me fall in love with art." Anju Poddar is more into figurative art; however, she owns abstract art pieces and sculptures as well. "My preference is changing with time, people and the environment. Speaking of the artists, I don't have a favourite as such. However, it's a personal connection with them that makes them special." The interest for art seems to run in the entire family; not just the writer but her daughters and grand-daughter love art, too.
---
Vinita Pittie
Fashion Designer Vinita Pittie is someone who loves being surrounded by art that radiates well-being, happiness, and harmony. "After a long day, when I come back home, I want to retire, looking at something pleasant that makes me feel good and creates a positive energy around me." The designer lives in a gorgeous old Haveli in the city and likes to create a space that goes with the entire theme of the house. "I am very particular about placing anything in my house; it should look as if it has always been there," she adds.
The designer adores Nathdwara paintings, especially the ones that have been done by a company called Khubi Ram and Sons. Speaking about her prized possessions, she says, "This piece of artwork has been passed on for a generation, a scene where Lord Krishna had gone boating along with his friends; I love the way it has been done." She adds that the translucent
colours give a very delicate look to the painting, and she admires how the piece gives a pleasant feeling to her eyes and mind. Besides this, Vinita Pittie adores Pasupati Parameshwar Raju's work. She feels amazed by his depiction of everything through calligraphy using blue or red ink. "I find them breathtakingly beautiful; one that we have at our house is a depiction of Vishnu and Shiva together, which is very rare. The artist took the inspiration while he was visiting Jagannath Temple in Puri. "It's surprising how few lines can tell you the whole story," she concludes.
---
Vijit Pillai
Vijit Pillai an artist himself who defines art as freedom talks to us about one of his prized possessions and the story behind it. Called 'In memory of Elizabeth Reed' the piece made by Vijit is inspired by a song of the same name. "It's a haunting tune dedicated to a person from the composers past; this piece has a parallel story from my past; someone who left an indelible impression, someone who's memory haunted me over the years. The piece of music has no lyrics. However, the mood created in the musical composition is compelling and leaves one in a melancholic stupor. My artwork attempts to recreate the mood and the narrative behind the composition and its parallels to my past," he adds. At home, the artist is always surrounded by music that inspires his work and complements his solitude.
To Vijit, art is something that breaks all the rules that bind and inhibit us and allows us the liberty to express ourselves - without the fear of being judged. As a child, Vijit, along with his mother, would visit art exhibitions and galleries in India and Europe, that's where his love for art grew. He was drawn towards the smell of oil paints on canvas. Another factor that added up to it was being around his artistically and musically talented parents. Speaking about the artist he adores, Vijit says, "It would have to be Van Gogh – he left a major impression in my early years. He created over two thousand artworks over a decade. My parent's home had many prints of his paintings and what drew me closer to him was reading about his tragic life in his biography, Lust for life.
---
Parvathi Reddy
A breathtakingly beautiful piece of art made by Francis Newton Souza in 1957 is something that Parvathi Reddy loves and speaks to us about. Parvathi, the executive director of an engineering service company, NAR Infra Pvt Ltd, says, "Artist Ravinder Reddy gifted this Souza's creation to Amjad Khan's son-in-law, and in return, he sold it to one of our friends, and that's where we bought it. In 2016 we became the third owners of this artwork which is one of the best auction pieces from Souza's prime era, 1955-1965. The passion and melancholy put together in this frame intrigues me the most."
When asked to define art, the passionate art collector adds, "For me, art is not confined; anything that has been put together with passion, love, perseverance and belief is art. It's all about the little details of everyday life, from serving dinner to speaking well."
Parvathi is someone who likes traditional Indian art; however, she does possess some contemporary sculpture and paintings. One of the antiques she owns is a 300 years old Kilim with a Mughal family tree woven on it. "Whenever I travel, I pick something that interests me and catches my eye. Old periods and forms are something I am more into."
Even though Parvathi is not an artist, she feels that she has an art form within, because of the way she perceives things. A true believer of the saying "Beauty lies in the eyes of the beholder," this passionate art-collector takes inspiration from renowned artists like Laxma Goud, Ravinder Reddy, Thota Vaikuntham, and Ramesh Gorjala.
---
Miki Sharma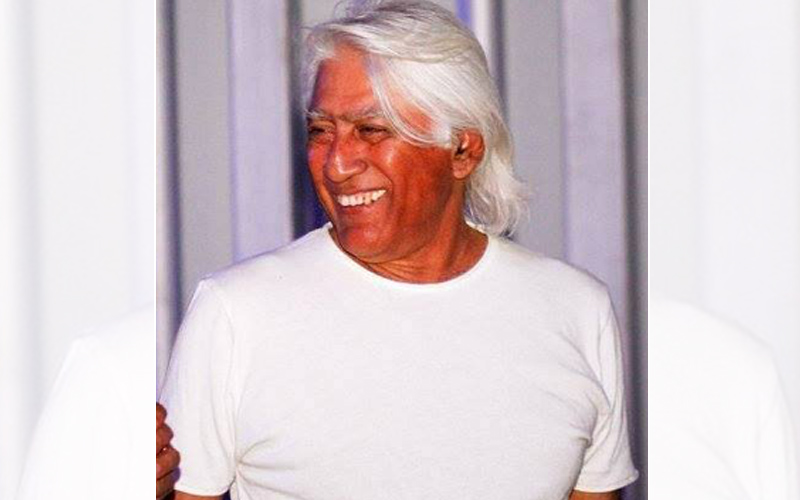 Miki Sharma believes that a painting is not merely a visual form; it is a free expression of the artist through an art form; a communication open to different interpretations. Miki Sharma, who is currently working in the financial service sector, says art is a creation that lives forever. Speaking about one of his prized possessions of art, he adds, "One of my favourites is an acrylic on canvas, a black and white abstract by Vanitha Gupta." What draws him towards this piece of artwork? "It is minimalistic but has a strong presence. If I remember right this was out of a 'Kalakriti Art Camp' in 2006," he states.
Miki Sharma's first-ever art possession too came from Vanita Gupta's collection; it was an untitled abstract art. Other than paintings in oils and watercolours, Miki owns a few stone artefacts. Calling Jogen Chowdhury one of his favourite artists, he states, "I like his lines and use of colours." He is more inclined towards abstract and impressionist art forms. Elaborating on the list and art's involvement in his everyday life, he says, "Music, dance, and architecture are some other art forms that I am drawn to." This art admirer discovered his interest in art when 25 years back he met Anjolie Ela Menon in an auto. She is one of the country's leading contemporary artists whom Miki accompanied to the old city when she wanted to buy bangles from Charminar.
---
Kamlesh Mehta
"Art to me is a melody; whenever I look at it feels like seven sargams are playing in my head," says Kamlesh Mehta, who loves being surrounded by art in her everyday life. Twenty years ago, Kamlesh and her family-owned some small pieces of art and that was when they started thinking about possessing an art piece that was exclusively made for them by a renowned artist. One of their friends got them in touch with Sanjay Ashtaputre whom they knew as a skilled artist. They went to one of his gallery displays and invited him home to share their idea of having an artwork that depicted 'Takdeer' or 'Kismat'. Sanjay Ashtaputre made it in no time, and Kamlesh and her family loved it. "The whole futuristic concept and colours in this piece of artwork made us fall in love with it, and we could relate to the painting," adds Kamlesh while talking about their first-ever prized possession. Not just this piece but, she loves all works of Sanjay Ashtaputre. "It feels like his work is talking to you and conveying the thought that the artist wanted to," she notes.
Speaking of her path towards art, she says that once in Mumbai, she attended an exhibition with her cousin and bought two pieces of art; she remembers it to be her first-ever introduction to the subject. Besides the Sanjay Ashtaputre creation, any art piece that shows calmness in the face, expressive eyes or bold colours intrigues Kamlesh. "I also have to relate and connect to the piece," she concludes.
---
Vasu Reddy
"Art to me is an expression of an emotion that can't be expressed in words," says Vasu Reddy, the owner of a graphic design company located in Madhapur, called Midas Touch. Vasu talks about her very first art, a bouquet that she made, along with her mother from homemade materials at the age of 11. "This was the first time when I discovered the flare of art that I had and also a fact that my mother helped me along with it makes it precious," she adds. This artwork of Vasu was made right before she moved from India to the United States, and it's something that makes her happy.
Vasu believes that art is not just beautiful to look at but also brings a lot of emotions and feelings across. "It's very personal to the artist, and it's up to the person looking at it; how they interpret and bring out their own emotion to the plate makes it different for each individual." She states that she is not a very big collector of art but likes to pick up pieces from different parts of the world that express thoughts. "When picking up art, it's never about popularity and commercial aspect of the piece for me; I admire street artists a lot because of their honest passion."
---
Rohit Tandon
"It is the purity of the creation of something beautiful that touches your senses," says Rohit Tandon as he defines art. This passionate art collector has tons of memories of different artists and their pieces. Sharing one such memory, Rohit talks about a painting made by renowned artist Anjolie Ela Menon titled The Story of the Mariner's Wife. "How I acquired this painting is a memory I will never forget. When I was living in Hong Kong, I met Anjolie's sister Rajika, whom I expressed my love for Anjolie's mystical and haunting work and the wish to have one someday. A year later Rajika called and informed me that Anjolie had visited Beijing for the 70thanniversary of the People Republic of China celebration and had done one piece during her visit; she asked if I wanted it. After that, all I remember is that next week I was on a flight to Beijing to pick up my painting. That was 1996, and till today I never get tired of looking at it," he elaborates.
Rohit is the only art collector in his family; however, his eight-year-old son Viraj is turning into a prolific painter. Though Rohit is not exactly sure about the beginning of his love for art, he states it was probably in his late teens. As of now, he possesses several canvas painting by modern Indian masters, brunt woods sculptors, meditative pieces of Ganesha made of wood & gold leaf, and antique Tanjore painting, among others. "Mostly, I am attracted to antique pieces and bright, colourful abstract figurative painting by the Indian masters like MF Hussain, Manjit Bawa, and Anjolie Ela Menon," adds Rohit. He notes that his all-time favourite artist is his father's cousin, the late Shri Satish Gujral who besides being a gifted artist, was the most wonderful, funny and generous person in Rohit's life.