Travel Songs for your Safarnama!

Backpack…check! Camera…check! Headphones…check! Lockdown has taken us all back to remember good old times we've spent in unknown places with family and friends. Living every moment, wandering around the streets, meeting new people and listening to our playlists; everything felt so beautiful. This month we bring you a list of travel melodies to make your nextSafarnama unforgettable. Check it out.
Journey Song from Piku
Sung by Anupam Roy and Shreya Ghoshal, this melodious track will take you away from your daily life and let you indulge into the moment. The song "Dheere chalna hai mushkil to jaldi hi sahi, aakhon ke kinare me bahane hi sahi," urges you to explore your inner thoughts and unexpressed dreams.
The Trip - Title Track
If you're heading out with your girl gang or wandering alone, the title track of the The Tripshould be on your playlist. On an adventurous road trip, four girls and their gang discover their problems and unfold their feelings. "Be the sun, be the light, be the moon, be the shine…up up, show me the way... It's a sun shiny day…Come take me away." Similar to the girl gang, we all learn something from each journey and this song could give you that push to reflect and reconnect with your inner-self and live confidently.
Yun Hi ChalaChal from Swades
This iconic song never gets old. Every millennial in some or the other journey must have played this song. Composed by A.R. Rahman and beautifully written by Javed Akhtar, the song is full of positivity and delivers a lively vibe. "Mann Apne Ko Kuch Aisa Halka Paaye, Jaise Kandhon Pe Rakha Bojh Hat Jaaye, Jaise Bhola Sa Bachpan Phir Se Aaye, Jaise Barson Mein Koi Ganga Nahaye." Isn't that true? Travelling does lighten our everyday burden, and we do feel rejuvenated. Play this song on that safarand witness the magic!
Khabon Ke Parinday from Zindagi Na Milegi Dobara
This film has undoubtedly given some major travel goals to a lot of people, especially millennials. 'Khabon Ke Pariday' is a song that makes you dream about a trip with your best friends."Ude, khule aasaman mein khwabon ke parindey…Ude, dil ke jahaan main khaabon ke parinday," here Mohit Chauhan and Alyssa Mendonsa's peaceful voice calms you. When you take that trip next time, do not forget to play this soulful song, feel that cold breeze running through your face and blowing your hair in the air.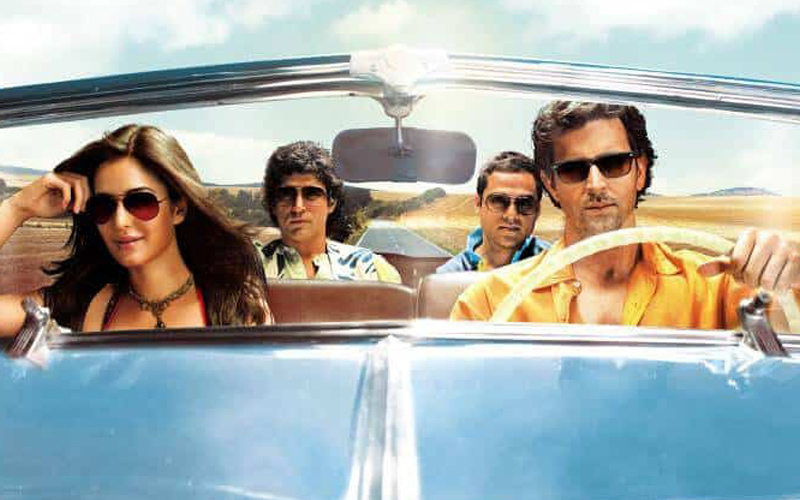 Safarnama from Tamasha
All the 90s kids have grown up listening to Lucky Ali's songs. Personally, his voice takes me on a nostalgic trip to my childhood. Safarnama is a song about Ved's journey of life, finding answers to his questions, and discovering himself. Often we pack our bags and head to those unplanned trips, trying to take a break from all our problems and come home with a fresh perspective to tackle those. This song is a perfect pick for one of those safar.
Sham from Aisha
Sung by Nikhil D'Souza and Amit Trivedi, Sham is made for a relaxing evening with your friends at a sea-shore or a trekking camp. Calling it a perfect bonfire-song won't be wrong. "Shaam bhi koi, jaise he nadi...Leher leher jaise behrahi hain." Getting to know each other, dancing along to this tune and staring at the gorgeous sky filled with stars will bring an honest smile on your face.
Ilahi from Yeh Jawaanihai Deewani
Kabir Thappar (Ranbir Kapoor), his dreams, and this song is a fantasy for every person who aspires to travel and loves to explore new places. 'Ilahi' fills you with energy to live in the moment, dive into every detail of the present, and embark on an adventurous trip. When you meet new people on that journey and get to know their stories, don't forget to play this tune sung by Arijit Singh and hum these beautiful lines written by Amitabh Bhattacharya: "Shaame malang si, raatein surang si, baaghi udaan pe hi na jaane kyu… Ilahi mera jee aaye aaye."
Aao Milo Chalen from Jab We Met
"Hum jo chalne lage, chalne lage hain ye raaste…. Manzil se behtarlagnelagehain ye raaste," we can completely relate to these lines on every safar. The journey does feel more beautiful than the destination. Most of the millennials would love to go on an unexpected trip like Geet (Kareena Kapoor Khan) and Aditya (Shahid Kapoor) in this movie. If you end up on one such voyage, play this song and make the most out of the unexpected and unplanned trip.
– Srivalli and PIcs from IANS