Tips For A Perfect Makeup

You have a big party lined up. You haven't been able to squeeze another thought into your head all week. Planning and preparing for the BIG night is your focus. After going through your wardrobe for hours or after hitting the malls, you've decided on the perfect ensemble for the evening. Now that you have your dress, shoes and accessories, all you need to complete the look is to get your makeup perfect and make heads turn.
First tip: don't wait till the last moment. Your skin needs some prepping before the big evening comes around. So in the week leading up to the party of the year, drink lots of water, cut down on your caffeine intake and avoid salty foods. Though there are tricks to hide the puffiness and dark circles under your eyes, tired eyes can give you away; so try to catch up as much sleep as possible. And don't forget the three-step mantra of cleansing, toning and moisturising! Don't put off choosing your makeup shades till the last minute. You'll know what works with your skin tone, but consider your outfit and accessories, and the season, so you can experiment a bit.
Giving yourself plenty of time to get ready is half the battle won. Start by washing your face with warm water and a gentle cleansing lotion. Next, use a toner to refresh your skin. Apply some moisturiser to keep your face from getting dry. Start by using a concealer under the eyes to even out the skin tone before you get to the foundation. You might want to try using a
dual-colour concealer, which not only cleverly disguises the blemishes but also covers the under-eye darkness and evens out the complexion. However tempting it may be to use a
full-coverage foundation and powder, it's best to stick to a sheer base. Give your face a glow by applying shimmer on your foundation. Use a brush to spread it out evenly. You could also
try using a highlighter on your cheekbones and your forehead for a glowing look.
Now that you've completed the pre-makeup step, you need to decide which part of the face to feature. Rule of thumb is to pick either the eyes or the pout – heavy eye and lip makeup looks artificial and theatrical. Depending on what party you are attending, either accentuate your peepers or your lips. If it's bold eye makeup you prefer, start by applying a thin layer of eyeliner to emphasise the shape of your eye. A little help from the eyelash curler can play up the look. Then it's on to the eye shadow – this is where the colours you've experimented with and, hopefully, perfected, come into play. Next, apply volumising mascara from the root to the tip, and to complete the look, define your eyebrows with an eyebrow pencil. A smoky eyed look is the flavour for all seasons. Instead of layering with dark colours, try something shimmery to finish off the look.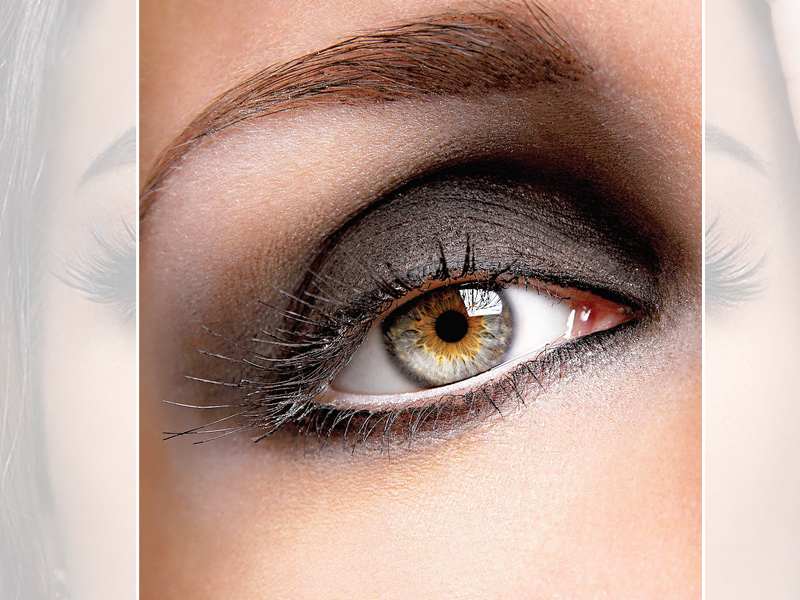 If you choose to focus on your lips, underplay your eye makeup. Use a lip liner over the entire lip and along the lip line. This will make sure that you don't need to touch up while sipping on your drink or after tucking into the appetiser. Apply the lipstick with a lip brush, dab with a soft cloth or tissue and re-apply. Top it off with a clear gloss which not only give a fuller effect but also keeps your lips hydrated. You can even use certain colours to draw the attention away from your teeth. Try some deep shades like red or plum and keep away from corals. Pick a shade that suits your outfit as well as the rest of the makeup.
For the nails, start with cleaning them well and shaping them. First apply a coat of transparent/colourless base. Next comes a coat of nail colour. Be patient and let it dry before applying the second coat. Add another coat of the colourless base coat to avoid chipping.
Team your outfit and makeup with the right accessories, and you're all set to stand out amongst the crowds as the belle of the ball!
- Pallavi