Ties That Bind - The Republic of India

The Republic of India: an embryonic global power which steadily rose to an influential international position post-Independence. Although many argue otherwise, India's foreign policy has been a contributing factor in its rise as an emerging superpower. India was one of the founding members of prominent international organisations like the United Nations, the International Monetary Fund, the Asian Development Bank, G20 nations, and the World Trade Organisation, among others. Foreign policy has always received its share of importance, as India has long upheld the Neighbourhood First policy.
Back in the day, in present-day South Asia, most countries that were ruled by the British were left with the same economic problems that arose from population density, low literacy rates, and poverty. This led to the formation, in 1985, of a regional body called the South Asian Association for Regional Cooperation, marked by a SAARC summit in Dhaka. The SAARC countries include India, Pakistan, Nepal, Bhutan, Bangladesh, the Maldives and Sri Lanka. SAARC may have been slow to achieve all of its objectives due to dissent between India and other nations at its borders, but it still made noteworthy progress.
The Regional Convention on the Suppression of Terrorism and a Convention on Narcotic Drugs came into force in 1988 and 1990, respectively. The South Asian Federation Games are held in each country by turn, and the SAARC Audio-Visual Exchange (SAVE) was announced in 1987 to facilitate cultural exchange via regular radio and TV programmes by each member country. India also has cordial relations with the Association of South-East Asian Nations (ASEAN) countries of Indonesia, Malaysia, Thailand, the Philippines, and Singapore. The nation's long land frontier and coastline, and a unique geographical position, led to strengthening diplomatic relations, particularly with Nepal, Afghanistan, Bangladesh, Bhutan, and Myanmar. With Pakistan and China, too, there have been consistent efforts to stabilise political relationships rather than strain them, often resulting in bilateral trade agreements. - Namrata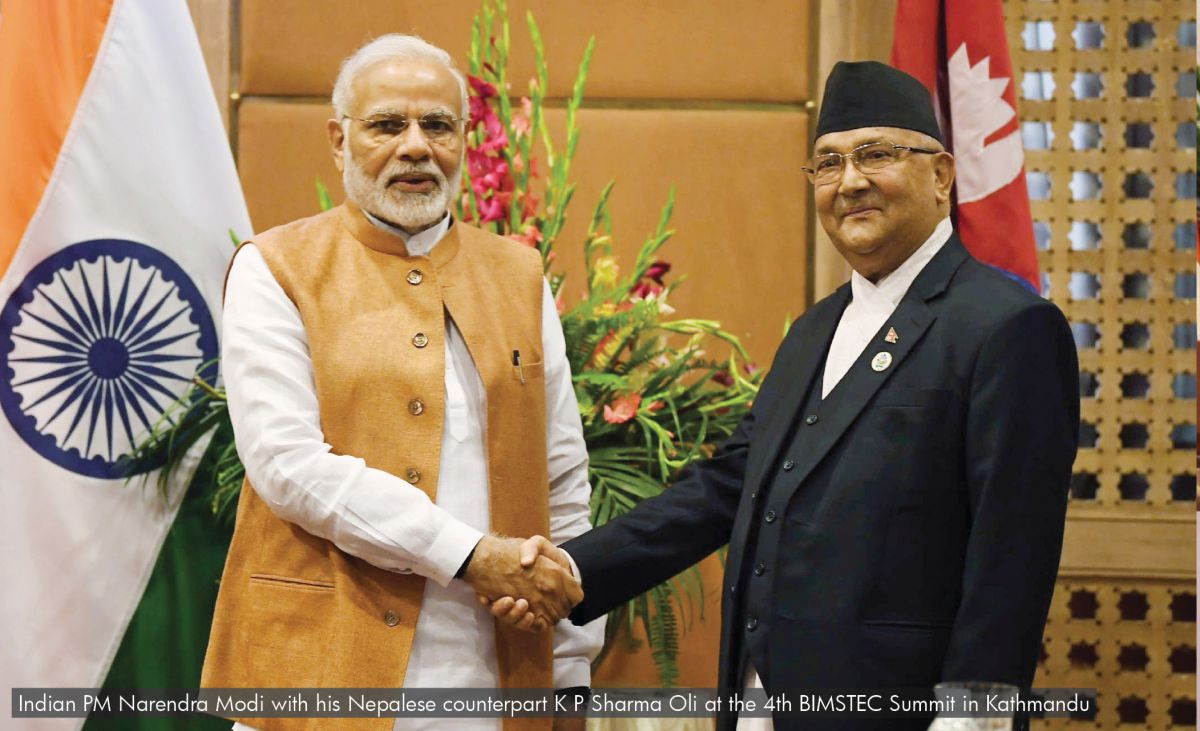 India and Nepal
Nepal is India's landlocked, friendly neighbouring country with whom India has had strong relations despite the border dispute. Apart from cultural similarities, common ethnicities, and language overlap, there is a long history of travel, free movement, trade, and employment between the two countries. India built the 204-kilometre long Mahendra Raj Marg link between Kathmandu and India, and almost all of Nepal's imports pass through Indian ports. Nepal's exports to India have also grown exponentially, the most commonly exported goods being polyester yarn, textiles, packaged juice, cardamom, stones and sand, shoes and sandals, jute goods, and zinc sheets.
In 1950, bilateral relations were formalised through the Treaty of Peace and Friendship that defined security relationships, trade within and transiting Indian borders. According to this, "neither government shall tolerate any threat to the security of the other by a foreign aggressor," and both sides are obligated "to inform each other of any serious friction or misunderstanding with any neighbouring state likely to cause any breach in the friendly relations subsisting between the governments." The treaty further solidified the relationship between India and Nepal by granting citizens of Nepal residing in India equal educational and economic opportunities as Indian residents.
Nearly 150 Indian companies are operating in Nepal across various sectors like manufacturing, banking, insurance, education and telecom, power, and tourism. Indian investments in Nepal include ITC, Dabur India, Hindustan Unilever, State Bank of India, Asian Paints, among many other big names.
On September 23, 2015, however, India's controversial, debatable blockade on Nepal severely affected Nepal's economy and people. This began a longstanding border dispute, thus severing ties between the two countries. On May 8, 2020, India's defence minister, Rajnath Singh, inaugurated (virtually) an 80-kilometre long road at the Lipulekh Pass in the Himalayas, which K. P. Sharma Oli and his government vehemently opposed. This 400-square-kilometre area at the India-Nepal-China junction is called the Kalapani territory, and the Lipulekh Pass is the quickest link between Delhi and the Tibetan plateau. With China's political influence closely intertwined with India-Nepal relations, we are yet to see how the border conflict will be formally addressed.

India and Myanmar
Myanmar, formerly Burma, was also under the rule of British India. Even after Burma gained independence from Great Britain in 1948, India continued to maintain close political ties with the country. For many years now, cultural ties, successful commerce, and the presence of a large Indian community in Burma led to strong Indo-Burmese relations.
During the 1988 turbulence in Burma, India extended its sympathy for those who pushed for democracy, allowing Burmese inhabitants to stay in camps in Mizoram and Arunachal Pradesh. Burma's geographic location too (south of Mizoram, Manipur, Nagaland, and Arunachal Pradesh, and proximity to China) is particularly important to Indo-Burmese relations. However, the 1,600-kilometre long and sensitive border posed issues like drug trafficking and illegal immigration. This was overcome in 1993 when India, after a long gap, fostered its relationship with Burma.
In 2001, the completion of a major road along the Indo-Burmese border was one of many milestones for the Indian Army. India has also offered military assistance and supplies to Burmese junta. Moreover, India undertook the construction of highways, ports, and pipelines in Burma, and major investments, particularly in oil and natural gas. India pledged $27 million in grants for road and rail projects and $100 million in credit for highway infrastructure. In 2007, Indian exports to Burma totalled $185 million, and imports from Burma were approximated at $815 million. In February of 2007, India announced that it would develop the Sittwe port, which gave ocean access from North East India via the Kaladan River. During Cyclone Nargis, India provided aid and relief that were accepted by Burma's ruling junta. In February 2020, when Myanmar President U. Win Myint visited India, 10 Memoranda of Understanding were signed between India and Myanmar. These are meant to address Repatriation and Reintegration of victims of trafficking, Development of Rakhine State, construction of schools, roads, water supply systems, and solar power systems.

India and Bhutan
India and the Himalayan Kingdom of Bhutan have maintained friendly ties for a long time, fuelled by economic cooperation, historical and cultural exchanges, and India's long-term support with industrial development in Bhutan. An Indo-Bhutan Treaty of Friendship and Cooperation was signed in 1949, which was revised in February of 2007 under the rule of Bhutanese King Jigme Khesar Namgyel Wangchuck. Through this treaty, it was formally agreed that the Government of the Kingdom of Bhutan and the Republic of India would cooperate closely on issues regarding national interests. The treaty also established Bhutan as an independent, sovereign nation, a position India strongly supported.
India has since played a huge role in setting up schools/colleges, telecommunications, hydroelectric projects, and in the construction of hospitals, roads, and bridges. This special relationship is the reason India has such an influential say in Bhutan's defence, foreign relations, and trade. The Indian Prime Minister's Neighbourhood First policy is clearly visible in the case of Bhutan, which Narendra Modi visited for the second time in August 2019. In fact, during Modi's first foreign visit as PM, he and Bhutanese Prime Minister LotayTshering furthered India and Bhutan's bilateral relations. Ten Memorandums of Undertaking (MOUs) were signed, and high-level diplomatic exchanges have taken place since. Modi also inaugurated a hydropower project on the Mangdecchu River to symbolise India's aid in developing Bhutan's hydropower. The Indian government committed to expanding Bhutan's hydropower to at least 10,000MW by 2020, intending to export any surplus electricity. In 2018, two-side trade reached a record high of nearly $1.2 billion, after which Modi launched RuPay to simplify financial transactions between the two nations. India and Bhutan's relations have stood the test of time. As recently as June 2020, the Union Cabinet approved the Memorandum of Understanding signed between India and Bhutan. On July 16, a new trade route between Jaigon (West Bengal) and Pasakha (Bhutan) was opened, which will counter vehicular traffic and bolster trade and commerce.

India and Bangladesh
India and Bangladesh go back a long time, ever since India recognised Bangladesh as a separate, independent state on December 6, 1971. Born under Mujibur Rehman, India helped liberate Bangladesh from West Pakistan during the civil war, and the two countries share common traditions, languages, and cultures. India has given loans, technical assistance and sent relief to Bangladesh during natural calamities.
From a macro perspective, the relations can be described as amicable, but irrigation, river water, and land-border disputes began in 1976. India has been critical of Bangladesh's border control and eventually established a fence along most of the 4,000-kilometre border to control the entry of migrants, insurgents, and terrorists. However, with a softer foreign policy starting in 1996, together with the Awami League Government, India and Bangladesh's relations began to look a lot friendlier. The conflict over the Ganges River was resolved through a 30-year treaty signed in 1996 after the previous bilateral water-sharing agreement lapsed in 1988. Both countries collaboratively decided to tackle flood warnings and emergency preparedness.
Recently, Narendra Modi and Bangladeshi Prime Minister Sheikh Hasina signed a historic agreement where they exchanged more than 150 enclaves of land, thus putting an end to the disordered shared border. A free trade agreement was signed between the two nations on June 7, 2015, which is supposed to have solved the border dispute. Bangladesh is also well connected with North-Eastern states in India via railways. On February 10, 2016, the Union Government sanctioned nearly 580 crore rupees to facilitate railway links between Kolkata and Tripura via Bangladesh. Together with the Agartala-Akhaura railway, the 1,700-kilometre distance between Kolkata and Agartala via Siliguri came down to a mere 350 kilometres. As per Narendra Modi, these projects were "high level" and on his Act East Policy, aimed at increasing connectivity and facilitating seamless trade between India and Bangladesh. As of 2020, since the India Citizenship Amendment Act was introduced, bilateral relations between the two countries have been rocky. Bangladesh Foreign Minister A.K. Abdul Momen cancelled his visit to India in the last minute, and the Sheikh Hasina government has clearly expressed displeasure over this.

India and china
India and China's formal relations date back to 1954 when the Panchsheel agreement was signed by Indian Prime Minister, Jawaharlal Nehru, and Chinese Prime Minister, Zhou Enlai. The agreement laid out five principles to be adopted: mutual respect for territorial sovereignty; non-aggression; non-interference in each other's internal affairs; equality and mutual benefit; and peaceful co-existence. However, China's attack on North-East India in 1962 and the Sino-War damaged Indo-China relations for some time. The situation became a little more favourable with former Indian Prime Minister Rajiv Gandhi's visit to China in December 1988. This was further improved with Chinese Prime Minister Li Peng's visit to India in December 1991.
High-level delegations and political engagements continued to strengthen relations between the two nations. While issues over the cultural exchange, sports, and trade were resolved, the Sino-Indian border dispute between Aksai Chin and Arunachal Pradesh remains. Even today, India asserts that the McMahon Line is the legal border, while China disagrees, stating that Tibet was never independent. Since May 2020, the skirmishes between India and China became more aggressive as troops engaged in an aggressive military standoff over the Pangong Lake area in Ladakh, the Tibet Autonomous Region, and the Tibet-Sikkim border. As of July 30, 2020, "complete disengagement and de-escalation" still remained. Apart from this, another concern for India is China's allies around India's borders, namely Pakistan, Nepal, and the Maldives. Naturally, owing to its sheer size, and an authoritarian Communist Party system led by Xi Jinping gives China an edge to expand fast, relentlessly, and strategically compared to India. However, India's deeply ingrained ties in South Asia may prove useful.

India and Pakistan
A lot needs to be said about the two nuclear neighbours, as the two countries have had such an intense history, bitterness, bilateralism, and ethnic convergences. The First Kashmir War set a tone of rivalry for years to come when the Indian Army entered Srinagar to secure it. The war seemingly ended in December 1948 with an established Line of Control that divided the former princely state into Pakistan and Indian territories. But in 1965, the five-week Indo-Pakistan War began after Pakistan tried to infiltrate forces into Jammu and Kashmir through Operation Gibraltar. The United Nations had to intervene and issue a ceasefire order, finally putting an end to a war that killed thousands on both sides.
Once again in 1971, the two countries went to war over East Pakistan, leading to millions of Bengalis seeking refuge in India. Pakistani forces eventually surrendered, resulting in the formation of Bangladesh. When the Lahore Declaration was introduced in February 1999, things had just started to look positive, when the Kargil War broke out. Ties between the two countries were seriously damaged, which only got worse in December 1999 due to Pakistan's participation in the hijacking of Indian Airlines Flight 814. The Agra Summit in July 2001 was an attempt to reconcile, but in vain, as there was an alleged attack on the Indian Parliament in December 2001.
After much escalation and what seemed like a potential nuclear war, a peace process began in 2003 to stabilise Indo-Pak relations. Railway lines (Samjhauta Express), bus routes, increased connectivity and improved trade routes certainly aided. All this came crashing down once again when Pakistan was blamed for the 2008 terror attack in Mumbai, which Pakistan vehemently denied. Despite all these hostilities, citizens of Pakistan and India still feel connected due to mutual historical, linguistic, and cultural aspects. There is still hope amongst many that Prime Ministers Narendra Modi and Imran Khan will find a way to form strategic, friendly, bilateral relations.

India and Sri Lanka
Sri Lanka has always been considered a close cousin of India, owing mainly to the Indian-origin Tamil community there. Of late, however, Sri Lanka's relations with China have been getting stronger given China's Belt and Road Initiative (BRI) and their attempt to encroach on the Indian Ocean area. China has loaned billions of dollars toward Sri Lankan infrastructure. In early December 2017, China was handed over Sri Lanka's seaport of Hambantota on a 99-year lease for an industrial park, which is supposed to have been significant equity. Sri Lanka is already under pressure to clear $8 billion owed to China.
Over the years, political relations between India and Sri Lanka have mostly been pleasant, barring the Sri Lankan Civil War and India's failure to intervene. Trade and investments have progressively developed, infrastructure has improved exponentially, and the two countries have also fraternised over the defence. India was quick to send relief to Sri Lanka after the tsunami in December 2004. In July 2006, India undertook the evacuation of 430 Sri Lankan citizens from Lebanon via navy ships and Air India flights.
Former President late Dr APJ Abdul Kalam was invited by the President of Sri Lanka in 2012 to launch the National Plan for a Trilingual Sri Lanka. Under Modi's government, too, consistent attempts have been made to strengthen, diversify, and mature Indo-Sri Lankan relations. In February 2015, after Sri Lanka's newly minted President Maithripala Sirisena visited India, Modi too went to Colombo in March 2015, making him the first Indian PM in 28 years to do a stand-alone visit to the country. This led to Sri Lanka limiting China's control over the port, by asserting that the port will not be used for military purposes, and that Sri Lanka will continue to oversee security. Earlier this year, in February, PM Modi met Sri Lankan PM Mahinda Rajapaksa, to resolve the Tamil issue and the fishermen issues, and deepen ties between the two nations, in terms of anti-terrorism, trade, investment, and general defence.