Street Art and Sense of Community - The world is fighting two pandemics at the same time – COVID-19 and Racism

"The principle of true art is not to portray, but to evoke," the words of Polish-American novelist Jerzy Kosiński fits right into the current scenario when the world is fighting two pandemics at the same time – COVID-19 and Racism. While on the one hand, medical professionals are working hard to find a vaccine to cure the former, the entire world, on the other hand, is struggling to fit the idea of equality and freedom in the society to fight the latter. In these tough times, when everyone is trying to play their part to serve justice to the minorities and eradicate racism, art is playing a crucial role in evoking that thought. Soon after the saddening and violent death in US police custody of George Floyd, graffiti artists came to the streets and painted their town with the message of 'Black Lives Matter'. We hope these creative and thoughtful street arts bring a change that the world needs right now.
The British anonymous street artist Banksy known for his tropical theme artwork came up with yet another powerful message through his craft. This work shows the American flag catching fire with the memorial candle of a black figure in the frame. Along with a picture of this graffiti, Banksy urged all the white people to fight against racism stating that the system is failing the people of colour; the white system, like a broken pipe flooding the apartment of the people living downstairs. He further added, "This faulty system is making their life a misery, but it's not their (black people) job to fix it. They can't – no-one will let them in the apartment upstairs. This is a white problem. And if white people don't fix it, someone will have to come upstairs and kick the door in." Banksy's art and words both speak out loud.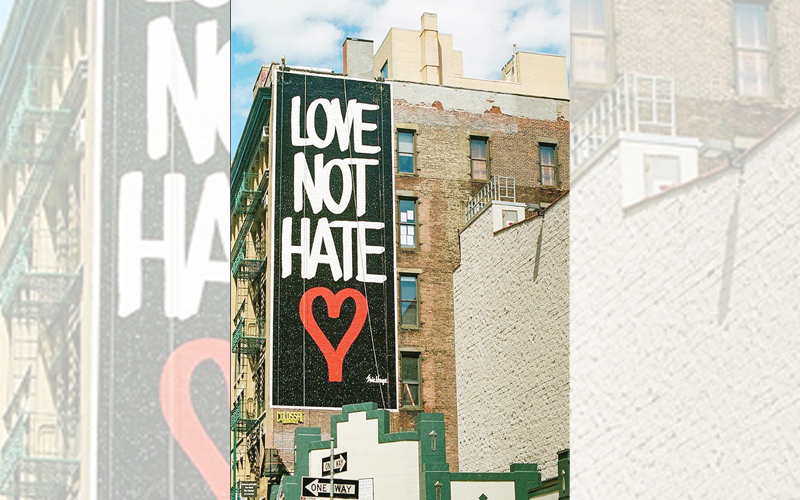 American artist Eric Haze too opened up about the injustice through his creative contribution on one of the Manhattan's walls located on Lafayette St at the corner of Howard. Spreading the message of 'Love Not Hate' with a perfect blend of white and black colours, Eric, along with his team, rose to the occasion. The artist urged people to spread love through his Instagram account and captioned, "Change starts with action and every voice counts, and we can all make a difference."
A couple of days ago, turning the streets of Toronto black with their artwork, artists gathered at Graffiti Alley for a peaceful protest against racism. The entire stretch was coloured in black as the Graffiti artists demonstrated their craft and their message to the world through a creative eye. One of these creations was a tribute to Jamal Francique, another black man who was killed in a police-involved shooting in Mississauga in January. Asking for justice to Jamal, this art was made by a graffiti artist BubzlittoBrigante on Instagram. Noting the thought behind the piece, the artist wrote, "As much as this is a memorial for Jamal this is for y'all as well. We grew up on the same block, and I hate what happened to Jamal, I hate that a cop murdered you and the only ones talking about it is the ones that love you."
Following on the same street, another professional street artist Nick Sweetman painted a 'Black Panther' on the walls evoking the beauty of blackness, referring to the violent history as a symbol of proud black resistance to police oppression and standing against the brutality in the US towards minorities. Speaking about it on social media, the artist added, "In the face of this kind of pain, it is not always easy to see how art can make a real substantive difference. I hope that by showing we care about this, I and the other artists who painted the city black this weekend have helped inspire the changes we need, though obviously, the systemic racism that pervades every layer of society will require much more than murals." – Srivalli