Stories Set in Gold - Prathyusha, Esha and Soundarya

With the many changes that 2017 has seen so far – both good and bad – it surely wouldn't hurt to celebrate a day that is meant for prosperous new beginnings. The occasion of Akshaya Tritiya commemorates the everlasting, and is regarded by the Hindu and Jain communities as the perfect day to start a new venture or project. Also considered an opportune time to tie the knot, Akshaya Tritiya is largely known for being a good day to buy gold. This year, You & I set out to incorporate the best of this festival through the elements that truly emanate its essence – gorgeous ornaments and the driven women of Hyderabad. – Roshni
Prathyusha Balantrapu
Asinger, dubbing artiste, businesswoman, Harry Potter enthusiast, and guardian angel for stray dogs, Prathyusha Balantrapu is all of the above in one package. She is also the owner of a media production company called Creative Species that specialises in audio-visual branding, corporate films, jingles, and advertising campaigns for a variety of brands. She developed a passion for music at a very young age, and later she honed her skills in photography, writing, and filmmaking. She likes to unwind by watching movies and making trips to temples and heritage sites. But more importantly, she loves to hang out with her pet dog, Leo, and several other strays around her home. Her new music project, M Files, is a start-up that showcases independent musicians, music videos, and more. She will also be producing her first three singles in Hindi and Telugu, touring to perform concerts of her album, and working towards expanding operations at Creative Species.
Soundarya Dhupar
An educator with a strong fondness for children, Soundarya Dhupar is a teacher who helps kids with learning difficulties cope with their academics and improve their cognition. Soundarya has always wanted to help children in need, and her Bachelor's degree in psychology only peaked her interest in this field. Her internship at Dys and That, which is now her place of work, helped her understand the needs of these children better. The moment she completed her graduation, Soundarya joined the organisation in a heartbeat. As for how the young teacher likes to unwind, her favourite stress-buster is baking, and she enjoys trying out new recipes and experimenting with flavours. She even started her own baking service called Intoxicake, through which she sells cupcakes and other mini desserts. Apart from teaching and baking, Soundarya is currently focusing on applying for colleges in the U.K. for her Master's in child psychology.
Esha Hindocha
A blogger by profession, Esha Hindocha writes on topics such as fashion, beauty, skin and haircare, fitness and health. From celebrity choices and prêt-à-porter, to skincare hacks and healthcare tips, she collaborates with a number of brands and guides her readers to the best products. The blogger loves to take time off by travelling and listening to music. While music has always had the power to uplift her spirits, she also finds peace in long drives, discovering a new corner of the city, and trying new cuisines. As she blogs on a variety of topics, for Esha every project equates to a new journey. She works hard to share fresh content all the time, no matter how common a subject. Speaking about new journeys, Esha emphasises the importance of conducting research, dealing with an unpleasant situation by analysing it calmly first, and taking in all kinds of changes in stride.
Sunilla Eti
Acharming personality, Sunilla Eti is a well-known name in the world of image consultancy in Hyderabad. Having worked earlier as a business consultant for Kaya Skin Clinic, this svelte beauty has begun another phase in her life, in which she is donning the hat of a writer. A personal project quite close to her heart, Sunilla is in the process of writing a book on the city of Hyderabad. Speaking about new beginnings, she believes that people tend to experience something new at every step of their lives, as it's not entirely about the destination, but the journey. More importantly, Sunilla is glad that being married to a South Indian has made her well aware of the importance of both North and South Indian festivals.
Taruna Singh
Afashion consultant by profession and a certified yoga instructor out of passion, for Taruna, fashion is something she has loved since a very young age. Over the years, the process of dressing up and helping people experiment with their style has become a daily routine. While she has been in this line for the last 20 years, her association with yoga began five years ago. As her father had always emphasised the importance of good health and practiced yoga regularly, she was inspired to join a teacher training program. Taruna also loves to spend time with her family, which includes her pets at home and those she's adopted from the streets. She also enjoys the occasional tête-à-tête with her friends over the weekend. Pursuing two different professions keeps this self-made woman completely occupied, and as she gives them both her 100%, she hopes for something interesting to unfold in the future.
Sreshtha banerjee
As a journalist turned copywriter turned travel researcher and now digital marketer, Sreshtha Banerjee's career trajectory has been pretty much like her life – taking its own merry course. A prolific writer who knows her way around words, she has worked with The Times of India, Ogilvy & Mather, and National Geographic Traveller, to name a few. She has also consulted with Google Stickers, Penguin Random House, Harper Collins, Asian Paints, and Weiden+Kennedy, London. A newlywed who's on a journey that she believes will forever remain new, Sreshtha and her husband Siddharth, recently moved into their first home. As for what's next in line, Sreshtha wants to restart her dance classes, expand her garden, pick up another consultancy project, save up for a long trip, and much more.
Shilpa Chowdary
A creative mind with a knack for style and fashion, Shilpa Chowdary is one of the founder members of Lavish Exhibitions and Divinos Ladies Club. A venture that has her surrounded by young and active entrepreneurs, Shilpa loves the fact that the club's members are like extended family to her. And her business partner, Manju Gamji, is as close as a sister. Despite having an active social life, she is equally disciplined when it comes to her domestic commitments, making sure to properly balance her work and personal lives. Her husband Srini – one of the key directors in the business of manufacturing and marketing surgical steel products across India – needs to travel extensively. As such, the moment he is home they make sure to spend as much time together as possible. A dedicated professional and a loving mother and wife, Shilpa has quite a few projects lined up for the year, and is determined to shape them to perfection.
Rupal A. Bansal
Putting her own spin on the business of gifting is Rupal Bansal, a personalised gift packing consultant. A bit of uncharted territory, in this line of work Rupal provides a wide range of luxury gifting and packing options for special corporate and personal events. As someone who always wanted to explore her creative streak, Rupal discovered that the thrill and joy of giving and receiving something exclusive excited her. Soon she wanted others to experience the same feeling. Rupal spends her downtime with her daughter, Tisha, and believes that with each passing day she learns something new as a mother. She also relaxes by catching up with her family and friends, shopping, and travelling. A new journey could also involve re-evaluating, focusing, and enjoying what is already on one's plate, and that's exactly what Rupal is concentrating on at the moment.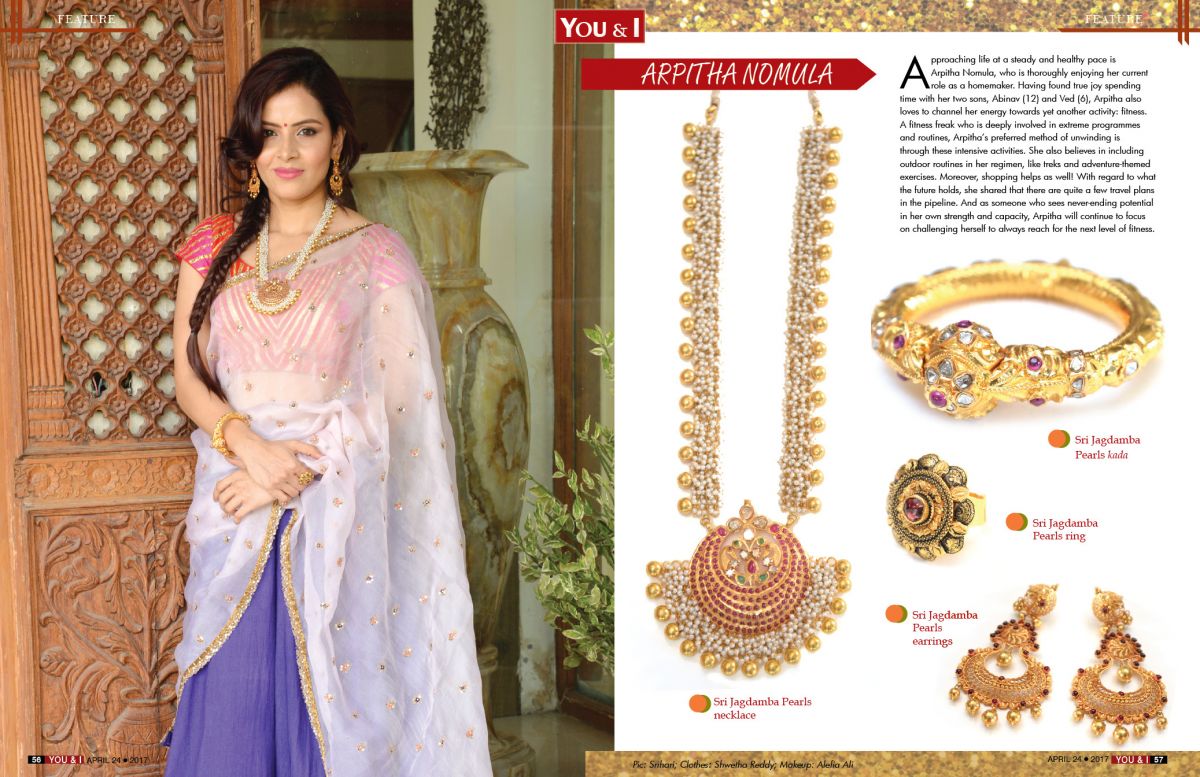 Arpitha Nomula
Approaching life at a steady and healthy pace is Arpitha Nomula, who is thoroughly enjoying her current role as a homemaker. Having found true joy spending time with her two sons, Abinav (12) and Ved (6), Arpitha also loves to channel her energy towards yet another activity: fitness. A fitness freak who is deeply involved in extreme programmes and routines, Arpitha's preferred method of unwinding is through these intensive activities. She also believes in including outdoor routines in her regimen, like treks and adventure-themed exercises. Moreover, shopping helps as well! With regard to what the future holds, she shared that there are quite a few travel plans in the pipeline. And as someone who sees never-ending potential in her own strength and capacity, Arpitha will continue to focus on challenging herself to always reach for the next level of fitness.