Sobhita Dhulipala announces Made In Heaven Season 2; reminds us of the fine depiction of homosexuality in the first

Actor Sobhita Dhulipala on Wednesday announced Made in Heaven Season 2 through an Instagram post and we just can't wait for the release and watch the story unfold. Directed by Nitya Mehra, Zoya Akhtar, Prashant Nair, and Alankrita Shrivastava, Made In Heaven Season 1 is one of the finest dramas in Indian film scenario. From writing, direction, acting, cinematography to costumes, everything wins one's heart. The screenplay offers layers to each and every character and addresses several issues and norms of the society we live in. The more you watch, the more you discover. Right from dowry, class system, patriarchy, love, career to homosexuality, season 1 spoke about it all.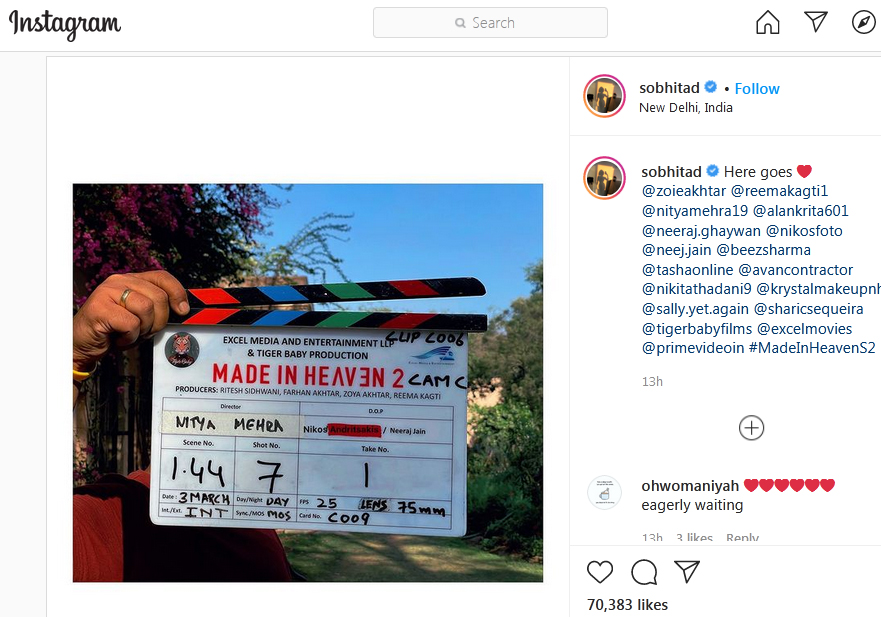 One of the best things of this drama series was the fine depiction of homosexuality through Arjun Mathur's character Karan Mehra. No wonder the actor got nominated at the International Emmys in the Best Actor category for the role. Despite of all the wonderful characters played brilliantly by skilled actors including Sobhita, Kalki Koechlin, and Jim Sarbh, Karan gets stuck in one's head as it's very unusual to see a homosexual character being portrayed so well, specifically in Hindi cinema.
How many times have we seen films which use LGBTQ characters just to add a funny element to it? Often such characters are stereotyped and written only for the sake of few jokes; the sad part is…it works! Suresh Menon in Partner, Abhishek Bachchan in Bol Bacchan, and numerous others. Not only that, but we also see a lot of comedians writing jokes that are offensive to the community, mostly in award functions. And consciously or unconsciously people laugh. Sometimes it's 'colourful floral kapde', sometimes weird hand movements, sometimes lip bits and winks and sometimes it's matakti kamar.

Arjun Mathur
But Karan from Made in Heaven is different. He's ambitious, independent, talented, supportive, well-mannered, and most importantly he's not coming on to every guy without consent; to be precise he's NORMAL and much credit goes to the writers for depicting his character, complexities and struggles so well. Zoya, Reema Kagti and Alankrita here have done a commendable job. –Srivalli
Keywords and Tags: Made In Heaven, Entertainment, Homosexuality, LGBTQ, Sobhita Dhulipala, Arjun Mathur, Kalki Koechlin, Jim Sarbh, Zoya Akhtar, Reema Kagti, Nitya Mehra, Prashant Nair, Alankrita Shrivastava, Web Series, Made In Heaven Season 2