Shahi Murgh Mussallam
Ingredients Qty
garlic bulbs 10
minced ginger 2
garam masala 1 tsp
turmeric powder ½ tsp
red chilli powder ½ tsp
salt as required
peppercorns as required
plain curd 1 cup
lemon juice ½ cup
chicken 1 whole
basmati rice 100 gms
bay leaves 6
cloves 5
saffron water 1 tbsp
cumin seeds 1 tbsp
ghee 30 ml
green cardamoms 4
chopped onions 100 gms
tomatoes 200 gms
chopped coriander 3 tbsps
Instructions
Mix three-quarter of the garlic with half the ginger, half the garam masala, 1 tbsp of salt, 1/3rd of the turmeric, half of the curd, and the lemon juice, and mix them to form a paste.
Make small cuts in the chicken flesh and rub the paste all over and in the cavity. Keep aside for two hours.
Cook half the rice with garlic, cloves, peppercorns, salt, bay leaves, and water.
Use the same to stuff the chicken.
Heat the ghee in a saucepan and fry the chicken until it browns all over. Drain the liquid.
In another pan, fry half the onions in the remaining ghee with two bay leaves, remaining cloves, and green cardamom, until it's golden.
Add the remaining turmeric and chilli powder. Make a paste by grinding together the coriander and cumin seeds and the remaining onion and grated ginger.
Cook, stirring, for 5-10 minutes, until the ghee starts to separate. Add the remaining curd, the tomato, and ½ tsp of salt.
Add the chicken to the pan and baste with the spice mixture. Pour over 300 ml water, cover it and cook in a moderately hot oven (200°C) for one hour.
Steep the saffron in the remaining garam masala powder and coriander leaves before serving murgh musallam.
Nalli Awadhi Korma
Ingredients Qty
lamb shanks 300 gms
small cardamom 2 gms
big cardamom 2 gms
cinnamon stick 1 gm
whole javitri 1 gm
cloves 1 gm
bay leaves 1 gm
onions 50 gms
ginger paste 5 gms
garlic paste 5 gms
cashew nut paste 15 gms
curd 30 gms
saffron 0.01 gm
cream 15 ml
rose water 2 ml
jeera powder 5 gms
coriander powder 5 gms
red chilli powder 3 gms
yellow chilli powder 3 gms
green coriander 5 gms
desi ghee 40 ml
salt to taste
Instructions
Heat ghee in a heavy bottomed vessel on medium flame and add cardamom, cinnamon, javitri, cloves, and bay leaves. Add sliced onions and cook till they turn golden brown.
Add ginger and garlic paste and the lamb shanks. Sauté for a while and stir occasionally so that the pieces get an even colour on all sides.
Add yellow chilli powder, jeera powder, coriander powder, and red chilli powder. Cook on low flame with the lid on until the meat is succulent and cooked. Add water as required.
Remove the cooked lamb pieces and strain the gravy.
Add beaten curd, cashew nut paste, saffron, rose water, and cream to the strained gravy and cook on low flame.
Add the lamb pieces and adjust the seasoning. Garnish with coriander leaves and serve hot.
Burrah Kebab
Ingredients Qty
lamb shank 200 gms
lamb chop 150 gms
raw papaya 40 gms
garlic paste 20 gms
ginger paste 15 gms
red chilli powder 10 gms
cumin powder 5 gms
chopped mint 10 gms
garam masala 10 gms
hung yogurt 80 ml
oil 50 ml
malt vinegar 20 ml
salt to taste
Instructions
Clean, wash, and pat dry the lamb shank and chop, and raw papaya. Mince the raw papaya and make it into a paste
Marinate the meat with salt, ginger and garlic paste, vinegar, raw papaya paste, and allow it to rest for two hours.
Make a second marinade with yogurt and all the remaining ingredients. Mix thoroughly and allow it to rest in the fridge overnight.
Baste the meat in the second marinade, skewer it, and let it roast in a tandoor. Serve hot with mint chutney.
Shahi Gatte ki Subzi
Ingredients Qty
gram flour 150 gms
whisked yogurt 100 gms
salt as required
ginger 10 gms
mawa 50 gms
paneer 50 gms
green chillies 10 gms
oil 200 ml
cumin seeds 10 gms
red chilli powder 5 gms
coriander powder 5 gms
asafoetida a pinch
turmeric powder 5 gms
tomato paste 50 gms
garam masala 5 gms
Instructions
Mix gram flour with half cup of yogurt, ginger, salt, soda, and enough water to make a hard dough. Knead well and set aside.
Grate the mawa and paneer. Add chopped green chillies, and salt and mix together. Divide the gram flour dough into equal-sized portions, stuff them with the mawa and paneer mixture, and give them a cylindrical shape.
Boil the stuffed gatte in three cups of salted water for 10 minutes, drain, and set aside.
At this stage they can be fried as well. For the gravy, heat oil, add cumin seeds, fry them till they turn brown, and then add the other spices. Cook till the oil separates and add the tomato paste.
Lower the temperature, add yogurt, stir continuously, adjust the salt, and add garam masala, and water for gravy.
Add the gatte and continue to cook until the gravy thickens. Serve with your preferred breads.
Maas ka Soola
Ingredients Qty
lamb boti 200 gms
lamb chop 200 gms
For the first marinade
nutmeg powder 10 gms
salt 10 gms
lemons 2
For the second marinade
ghee 30 ml
brown onions 50 gms
curd 50 gms
red chilli paste 10 gms
ginger garlic paste 20 gms
clove powder 2 gms
garam masala 10 gms
cloves 7-8
Instructions
Marinate the lamb with nutmeg powder, salt, and lemon juice. Set it aside for an hour.
Sauté the onions in oil till they turn golden brown and add the curd and mix them well.
Add red chilli paste, ginger garlic paste, clove powder, garam masala, and the marinated lamb. Mix well.
Now place the marinated lamb on a plate. Add a light piece of charcoal in a bowl and place it in the middle of the plate. Then add the ghee and cloves.
Cover the plate and keep it aside for 30-45 minutes. This is for the flavour, and fragrance to penetrate.
Now barbeque the smoked lamb for five minutes with ghee. The maas ka soola is ready to be served.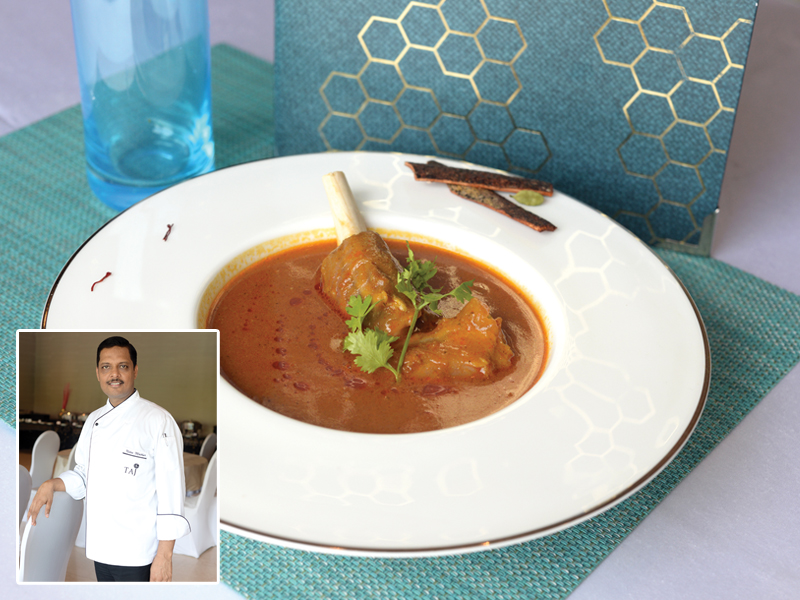 Nihari Gosht
Ingredients Qty
lamb pieces 800 gms
mustard oil 50 ml
ghee 50 ml
sliced and chopped onions 200 gms
green cardamom 5
cloves 5
cinnamon sticks 2
black cardamom 2
bay leaves 2
coriander powder 15 gms
red chilli powder 12 gms
turmeric powder 3 gms
salt to taste
ginger paste 15 gms
garlic paste 20 gms
whisked curd 100 ml
besan 15 gms
kewra water 2 ml
meetha attar 1 ml
potli masala 20 gms
Instructions
Heat mustard oil in a handi, add the sliced onions, and sauté them over a medium flame until they turn golden brown. Add the lamb pieces, chopped onions, cardamom, clove, bay leaves, cinnamon, and sauté.
Add water, ginger and garlic paste, turmeric powder, red chilli powder, and salt. Bring it to a boil and simmer until the lamb pieces are tender.
When the water reduces and lamb is tender, add the curd and coriander powder, and sauté for 10-15 minutes.
Remove the lamb pieces from the gravy, and keep aside. Strain the gravy with a sieve.
Heat the ghee in a separate handi. Add besan and sauté while stirring continuously until it turns light brown. Add the strained gravy and cooked pieces. Stir and bring to a boil.
Add garam masala and potli masala. Adjust the seasoning.
Finally, add the kewra water and attar. Cover and let it simmer for five minutes. Serve hot.
Seviyan ka Muzaffar
Ingredients Qty
fine vermicelli 200 gms
ghee 50 gms
crushed
green cardamoms 4
crushed cloves 4
water 200 ml
hot milk 150 ml
sugar 150 gms
unsweetened khoya 50 gms
saffron a few strands
kewra essence a few drops
almonds 20 gms
soaked pistachios 20 gms
silver vark as required
Instructions
Slice the almonds and fry them in ghee.
Heat ghee in a pan over medium heat. Stir fry the crushed cardamoms and cloves for a minute or two.
Add the vermicelli and lower heat. Fry till they turn light brown.
Shift the vermicelli to a deep pan. Add milk, a little at a time, and cook on a low flame till the vermicelli is cooked. Remove from fire.
In a separate pan, cook sugar with two cups of water until it thickens to a two-string syrup.
Add khoya and saffron. Mix well. Add kewra essence (if preferred).
Add vermicelli to the sugar syrup and mix well. Stir gently.
Simmer together on low flame for a few minutes till the liquid has dried.
Transfer to a baking dish. Bake in a moderate oven for 10 to 12 minutes.
Garnish with almonds, pistachios, and silver vark.
Meenakari Kebab
Ingredients Qty
boneless lamb 500 gms
lamb fat 200 gms
Kashmiri chilli powder 500 gms
garlic 500 gms
garam masala 500 gms
salt as required
red chilli powder 500 gms
jeera powder 500 gms
green chillies 100 gms
chopped onions 100 gms
coriander leaves 500 gms

Instructions
Clean and wash the lamb and then mince it to make keema.
Mix the keema with garam masala, kashmiri chilli powder, jeera powder, lamb fat, garlic, red chilli powder, and chopped green chillies.
Roll the keema into cylindrical shapes, enough for four people, and then place them on skewers.
Add the chopped onions and coriander to the pieces.
Cook it in a clay pot and serve hot with your preferred condiments.
Laapsi
Ingredients Qty
broken wheat (laapsi) 200 gms
ghee 100 ml
jaggery 200 gms
cardamom powder 10 gms
pista slices 10 gms
almond slices 10 gms
raisins 20 gms
cashew nuts 20 gms
hot water 2 cups
Instructions
Dissolve the jaggery in two cups of hot water.
Heat one tbsp of ghee in a pan on medium flame. Add the cashew nuts, almond slices, raisins, and sliced pista. Roast them till the colour changes to light gold.
Heat another tbsp of ghee in a wide pan on medium flame.
Stir in the broken wheat and roast it until an aroma rises and the colour changes to a golden brown.
Pour in the jaggery mixture and cardamom powder, stirring it continuously until it is well combined. Reduce the heat to low and cover the pan with a lid, allowing it to simmer for 10 minutes. Stir occasionally until the wheat is tender.
When it's done, the grains should separate. They should not be mushy and sticking together. Cover the laapsi and allow it to rest for five minutes. Stir in the cashew nuts, almond and pista slices, and raisins. It is now ready to be served.
Sev Kadhi
Ingredients Qty
gram flour (besan) 2 cups
yogurt 1 cup
salt to taste
red chilli powder 1 ½ tsp
turmeric powder ½ tsp
coriander powder 1 tsp
cumin powder 1 tsp
oil 2-3 tbsp
chopped coriander 1 tbsp
cumin seeds 1 tsp
cloves 4-5
red button chillies 3-4
curry leaves 7-8
Instructions
Combine 1 cup gram flour, salt, ½ teaspoon chilli powder, ¼ teaspoon turmeric powder, ½ teaspoon coriander powder, ½ teaspoon cumin powder and 2-3 teaspoons oil in a bowl. Add ½ cup water, mix and knead into a soft dough.
Transfer the dough into a sev press, cover and set aside.
Take yogurt in a deep non-stick pan. Add 3 cups water and whisk well.
Place the pan on heat. Add salt, mix well and let it heat. Add 2 tablespoons gram flour and blend well.
Add remaining turmeric powder, ½ teaspoon chilli powder, remaining cumin powder, remaining coriander powder, and mix well. Cook till the mixture comes to a boil.
For the sev, flatten it on to the pan. Mix lightly and cook till the sev is fully cooked and kadhi thickens.
Add chopped coriander and mix well. Transfer the kadhi into a serving bowl.
Heat one tablespoon oil in a tempering pan. Add cumin seeds and let the seeds change colour. Add cloves, red button chillies, curry leaves, and remaining chilli powder and mix well.
Pour the tempering over the kadhi and serve hot.
Shikampuri Kebab
Ingredients Qty
boneless lamb chunks ½ kg
chana dal ½ cup
ginger-garlic paste 1 tbsp
chilli powder 1 tsp
green chillies 2
salt as required
black cardamoms 4
bay leaves 2
cinnamon sticks 4
cloves 6
yogurt ½ cup
garam masala powder 1 ½ tsp
chopped coriander leaves ½ cup
chopped mint leaves 2 tbsp
lime juice 2 tbsp
hung curd or cream ½ kg
lightly beaten eggs 2
oil 3 tbsp
Instructions
Wash and clean the mutton chunks properly with water. Keep it aside.
Heat water in a deep bottomed pan. Add the chana dal, ginger-garlic paste, green chillies, black cardamoms, bay leaves, cinnamon sticks, cloves, and the lamb chunks to the boiling water.
Cook the meat on low flame for about 20 minutes till the meat becomes tender.
Once the meat is cooked properly, switch off the flame and drain the water from the meat.
When the meat cools down completely, grind the meat along with the spices in a mixer into a fine paste. Do not add any water while grinding.
Now add the yogurt, garam masala powder, red chilli powder, salt, mint leaves, coriander leaves, and lime juice to the ground kheema. Mix well with your hands.
Divide this mixture into 8-10 equal parts. Take one part of the mixture and roll it between your palms. Flatten the mixture slightly making an indentation in the middle like a small cup with your fingers.
Fill the indentation with the hung curd or fresh cream. Fold the mixture from all the sides to seal the curd filling. Make all the kebabs in the same way.
Heat oil in a pan. Dip the kebabs in the beaten egg mixture and then fry it in the oil.
Cook on low flame for about 10 minutes on each side. Once the kebabs turn golden brown and are cooked completely from all the sides, transfer them to a serving plate.