Educator and businessman Faiz Khan recently got to experience Singapore when he had to travel there for a conference. Read on to find out what he did and what he loved about this unique archipelago nation.
I travelled to Singapore for an Educational Leadership Conference. Though the main reason behind the trip was professional, I was thrilled to make it the best of both work and leisure. I was supposed to travel alone, but I thankfully met a family friend and some acquaintances at the airport. They happened to all be heading for the same conference.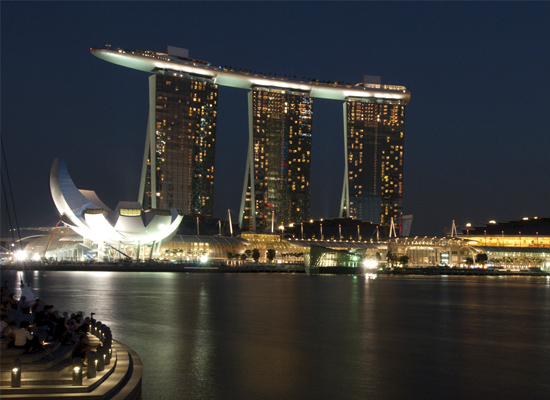 Four and a half hours later, at 6 am, we landed in Singapore. I was really looking forward to this trip as it was my first to the country, and I was duly struck by the beauty of the 63 islands. It is the perfect example of diverse cultures co-existing in peace and harmony.

Our conference started at 10 am, soon after an excellent continental breakfast. Over the next three days, we travelled to every nook and cranny of Singapore, day and night. The Singapore Botanical Gardens, the National Museum, Marina Bay Sands, the Night Safari, St. Andrew's Cathedral, and Universal Studios were just some of the many beautiful attractions that Singapore had to offer.
Of the sights, one of my favourites was the Singapore Flyer. Much like the iconic London Eye, the Flyer is a giant Ferris wheel from which you can enjoy a mind-boggling view of the city. In fact, it is the tallest of its kind, taller even than the London Eye.
You might remember seeing the Merlion in Singapore's tourism advertisements. Located at Marina Bay, it is the mascot and a national personification of Singapore. The statue consists of a lion's head and the lower body of a fish, a combination of its original name, Singapura ('lion city'), and Singapore's significant origin as a fishing village.

I stayed at the lovely Swissôtel the Stamford, a luxury hotel in the heart of Singapore city. It is one of the tallest hotels in Southeast Asia, with picturesque views of downtown and the rest of the city. The Stamford has direct access to Raffles City Shopping Centre, along with Raffles City Convention
Centre – a convenient perk for guests travelling for leisure, business or both.
Singapore is a true fusion of cultures and customs, and it is has a little bit of everything – Chinese, Indian, British, and Malay influences. In fact, close to half of Singapore's residents are non-ethnic or non-Singaporean. Its cuisine is another clear indicator of the nation's ethnic diversity.

I found it fascinating how the country has a very strong Malay influence, along with hints of Indonesia, China and the West. There are even Portuguese and Arab touches! Western names are very predominant, but the people of Singapore are a hardworking bunch who take pride in what they do. The Garden City of Asia is an interesting blend of East and West.
Undoubtedly the finest moment, apart from the conference, was my visit to Marina Bay Sands, which has been called the world's most expensive standalone property. This astounding resort by Marina Bay has a stunning
150-metre infinity pool on the terrace, set on the world's largest cantilever platform. The pool has a breathtaking view of the city, an exceptional sight at night when the whole of Singapore is beautifully lit up.


Just over four hours from India, I highly recommend Singapore for a short break from the hustle and bustle of routine city life. I'm already looking forward to my next visit there, when I take my family on holiday. Malaysia is a short drive from Singapore, too, so it is a convenient trip for those who have both nations on their wanderlust lists.
Another thing that really impressed me was the quality of education and infrastructure Singapore offers. The fact that education is mandatory there till a certain age is probably why you see a highly cultured, aware and focused set of citizens. – as told to Saloni