From the very beginning, the Huayra Roadster door design followed in the tradition of the Mercedes-Benz models of the 1950's, specifically the gullwing doors of the 300-SL, and its Roadster variant featuring conventional doors. In the end, the design closely follows in the tradition of Pagani - the vehicle best represented in the Huayra Roadster design: the Zonda Cinque Roadster.
The overall shape is smooth and immediate, where each line has a beginning and a definite end. Every last detail has been revised- every contour made more defined, every curve redrawn multiple times to arrive together in a cohesive, liquid form.
From the more aggressive and pronounced mouth of the car, framed by wider wheel arches, from the shape of the roll bars to the upgraded interior- every single element of the car has been scrutinized and redesigned.
The bonnet has a fundamental function: an elegant vitrine containing both the technology and the art of the engine. By natural evolution, its design took on a life of its own, becoming a space with its own stylistic identity, itself worthy of being exhibited in an art gallery.
Unlike most modern supercars, the Roadster is almost fully exposed, with nearly every mechanical part visible, and every last piece proud to be revealed. Staying true to the Pagani philosophy of respecting every last detail in the design, every piece of the car was given consideration and attention. Even the smallest screw is designed to be both beautiful and functional.
CHASSIS
One of the ambitious goals set at the beginning of the project was to build a Roadster that would be lighter than the Coupe, improving the torsional rigidity of the frame. Armed with the expertise gained from the Zonda R, Huayra Coupe, and the Huayra BC, the engineering team further refined the development of carbo-titanium. Combined with a new form of composite material and developed for the Huayra Roadster, it is considered more advanced than materials used for Formula 1 cars. The dry weight of the Roadster measures 1,280kg, about 80kg less than the Coupe, while also increasing in torsional flexional rigidity - an incredible achievement by its own right, from a purely technical standpoint.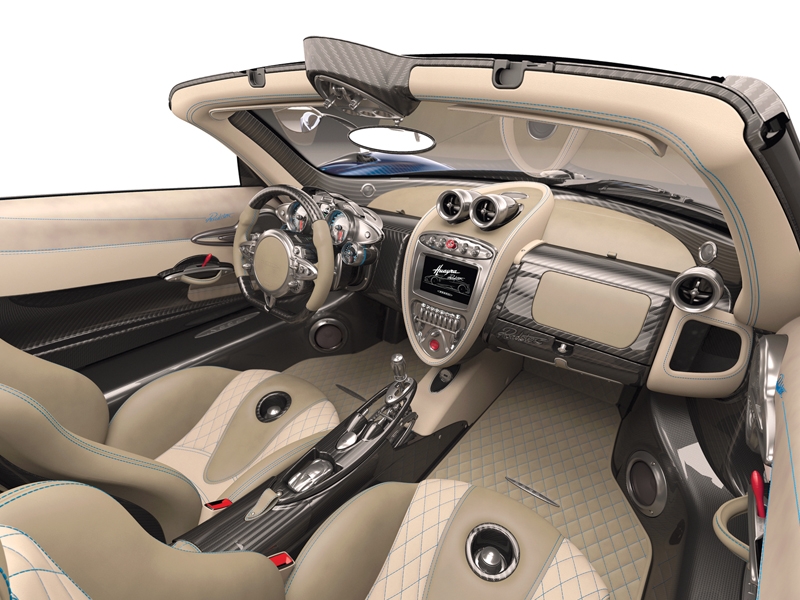 Engine
The twelve-cylinder engine, specifically built for Pagani by Mercedes-AMG, has benefitted from the research and development done for the Huayra BC, delivering power of 764 HP at 6200 RPM, with a torque of over 1000 NM already available at 2400 RPM.
Equipped with the most cutting edge technology, the twin-turbo, 12 cylinder, narrow angled 60 degree engine with 5,980 cm3 has been developed to satisfy both the international homologation standards and the even more stringent Pagani internal standards, resulting in a driving experience both relaxed and electrifying. The turbines have been developed to provide an immediate throttle response without delay, providing the driver with full control of the vehicle. The dry sump lubrication allows for perfect engine response, even under the most extreme lateral acceleration conditions. The M158 motor is approved for the most restrictive EURO 6b and Carb environment regulations. – Source: Pagani