For the city of Nawabs, the transformation from underserved neighborhood bars to serious food-and-drink destinations has been happening for the past several years. Repete Brewery & Kitchen represents the next crucial piece of the puzzle: a microbrewery destination that can go toe-to-toe with the most pedigreed beer spots in Hyderabad. The craft beers are phenomenal, and their enthusiasm for sharing them is exactly what's needed to gain the microbrewery movement some new converts.
Helmed by Jishnu and Mahesh, the four-level pub looks like a cross between a retro bar and a modern, chic-diner. The four massive floors are very different from each other—there is a low-key and dark level for party hoppers, a rooftop, and a lounge bar with a relaxed and a lively ambience.
On the surface, with industrial interiors, comfortably scuffed furniture, picnic table seating, a sleek bar, and an exciting menu boasting pub food to line the belly, Repete is hard to beat. Plus, the view offers a panoramic glimpse of the city, making it ideal for entertaining out-of-town visitors. Whether you're looking for a dimly lit hideout, a place that has a bit of jazz and rock, or just want to grab a quick craft beer before heading home, this place is the perfect spot. Toss in hearty, chef-driven eats and a concise beer menu, and it's easy to see why Repete Brewery & Kitchen has become a name to memorise.
Drinks
Coming to their main concept of serving freshly brewed beer, Mahesh and Jishnu strongly believe that freshly crafted beer is always a beer connoisseur's first choice. Brewing small batches of bespoke beer matching to local taste makes Repete stand out from other local breweries. The Farmhouse Ale has a fruity aroma and bittersweet taste whereas the English Bitter has a malty taste with herbal hop aroma. Wheat Beer will entice with its smell of cloves and refreshing banana flavour. While Saison will excite with its spicy and fruity taste, Dark Wheat will soothe the soul on the first sip with the delicious flavour of roasted malt. Last but not least, Milk Stout is always there to spice up the dinner with its smooth and creamy flavour and smoky, chocolatey aroma.
Tip: Cocktail nerds should sit at the bar to watch the super friendly bartenders make their drinks. If you're eating—and you should—move to a table to give yourself some room. And when the weather is pleasant, the rooftop is a great option.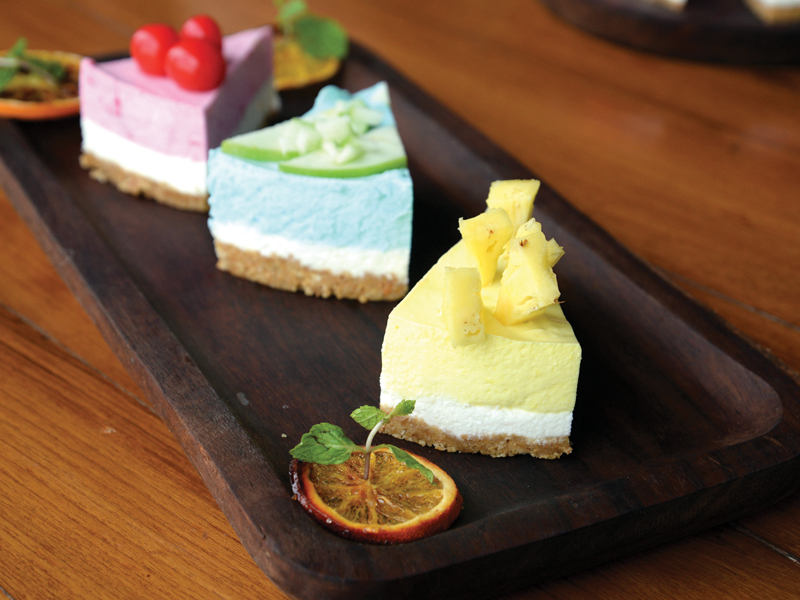 Food
In addition to quality beer, Repete also has a lengthy menu of dishes that will soak up all that alcohol – think Baked Nachos, Spicy Crispy Lotus Stems, and Bacon Wrapped Prawns Grilled Cottage Cheese with Jack Daniel's sauce, Lamb Chops with Red Wine Reduction, Shepherd's Pie, and Veg Kheema Biryani. They also have a set of fusion dishes that will tickle your taste buds. And the creativity doesn't stop there. The thin crust pizzas have just the right amount of crunch to it, and the unconventional spicy Chicken Sausage Cheese Bajji is delicious and almost impossible to find anywhere else in this city. To finish, try the Chocolate Samosa with Vanilla Ice-Cream and a Cheesecake that keeps the palate light. They're all intriguing and delicious, and the biggest problem you're going to face is sampling all of them before you lose the power of speech.