Relax, Rejuvenate, Retreat! - Ananda in the Himalayas, Kamalaya, Como Shambhala Retreat

Ananda in the Himalayas (India)
An award-winning luxury destination spa spread across 100 acres in the Maharaja's palace estates, Ananda is located at the foothills of the Himalayan range and is surrounded by the beautiful Sal forests. The retreat overlooks the sacred Ganga River and the spiritual towns of Rishikesh and Haridwar. The wellness spa offers a combination of international wellness programs with traditional Ayurveda, Vedanta, and yoga under the guidance of expert Ayurvedic doctors, nutritionists, skilled therapists and yogis. The spa offers a range of programs, including the four-night Detox starter, which includes meditation, yogic kriyas, and personal fitness with a customised diet. There is also a seven-night healing Detox program, which includes herbal medication, massage, and periodic liberation of toxins through two Sneha Vastis. Natural and effective yoga detox uses different Hatha yogic cleansing techniques. Ananda's Dhyana program includes daily meditation sessions such as Yoga Nidra, AjapaJapa, AntarMouna and Trataka. In addition to the detox programs, this spa also offers rejuvenation and weight loss management, along with yoga and outdoor fitness activities. Prices for a single room per night start at Rs.8,500 and a double room starts at Rs.9,500.
Kamalaya (Thailand)

Asia's award-winning holistic spa and wellness sanctuary Kamalaya in Thailand is the perfect destination for a rejuvenating holiday. This wellness retreat is located in a valley that overlooks the coast of southern Koh Samui. The cave temple of this retreat was once used by Buddhist monks as a place for spiritual retreat and meditation. It has a team of traditional Chinese medicine doctors, Indian Ayurveda therapists, naturopaths, registered nurses, fitness instructors, yoga mentors, and an allopathic doctor who offer a range of treatments. These include a detox regimen that combines holistic therapies and medical science, and various stress management programs that feature the Asian bliss healing technique – a combination of traditional Chinese medicine, Ayurveda, and exercises from Asian traditions. Along with yoga and holistic activities, this retreat helps guests explore their inner lives and emotional well-being, and offers support to those struggling with anxiety, grief, relationship, and work-related issues. To help guests achieve a more specific outcome, this spa offers tailor-made programs as well, which focus on one particular therapy and adjust the intensity of the treatment accordingly. The five-night basic wellness program here costs a whopping Rs. 87,623.
Como Shambhala Retreat (Bali, Indonesia)

To discover a truly 360-degree wellness experience, consider the Como Shambhala Retreat located at the Begawan Village, a short drive from Ubud, Bali. The word 'Shambhala' refers to a sacred place of bliss, and the healthy living philosophy at this wellness retreat takes its inspiration from the mythological roots of the ancient Buddhist texts. The Como Shambhala offers a combination of Eastern methods with a scientific approach. The various programs offered at this spa are stress management, rejuvenation, cleaning, Ayurveda and traditional Chinese medicine, Asian-based therapies, and a vegan diet inspired by remote Indonesian islands and Italy. Pranayama meditation and yoga overlooking the rainforest canopy and Japanese-style acupuncture are commonly practiced here along with guided estate walks, water-based activities, and workouts in the jungle gym. In addition to regular massage, there is an interesting traditional cleansing ritual practiced here, which begins with a dip in the scared waters at Tirta Empul temple at Tampak Siring. A priest then finishes the purification process with a blessing in the temple.
Viva Mayr (Austria)
This luxurious 80-year old remote spa was introduced by Dr. Franz Mayr. Located in the Corinthian Alps in Austria,it is an elite retreat that has hosted well-known personalities from Hollywood and Bollywood. This spa features an effective weight loss treatment developed by Dr. Herald Stossier, and it also promises a younger-looking skin and a fit body in just two weeks, with a diet that revives your system. The system is based on the principle that giving a break to the digestive system – which has been overloaded with food over time – allows other parts of the body to repair themselves. The treatments provided at this spa address numerous health problems such as chronic fatigue, allergies, migraines, arthritis and sleep disorders. The program offers daily abdominal massages, traditional massages, and liver compresses. The strict diet here includes eating a mouthful of food consisting of stale bread atleast 30 times, and consuming Epsom salt to cleanse the intestines. Alcohol, sugar and dairy products are not served here. At times, dinner is just a bowl of herbal tea or a broth. One of the reasons many people leave this place with glowing skin and a great body is because the drinking water here is drawn from the depths of the nearby quarries. The Viva Mayr costs a whopping US$4,500 (roughly Rs. 3,06,000) a week.
Rancho La Puerta (Baja California, Mexico)
One of the best and oldest wellness retreats in North America, Rancho La Puerta was founded in 1940 by Edmond and Deborah Szekely. It is located four miles across the border from California, in Tecate, Mexico. This spa is spread across 4,000 acres of private land filled with beautiful sunflowers, butterflies and African daisies. The day at Rancho La Puerta starts with an early morning hike to explore the spiritually energetic atmosphere. With a motto like "SiempreMejor", which means "Always better", this renowned wellness retreat aims to enlighten the mind and strengthen the body through an integrative wellness program. The retreat offers holistic therapies, wellness workshops, educational lectures, highly appetising organic cuisine and fitness classes. The week-long executive wellness program is designed to provide a personalised long-term health plan for individuals, and includes a wellness exam followed by a one-on-one session with a nutritionist and an exercise specialist. All the treatments at this spa use medicinal and aromatic herbs and other healing plants that are grown at Tres Estrella. The spa features a variety of unique fitness services, including water dance, sound healing, acupuncture, chanting/crystal bowl, and biodynamic craniosacral therapy. The 45-minute spring rain shower treatment is a signature therapy, and includes a seaweed body mask that is applied to re-mineralise and re-hydrate the skin, followed by a gentle rain-like shower to improve blood circulation. For a week's stay, Rancho La Puerta costs $6,300 for single occupancy and $5,550 per person double occupancy.
Tschuggen Bergoase Spa (Switzerland)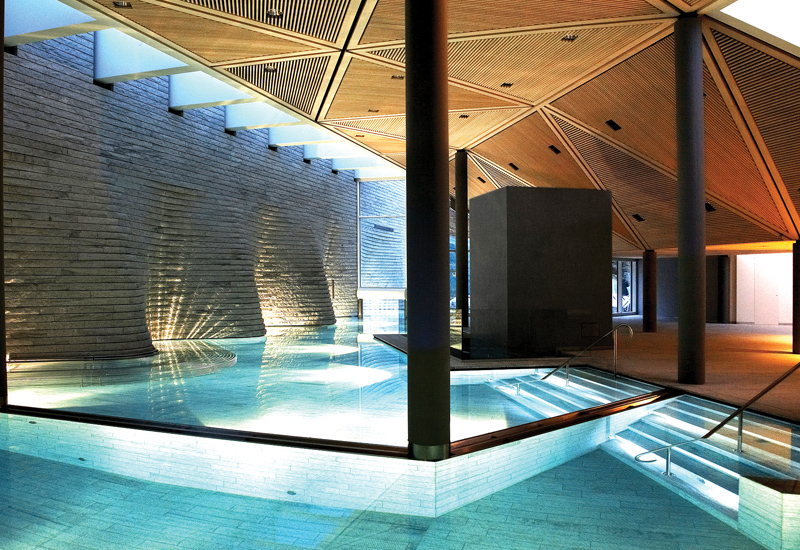 The Tschuggen Bergoase Spa is one of the most impressive and spacious wellness retreats in Europe, and is set amidst the mountains at 1,800 metres above sea level. This retreat is connected through a glass bridge to the Tschuggen Grand Hotel in the beautiful and serene location of Arosa, Switzerland. This stunning spa is built in an area of 5,300 square metres by renowned architect Mario Botta. The spa boasts a breath-taking view of the mountains and incorporates natural elements into its beauty, health, wellness nutritional programs. The Tschuggen Bergoase wellness retreat features two private spa suites known as the Pièce de Resistance, and 12 individual treatment rooms which offer specialised hydrotherapy massages. All the massages are done using products from top-notch cosmetic brands such as Kanebo, Clarins, Thalgo and Dermalogica. At this luxurious spa there are numerous poolside relaxation areas. Facilities include two swimming pools, a meditation centre, fitness rooms, relaxation area by the fire place, stretch area, hair salon and medi-spa. It also has the KneippPath, a path similar to a natural stream where guests can walk over natural stones and pass through ice cold and hot spots, all on the fourth floor. This therapy helps the nervous system and stimulates blood circulation. The Arosa Mountain Grotto on the top floor incorporates Arosa mountain stone, and here guests pass through a rain curtain and into a small area where they experience summer rain, fog, mist, winter storm, and pure sunshine, all designed to calm the mind and soul.
A double room at this luxurious Tschuggen Grand Hotel costs £197per night per person (inclusive of breakfast, spa, and the Tschuggen Express).
SHA Wellness Clinic (Spain)

This world-class wellness clinic on Albir Beach in Spain was built by award-winning European designer Elvira Blanco Montenegro and renowned Uruguayan architect Carlos Gilardi. The retreat is situated on a mountainside overlooking the Mediterranean Sea. Aiming to establish a balance between mind, soul and body, SHA Wellness Clinic combines Western techniques and ancient Oriental disciplines. The main fields of focus are anti-ageing, non-invasive Aesthetic medicine and natural health. At SHA, internationally acclaimed experts and a team of consultants provide a combination of macrobiotic nutrition and natural therapies, each personalised to satisfy individual needs. Programs here include: yoga, acupuncture, anti-stress therapy, sleep well treatment, anti-tobacco therapy, shiatsu, macrobiotic cookery, chi-kung, tai-chi, watsu, reflexology, laughter therapy, rejuvenation techniques, physiotherapy, reiki, and moxibustion. Named as one of the favourite spas in Spain, it features 93 modern suites with lounge and dressing areas, along with all the amenities, a huge swimming pool, and tropical gardens. Some of the suites include a hydro-spa and a small cooking area where a chef prepares guests' meals. The wellness centre also has tea rooms with Oriental phytotherapy, a science-based therapy that also relies on medicinal herbs. There's a hair-styling salon and pedicure salon that uses luxury cosmetic brands such as Sodashi, John Masters Organics, and La Ric. This high-end clinic starts at 2,000 Euros and goes upto 10,000 Euros, making it a favourite among Hollywood celebrities such as Naomi Campbell and Kylie Ann Minogue.
Schloss Elmau (Elmau, Germany)
The 100-year-old, family-owned Schloss Elmau spa is located in an impressive valley at the foot of the Bavarian Alps between Heidi-esque meadows and white-capped mountains, 100 kilometres south of Munich. Earlier, Schloss Elmau was a monument built by architect Carl Sattler during World War I between 1914 and 1916. The monument was eventually converted into a five-star resort that was ranked as one of the leading hotels in the world. This German resort provides guests a world-class premier spa experience, with an array of activities such as yoga retreats, tai chi, qigong, and an exclusive spa for adults – the Badehaus Spa. This wellness retreat has an exclusive spa –the Turtle Spa – where only traditional Chinese medicine is practiced, and the retreat also offers various services for children. Treatments offered here include facials, hot stone therapy, scrubs and wraps, Thai massage, Shiatsu, hydrotherapy, ayurveda and reflexology. Some additional features include the sauna, spa pool, relaxation rooms, strength training equipment and salon services. Meditation, personal training, yoga and aquaerobics are taught, too.
Astra Suites (Santorini, Greece)

Astra Suites has been awarded the most romantic hotel in 2017. It's located on the volcanic cliffs of Santorini with a spectacular view of the beautiful blue Aegean Sea and a dormant volcano. This luxurious spa offers indoor Jacuzzis, steam rooms and treatment rooms, and body care treatments include the aromatherapy facials. The customised plant-based facial masks offered here are beneficial for all skin types. The body massages are a mixture of Western and Eastern techniques, which provide a calming effect on the body. The muscles are made to relax by dissolving tension using long strokes, kneading and stimulation of pressure points. The joint and stretch connective tissues are relaxed by rocking and passive stretching. This spa provides effective body massages such as Shiatsu, Traditional Thai, Deep Tissue, Prenatal, Reiki and Indian head massage. The Cranial Sacral Balancing is a unique non-invasive therapy that works with the cranial rhythm and cerebrospinal fluid in the brain, spinal cord and nervous system. The result is that guests, will experience a state of stillness that facilitates self-healing capabilities.
Six Senses Spa (Zighy Bay, Oman, Middle East)

The Six Senses Spa is located in the dramatic Haijar Mountains, close to the Al Bustan Palace. Expert wellness therapists offer programs combine ancient holistic and innovative treatments. The Six Senses Integrated Wellness Program offers a personalised package of spa treatments, fitness, and wellness activities based on the preventative principles of the Eastern medicine approach, and the results-driven Western influences. The program includes a wellness screening session using an advanced technology to analyse essential physiological biomarkers. Once the screening is complete, the results are used to create a wellness program and a proper healthy diet. Another effective and unique treatment offered at the Six Senses Spa is a Hammam treatment with Maroc Maroc. This Hammam treatment reduces muscle tension, removes dead skin, boosts the immune system, improves sleep and reduces stress. A one-night stay at this lavish spa costs around $1,000. It is about time you planned your next wellness experience!
-Akhila Kakarala