Rebel Wilson Wins Defamation Case

Australian actress Rebel Wilson has won a legal defamation case against the publisher of Woman's Day and Australian Women's Weekly, Bauer Media over a series of magazine articles she claimed ruined her career.
The alleged articles in the magazines accused actress Rebel Wilson of lying about her real name, age, background and professional life story.
Bauer Media denied the articles were defamatory but the six-woman jury sided unanimously in favour of Ms Wilson.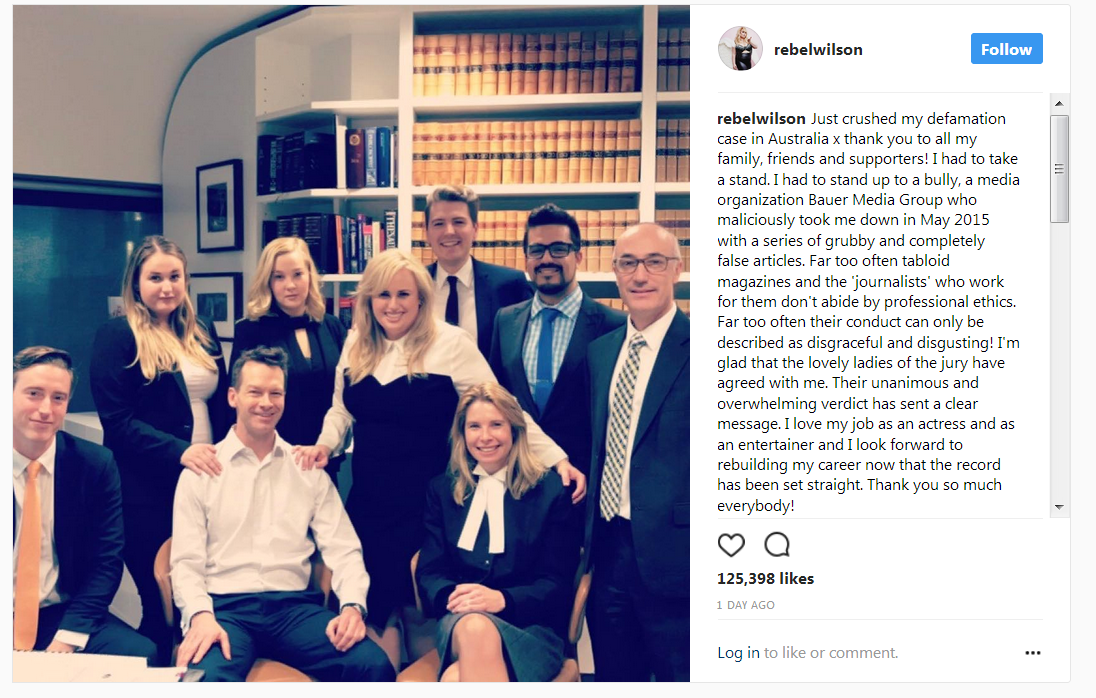 "Rebel Wilson claims the defamatory articles caused her to lose existing movie roles, including "Kung Fu Panda 3" and "Trolls", and to miss out on new roles," her lawyer Richard Leder told AAP.
"Just crushed my defamation case in Australia x thank you to all my family, friends and supporters! I had to take a stand. I had to stand up to a bully, a media organization Bauer Media Group who maliciously took me down in May 2015 with a series of grubby and completely false articles," Rebel wrote on Instagram. "Far too often tabloid magazines and the 'journalists' who work for them don't abide by professional ethics. Far too often their conduct can only be described as disgraceful and disgusting!"
"I'm glad that the lovely ladies of the jury have agreed with me. Their unanimous and overwhelming verdict has sent a clear message," she continued. "I love my job as an actress and as an entertainer and I look forward to rebuilding my career now that the record has been set straight. Thank you so much everybody!"
Pic courtesy: AAP