Rahul Mishra's Latest Collection is a Sequence of Woven Dreams

Ace designer Rahul Mishra showcased his latest collection, Kam-Kẖāb at the India Couture Week in Delhi recently. 'Kam' translates to 'less' and 'khaab' refers to a 'nap'—thus 'Kamkhab' is a sequence of dreams woven together like a garland of artistic musing, of emotions and of instances that that we've subconsciously lived through, multiple times in our minds.
Kamkhab is a collection of garments developed at the designer's atelier during two lockdowns, through the breaking and rebuilding of hope, resilience and the fluctuating strength of love. Much like a garden after the process of seeding—soaking its sun and water. Each sapling taking its own sweet time to produce flowers. Same way, the clothes, emerge out of a different verse of the same poem and each tell a different part of the same story.
"Creating this collection has been like creating a bouquet of flowers—with the beauty of old love and the lightness of new beginnings. Filmed in a century old haveli that was opened after, over eight decades of being shut. Much like intricate adornments on the walls of these homes, the garments envisage the love one pours into building their home. Taking months and years to paint their stories and reside amidst them so as to never forget. Or perhaps leave one day, and move on—with a mere montage of memories—leaving behind the weight of heritage. Kamkhab borrows from the limitlessness of craft, the volume of skill that contributes to its immortality. And the strong passion that enables it to be brought to realisation," reads the press release.
Articulated with age-old techniques of hand embroidery, Rahul's couture is weightless, despite the intricacy of details—interpreted for the world of today. Realised in fabrics such as silk organza, georgette, crêpe and tissue along with Banarasi cutwork and Chanderi silk textiles, each piece holds values of love, craft, beauty, longevity and human touch. The press release also reads, "While enabling our community of craftsmen and weavers from across the country, Kamkhab represents luxury that is produced to address the demand, and not pursue consumption."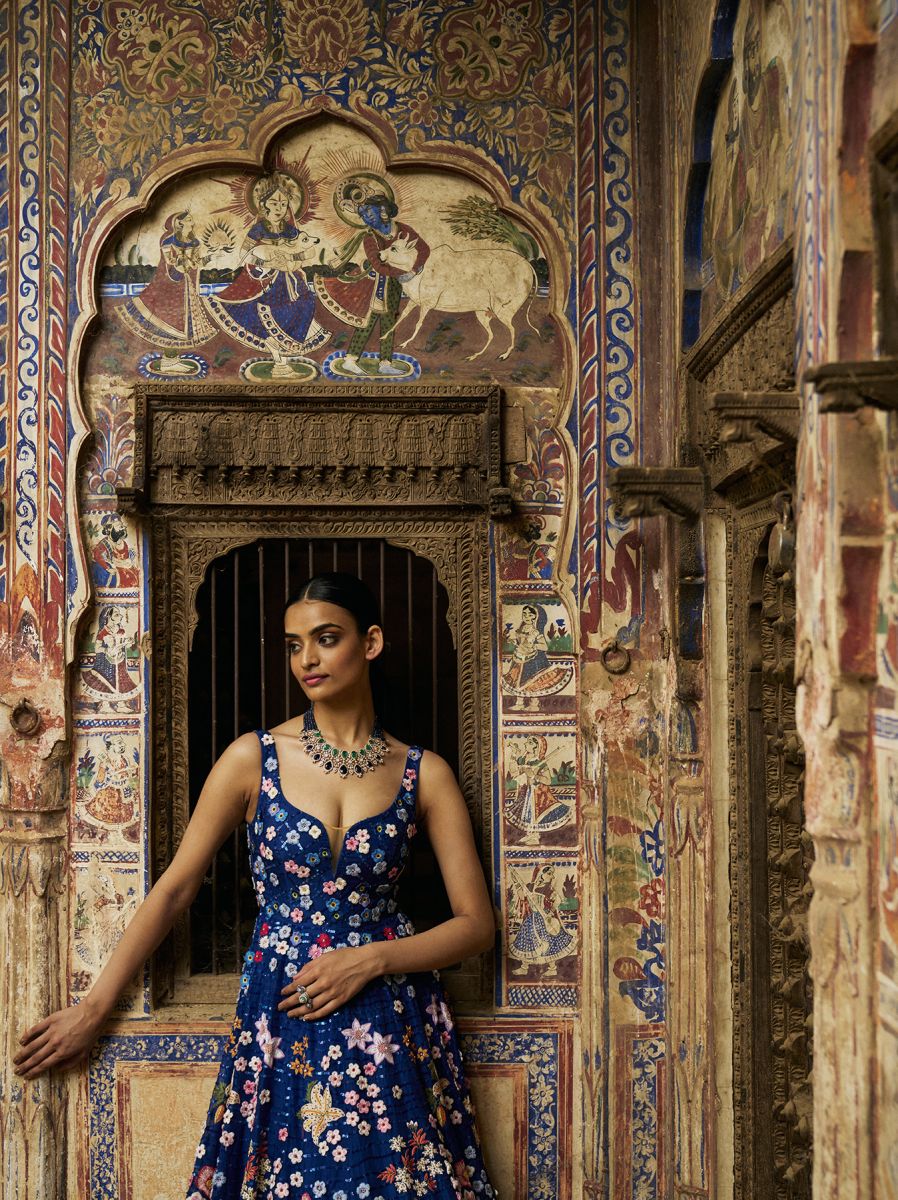 The jewellery worn by the models during the virtual showcase of Rahul Mishra's collection was fromArchana Aggarwal Jewellery. Talking about the association, Archana says, "Rahul Mishra is an internationally acclaimed designer and it is my pleasure to collaborate with him for the FDCI Couture Week this year. Each exquisite garment will be complimented by perfectly handcrafted jewellery from the new Ātman Collection. Each combination will go beyond the traditional Indian palette and yet retain an heirloom value."
Also read:https://www.youandi.com/falguni-shane-peacock-bring-together-indian-craft-and-history-attaj-mahal-agra