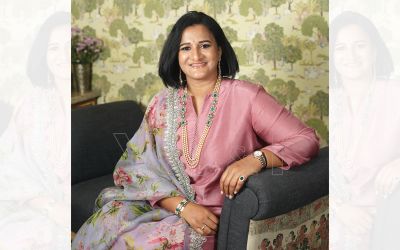 2 months 1 week ago
It is rightly said that "Giving is not just about making a donation. It is about making a difference" and Radhika Tanguturu is the best example of this. She is one of those noble people who lends a hand to those in need not just by giving money, but by going out of her way to ensure that they are happy. The magnanimous lady runs Radhika Charitable Trust and has been doing some applaudable work for the poor in the city ever since she began her organisation in 2010. Unlike many other NGOs, she self-funds her Trust through her own savings, thus allowing her the freedom to choose the cause closest to her heart and giving her the opportunity to work at her own pace.
Read More
2 months 2 weeks ago
Dear Readers,
Fine jewellery not only brings a sparkle to a woman's eye, defining her personality, but is an emotional and status symbol. Right from the start, jewellery has always been the go-to choice to add panache to your overall look. Classic, elegant and timeless, it holds strong to its position even in the Gen-Z era, be it in the form of safety pin styled earrings or viper chains. Flip through to our Feature Story, where a few Hyderabadis define their style essentials and share their jewellery chronicles.
On the cover, we have the elegant Radhika Tanguturu in her ethnic splendour. Inspiring others with her calm demeanour and confident approach, Radhika is the founder of Radhika Charitable Trust and event management company Taamara Taamara. Check out the Cover Story to find out more about her life during the lockdown, how she finds joy in helping others, and more!
Moving on in People in Focus we have Pragna Surapaneni, who is studying to be a dermatologist. The vivacious and talented 20-something shares her stories about her journey, talks about what led her to pursue a career in dermatology and her passion — Kuchipudi dance.
For women and men who aren't accustomed to wearing fine jewellery on the regular, rocking a pricey diamond or gold for the first time is a bit like babysitting a newborn. You'll look at your sparkly new addition and have a lot of questions about their care. In our Mind and Body, we share some tips on how to protect your various jewellery pieces.
And tell us what you think. If you have any suggestions, comments or queries, please e-mail me at publisher@you-and-i.com.
Read More
---