"One night in July, 2013 – Cruising through the empty streets of downtown Munich like on any regular summer night, we approach the city's biker hangout. With the familiar smell of gasoline in the air also comes the well-known selection of local customised bikes we have all seen several times before.

With most custom parts being bought from catalogues and not hand-built, the majority of the motorcycles looked like they rolled off the same Cafe Racer production line. There had to be more than the existing monotonous and repetitive custom scene. What it needed was fresh ideas, unique styles and never before seen creations. But we sure knew that just another workshop wouldn't cut it. It strived for a whole new mindset; young entrants in an old-established niche —the next generation of Cafe Racers. That summer night, we founded Diamond Atelier," reads a blog.

Diamond Atelier PC DA3
Since its founding, Diamond Atelier has created some of the most authentic and creative custom cafe racers. However, a new vehicle, dubbed the Mark II Series, has taken everything to a substantially higher level. The bespoke vehicle indeed is a thing of beauty.

The Mark II was created with the input of BMW Motorrad designer Julian Weber and they call it their "best design to date". The bike is not only aesthetically stunning, but it also provides an almost unparalleled level of exclusivity. A mere 10 examples of the Mark II will be made, making even the most exclusive BMW production motorcycle in recent times, the HP4, appear rather common.

The Stage 1 model will feature a modified original 41mm BMW fork, refurbished original rear shocks, original powder coated wheels, street tires, and 285mm brake discs.
Stage 2 adds custom wheels and semi-slick tires, while the Stage 3 option offers a supersport upside-down fork, CNC-machined triple clamps, Wilbers custom rear shocks, and 320mm aftermarket brakes.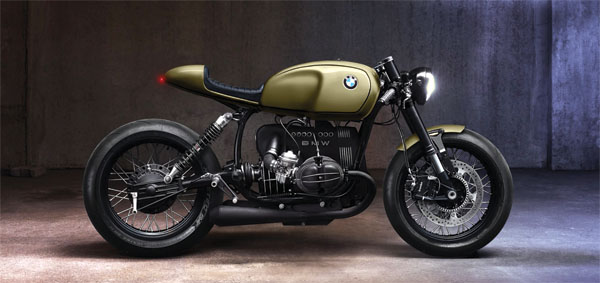 Pushing the BMW Game
Before this, Diamond Atelier had built a BMW R80 and R nineT, the world called them Pure Klasse. The bikes, alike the Mark II, ticked all the boxes for custom builders. They were reliable and simple to work. And, as with all R-series airheads, they looked pretty good straight out of the box.

The bikes are offered on a first come-first serve basis, but if you spend a cool thousand Euros, you can secure your spot 'in line'. The firm only requires half down to begin the build, so that gives you some time to convince your significant other that it's money well spent. One thing is for sure, the likelihood of seeing another artwork is incredibly small, that alone makes the premium well worth it. – Augustin