Pumpkin Erussery AND Manga Sadam

Pumpkin Erussery
Ingredients Qty
yellow pumpkin 2 cups
chopped black
eyed beans 1/3 cup
turmeric powder a pinch
chilli powder 1 tsp
salt to taste
grated coconut 1/3 cup
jeera 1 tbsp
green chillies 2
coconut oil 3 tbsp
mustard seeds 1 tsp
red chilli 1
curry leaves a few
For garnishing
grated coconut ¼ cup

Instructions
Soak the black eyed beans overnight. Cook them in the pressure cooker with salt and keep aside.
Peel the skin, discard the seeds, and chop the pumpkin into medium sized pieces.
Grind the coconut, jeera, and green chillies together and keep aside.
Cook the pumpkin with turmeric powder, chilli powder, and salt.
Add the beans to the pumpkin and mash everything gently.
Add the ground coconut paste and boil for a few minutes.
Heat oil, add the mustard seeds, red chilli, and curry leaves.
Add the seasoning to the errusery.
Finally, heat a teaspoon of oil and fry the grated coconut until it turns brown. Pour it over the errusery and serve it with rice.
Manga Sadam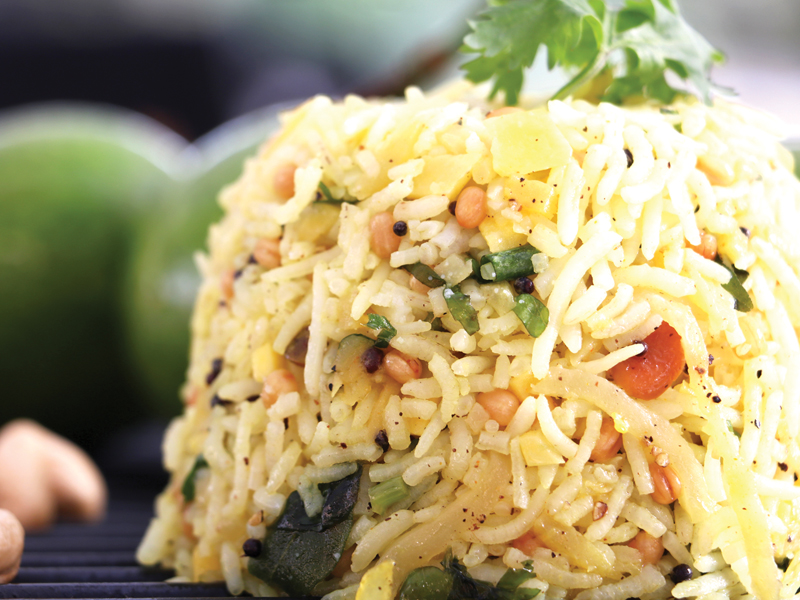 Ingredients Qty
cooked rice 3 cups
grated raw mango 1 cup
turmeric powder ¼ tsp
salt to taste
oil 2 tbsp
mustard seeds 1 tbsp
Bengal gram 2 tbsp
urad dal 1 ½ tbsp
red chillies 2
hing a pinch
slit green chillies 2
peanuts ¼ cup
curry leaves a few
Instructions
Cook the rice in such a way that each grain remains separate. Then spread them on a plate to cool.
Wash, peel, and grate the raw mangoes.
Fry the peanuts separately and keep them aside.
Heat the oil in a pan and add mustard seeds. When they start crackling, add the Bengal gram, urad dal, red chillies, and hing.
When the dal turns brown, add the peanuts, turmeric powder, salt, and curry leaves.
Add the grated mangoes and mix it well to combine with the spices. Cook for a few seconds and switch off the flame.
Add the cooked rice and mix gently using a fork.
Season accordingly and serve warm.