PRESENTATION FOR THE PALATE!

A wise scholar once said, "We eat with our eyes first," and if you believe this to be true, you're not alone! Research has shown that a diner's experience has a lot to do with what they see on the plate at first glance; this visual appearance, in fact, can even change people's opinions of the taste of their food. Because, hey, if it's not visually appealing, it's not going to attract them no matter what the taste. This mindset has given rise to the concept of culinary theatre, which has been defined as "the creation or enhancement of a spectacle during the service of food and beverages." It aims to thrill and stimulate diners by best presenting the food to enhance its aesthetic appeal.
Food is often served on quirky dishes, plated aesthetically, with garnishes that enhance its appearance. This instantly catches your attention and excites your palate. On the other hand, imagine being served your favourite dish on an ordinary, unappealing plate, with no trimmings whatsoever. Which version would delight you? Which would taste better and leave you wanting more?
Read ahead as we feature some of the most popular restaurants in the city that have aced the practice of presentation and plating. The chefs at these eateries showcase their creativity by winning over our eyes, noses, and tongues! --- Niharika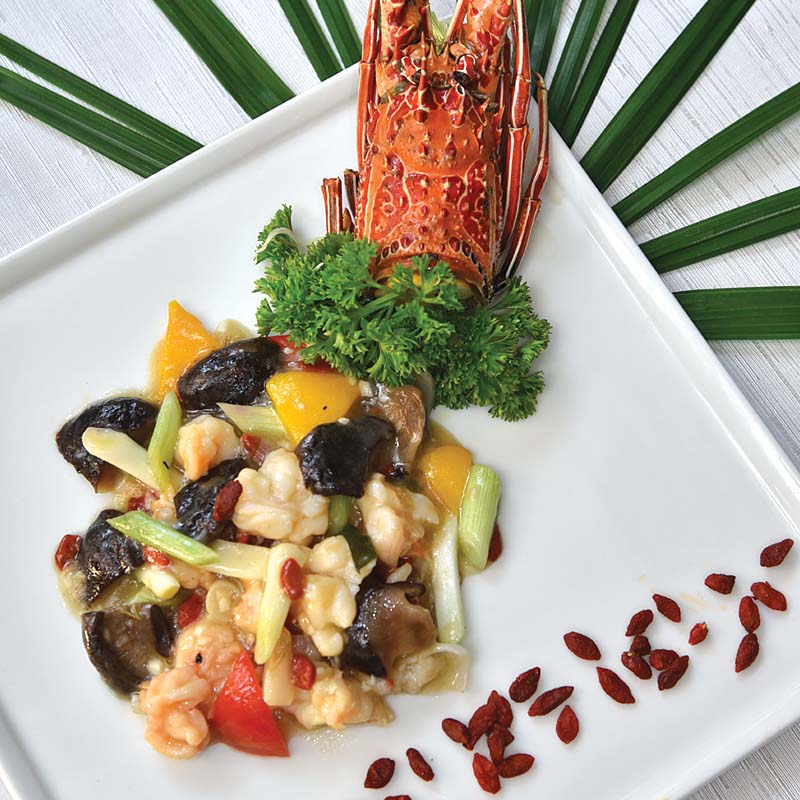 Golden Dragon
Arguably one of Hyderabad's most popular and prominent Chinese restaurants, Golden Dragon in Taj Krishna is known for its authentic Schezuan cuisine. The restaurant is named after the legend of the Chinese Dragon that was prevalent in the ancient Chinese civilisation, and has greatly shaped its culture. Its benevolence signifies greatness, goodness, and blessings – just the qualities you'll find on the menu!
Created by Chef Hung Fong Ng (a.k.a. Tony), the menu boasts soups, starters, main courses, and desserts, each of which are flavourful and stay true to their Chinese roots. Chef Tony learnt the art of noodle-making at a standalone restaurant in Hong Kong. He insists on sauces made from scratch, which explains why the food at Golden Dragon is a favourite with the city's elite. "There are new places opening with different interpretations of authentic recipes. But Golden Dragon continues to be the draw, be it for special occasions or business entertainment, or just to satisfy
your craving for the original. The simplicity of the food is what comforts the palate of the initiated," says Tony, Master Chef at Golden Dragon.
Apart from being tasty and fresh, the dishes at this speciality Chinese restaurant are very appealing to the eye, a factor that is given much importance. Chef Nitin Mathur, Executive Chef at Taj Krishna, says, "Good food is not only about the taste but also about its aesthetic appeal. Meals are often garnished with edible leaves and flowers to enhance the seasonality of the meal and its ingredients."
The plush interiors, classic plating, and soothing ambience make this a preferred destination for a deliciously satisfying meal. Some of the must try dishes here are the Beggar's Chicken; Butter Chilli Garlic Prawns; Dry Lachew Green Beans with Dry Red Chillies; and Honey Chilli Lotus Stem and Water Chestnuts. Our personal favourites, however, were the Crispy Spinach; Haricot Dumplings; Stir Fried Lobster with Shitake, Wolfberries and Chinese Wine; and Stir Fried Tofu with Chilli Soya.
If you haven't already, plan a visit to Golden Dragon and devour the delectable offerings. You can book the private dining space for a larger group, or even request a private setting for two or four in the outdoor space, amidst the lush greenery, or alongside the waterfall.