Scandinavian minimalism and purity work together with the key ingredients of a sport utility vehicle, defining the SUV for the electric age. Polestar 3 makes the SUV not only more relevant and responsible, but also desirable for all the right reasons.
Polestar 3 premieres a new aerodynamic profile where a strong focus has been placed on retaining the hallmarks of an SUV, including a powerful and wide stance. This has been led by subtle yet effective aerodynamic optimisation – including a front aero wing integrated into the bonnet, an aero wing integrated into the rear spoiler, and rear aero blades.
Materials used inside Polestar 3 have been selected for their sustainability credentials, while raising premium aesthetics and luxury tactility. These include bio-attributed MicroTech, animal welfare-certified leather and fully traceable wool upholsteries.
Polestar 3 is the first car from Polestar to feature centralised computing with the NVIDIA DRIVE core computer, running software from Volvo Cars. Serving as the AI brain, NVIDIA's high-performance automotive platform processes data from the car's multiple sensors and cameras to enable advanced driver-assistance safety features and driver monitoring. The infotainment system is powered by a next-generation Snapdragon Cockpit Platform from Qualcomm Technologies, Inc.
With Volvo Cars embarking on a new era of safety, Polestar 3 carries next-generation advanced active and passive safety technology from Volvo Cars as part of its DNA. This includes the latest innovation – interior radar sensors that can detect sub-millimetre movements in the interior of the car, to help protect against accidentally leaving children or pets inside. The system is also linked to the climate control system to avoid heat stroke or hypothermia.
Further collaborations with industry-leading safety technology partners like Zenseact, Luminar and Smart Eye, provide Polestar 3 with cutting-edge ADAS (Advanced Driver Assistance System) technology that integrates seamlessly thanks to the centralised computing power.
Android Automotive OS is the in-car operating system, co-developed with Google and fronted by a 14.5-inch centre display. It is an evolution of the technology first launched in Polestar 2 – the first car in the world with Google built-in – and a revolution of functionality and design for the large SUV segment. Over-the-air (OTA) updates are included to allow for continuous software improvement and the introduction of new features without the need to visit a service point.
Polestar 3 launches with a dual-motor configuration and a power bias towards the rear. The standard car produces a total of 360 kW and 840 Nm of torque. With the optional Performance Pack, the total output is 380 kW and 910 Nm. The adjustable one-pedal drive is included, as well as an electric Torque Vectoring Dual Clutch function on the rear axle – an evolution of what was first developed for Polestar 1. A decoupling function is also available for the rear electric motor, allowing the car to run only on the front electric motor to save energy under certain circumstances.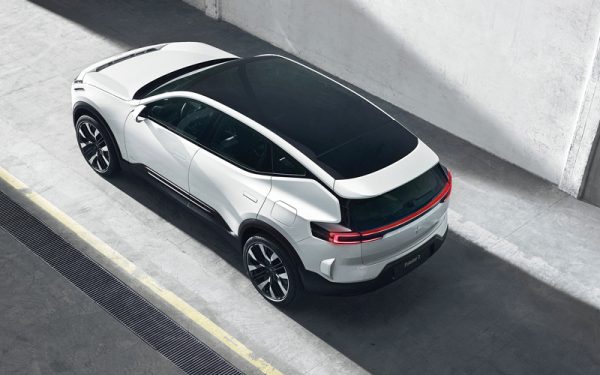 A 111 kWh battery pack provides Polestar 3 with a generous driving range of up to 610 km WLTP (preliminary). The lithium-ion battery features a prismatic cell design housed in a protective aluminium case with boron steel reinforcement and liquid cooling.
As with Polestar 2, the list of standard equipment in Polestar 3 is extensive, with few options for easy configuration and simplified production logistics. The Plus Pack and Pilot Pack are fitted as standard for the first model year and include a raft of premium, luxury and convenience features.
Polestar 3 is the first car out on a new all-electric technology base developed by and shared with Volvo Cars. Production for initial launch markets is planned to begin in Volvo Cars' facility in Chengdu, China, in an incremental ramp-up phase from mid-2023, with first deliveries expected in the fourth quarter of 2023.
Additional manufacturing at Volvo Cars' Ridgeville, South Carolina facility in the United States, is expected to follow towards the middle of 2024 – from which point supply to North American and other markets is planned to switch from China to the US. Initial deliveries from this factory are expected around the middle of 2024.         – Press Release