People of Goodwill - Corona Crisis Charity, Manju Latha Kalanidhi, Ridhi Nemala, Adah Sharma, Vijay Deverakonda, Team Go-Vid, Micron Foundation Helping Hand Foundation, Access Foundation

From the nation being hit with COVID-19, millions of lives getting affected, states going under lockdown, to the launch of vaccination drive by Prime Minister Narendra Modi, we have all come a long way. When the nation went into lockdown, millions of migrant workers were stranded in different parts of the county – jobless, away from their family and home, scared and seeking help, daily wage workers didn't have money to feed their families, poor and underprivileged didn't know what the world was going through, and many living on streets were exposed to the virus. But what has helped the nation throughout this tough phase were the acts of kindness and goodwill of the citizens. Be it collecting funds for the poor, helping migrant workers, donating to relief funds, providing essentials or catering medical facilities; many people came forward to make their contribution and became a messiah to the needy. These people emerged as no less than God to all those in need – who they can rely on, who they can approach in crisis, who would go to any extent to help them and who they can trust in trying times. This Republic Day, we would like to thank all those heroes who have set the true example of humanity with their goodwill gestures and have helped the state and the city amid crisis. – Srivalli
Corona Crisis Charity Lead by Chiranjeevi
ike any other industry, the film industry too was hit by the pandemic. Many daily wage workers were affected by the immediate shutdown of the industry and the nationwide lockdown. Unfortunately, all of them lost their jobs and were having a tough time feeding and providing basic care to their families.
Acknowledging these people's struggles and challenges, Megastar Chiranjeevi set up an initiative called Corona Crisis Charity and pledged his contribution of Rs 1cr to it. Soon after that, other actors and industry people came forward to contribute to the charity and help the daily-wage workers. To name a few –Akkineni Nagarjuna and Daggubati family chipped in Rs 1cr each, Jr NTR announced an amount of Rs 25Lakhs, Ravi Teja and Varun Tej contributed Rs 20Lakhs each, Sharwanand donated 15Lakhs, and superstar Mahesh Babu funded the charity with Rs 25lakhs. Several other industry people joined the initiative to help small artists and technicians and ensure the entire industry's welfare. The Megastar soon thanked all the donors for their contributions.
Later, Chiranjeevi shared a video clip of his brother Naga Babu Konidela who recovered from COVID-19 and donated plasma to help others in a humanitarian gesture. The actor urged COVID survivors to donate plasma to save several other lives, through his social media platform.
Manju Latha Kalanidhi
When her initiative Rice Bucket Challenge launched in 2014, Manju Latha Kalanidhi, a well-known journalist, became a superhero in the city and the entire country. Cut to 2020, Manju served the nation once again by catering groceries to all those who were unable to feed their families. Her remarkable work during COVID-19 even led Britain's Queen Elizabeth II to honour the journalist with a Commonwealth Points of Light Award.
Ridhi Nemala
The 11-year-old girl from the city, Ridhi Nemala, won hearts on the internet as she pledged to help the less fortunate during COVID-19 crisis under her initiative 'Care-ona'. Reportedly, the Grade 6 student watched a video of a hungry man-eating food, which touched her heart and she decided to help those in need. Ridhi first dug into her own pocket money in the goodwill gesture and then asked her friends and family to support the cause. Soon after that, along with her mother she generated funds on crowd-funding website Milaap and later raised money from an NGO called TEA Cares Foundation.
Celeb Contribution to Chief Minister Relief Fund
In a press release, Tollywood star Pawan Kalyan announced his contribution of Rs. 2cr to Prime Minister Relief Fund, and Chief Minister Relief Fund of Telangana and Andhra Pradesh. The actor donated an amount of Rs 50Lakh each to both the Telugu states. After his one step towards contributing to the COVID crisis, other film fraternities joined in the cause. Ram Charan, was next to pitch in at the difficult times, with Rs 70Lakh towards the Centre and the states of Telangana and Andhra Pradesh Relief funds. Alongside the announcement, the actor wrote, "At this hour of crisis, inspired by Pawan Kalyan Garu, I want to do my bit by contributing to aid the laudable efforts of our governments."
Following the actors, came noble gestures of several other celebrities including Allu Arjun who gave Rs 1.25cr for the COVID battle of Telangana, Andhra Pradesh and Kerala, Baahubali actor Prabhas handed Rs 3cr to PMRF and Rs 50Lakhs each to Telangana and Andhra, and Mahesh Babu and Chiranjeevi donated a crore each for the cause. Appreciating all these efforts, the Power Star later thanked the industry people for their acts of kindness.
Adah Sharma
With the pandemic, not just humans but animals too were affected –everyone was locked up in their homes, the streets were empty, and a lot of these poor stray animals were starving. As an act of compassion, Adah Sharma stepped out of her house during the lockdown to feed these innocent souls. In a series of stories on Instagram, she shared the pictures of her feeding stray cats and dogs. Urging the citizens to provide food to animals in their neighbourhood, the actor wrote, "I have my earliest memories of feeding animals. My mother being an animal lover; I think I get it from her. Corona or no corona, the animals are still hungry, so yes, we get out of our home to feed them. The animals need food just like us. They need to be fed as well. We all share the planet. Let's all stand for one another." Adah also educated her followers to follow government protocols and not feed the strays in the middle of the road.
Vijay Deverakonda
With an intention to help the people of his city and both the Telugu states by providing employment, superstar Vijay Deverakonda launched The Deverakonda Foundation in 2019. Through this platform, the actor has been generating funds for the underprivileged and needy during the pandemic.
Vijay started an initiative for unemployed called Youth Employment Program. The actor also launched another another project names Middle-Class Funds; for both the programs and the Corona Crisis Charity, Vijay and his organisation donated Rs. 1.30cr. Through the Middle-Class Funds, any family in dire need can pick up groceries, and other essentials from their nearby store and the foundation would make the payment on their behalf. As per the official website, the total fund collected is Rs 1,71,21,408.
The actor also urged the citizens to donate plasma before the vaccine was invented. Besides, Vijay has actively encouraged people to follow all the COVID guidelines and protocols through several platforms. People have lauded every step of Vijay towards humanitarian over social media platforms. Many including actors, politicians and common people came forward to support the actor and take a step towards the cause.
Team Go-Vid
Among several COVID-19 heroes is the 16-year-old Hyderabadi who inspired the nation with his humanitarian act in the pandemic times. Rohan, a Class 12 student of CHIREC International School, majoring in Computer Science, along with his team, developed an app called Go-Vid that allowed donors to serve the underprivileged by providing them with basic necessities while being safe at home. The pan India app helped connect donors, receivers, and nearby registered grocery stores; the underprivileged families were catered to one week pack of ingredients including rice, flour, oil, sugar and spices. To ensure the needy's benefit and restrict people from misusing the platform, Rohan and his team also worked on an authentication process that required government ration card (white card). Additionally, the phone number registered could be used only once a week. All one needed to do is download the Android app from Playstore and read the usability information available on the website, www.go-vid.org.
Micron Foundation
With an intention to support unfortunate families, healthcare sector and local charities in fighting the COVID-19 battle and ensure the well being of their employees, Micron Technology, a global leader in memory and storage solutions donated Rs 7.5crore to India, from its Micron Foundation Relief Fund. The company has around 1,150 employees in Bengaluru and Hyderabad. Using this gesture to work towards the cause, the firm's fund provided social health activists and Anganwadi workers with personal protective equipment and thermal scanners, equipped greater Hyderabad hospitals with masks, sanitisers, ventilators and other critical infrastructure. It also catered basic necessities to the migrant workers and other unfortunate families including groceries, food and household necessities. Reportedly, Telangana IT and Industries Minister, KT Rama Rao thanked the company and lauded the gesture.
Helping Hand Foundation
This Public health NGO known for contributing to the public health service by helping patients and marginalised society has been one of the greatest force during COVID times. From the distribution of ration in slums post lockdown and serving food packets to migrant workers, catering free online consultation and oxygen supply to those in home isolation, the organisation made countless contributions to the state in association with SEED, USA and many other CSR groups. They even provided RT-PCR test at a subsidised cost, free ambulance services for COVID emergencies to patients, last rite services at a nominal rate to COVID-19 cases, and COVID help desk at all government hospitals in the city.
Access Foundation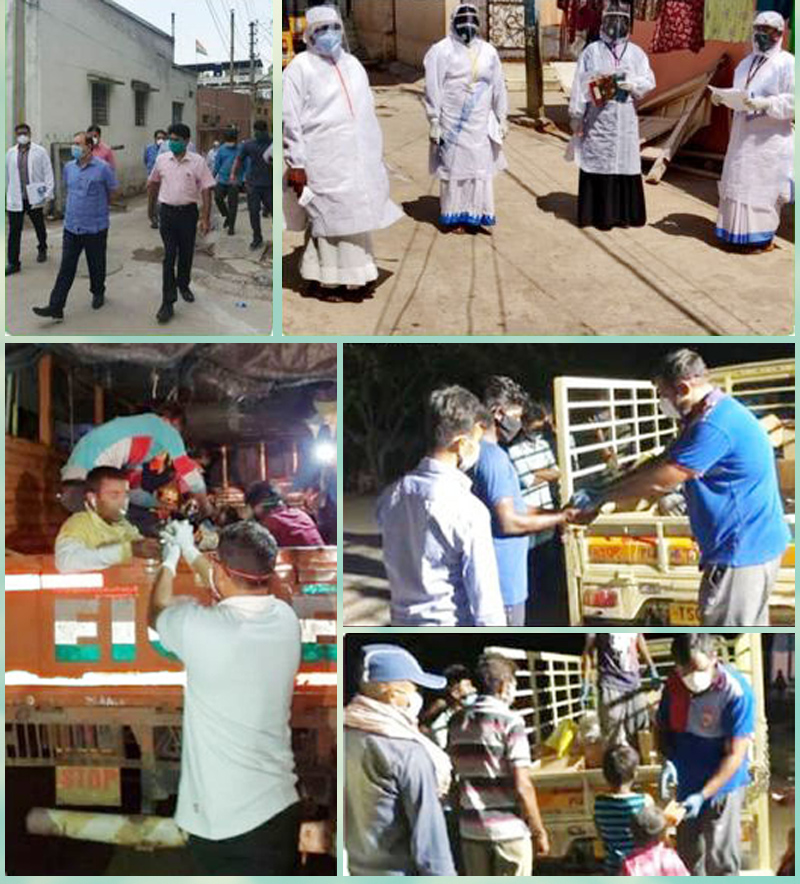 Right from distributing ration kits to poor in over 40 areas in and around Hyderabad, catering basic necessities to migrant workers including ration kits, sanitary napkins, slippers and face masks, empowering healthcare workers with PPE kits and hospitals with Kiosks to test COVID patients while keeping the staff safe, arranging masks to the vulnerable masses, organising COVID-19 awareness drives in 45 residential areas and slums across the city, generating funds for ambulance services, to providing free online consultation through COVID Consultation Helpline, Access Foundation is of the NGOs from the city to make a major contribution during the pandemic. This NGO from the city is known for its noble work towards education, health and empowerment. - Pics: IANS