Pathar Ka Gosht And Dahi Ke Kebab

Pathar Ka Gosht is a popular lamb dish prepared with sliced tender lamb leg and flavorful spices. This mouth-watering dish is famous in south India and it is served on special occasions. Dahi Ke Kebab is a healthy and classic appetizer made with paneer and flavourful curd. A chef from Taj Falaknuma Palace has shared these two recipes.
Pathar Ka Gosht

Ingredients
Lamb leg (sliced)
Ginger paste
Garlic paste
Raw papaya paste
All spice
Lemon juice
Salt
Potli masala
Black peppercorn
Onion (fried)
Cashews (fried)
Ghee
Chaat masala
Mint sprigs
Qty
600 gm
12 gm
8 gm
10 gm
2 gm
10 ml
to taste
3 gm
2 gm
25 gm
10 gm
30 gm
to taste
5 gm
Instructions:
Marinate lamb with ginger, garlic and papaya pastes, lemon juice, salt and allspice. Refrigerate for at least an hour.
Prepare a second marinade by blending peppercorn, cashew, onion and potli masala. Marinate the lamb in this overnight.
Heat a granite slab and smear with ghee. Cook the kebabs for a couple of minutes on each side.
Sprinkle with chaat masala, garnish with mint, and serve hot with chutney.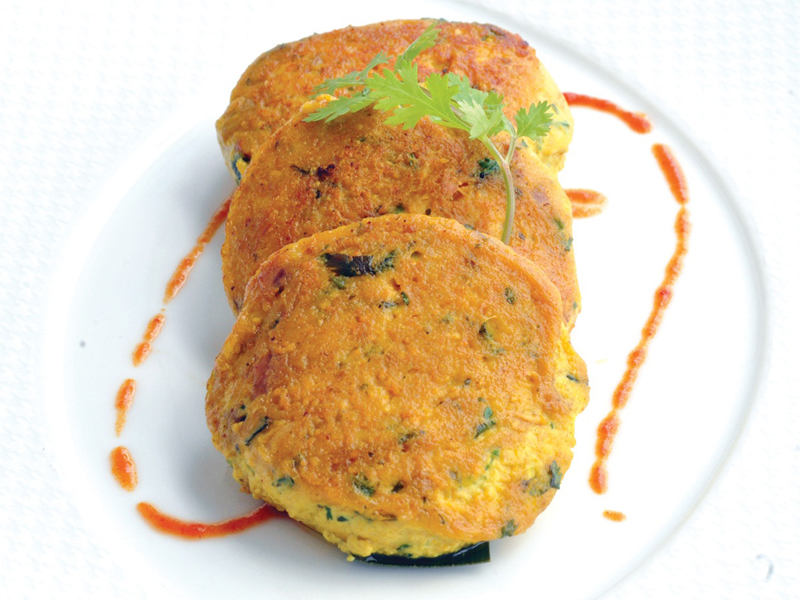 Dahi Ke Kebab
Ingredients
Hung curd
Paneer (grated)
Cashews (fried and crushed)
Raisins (seedless, chopped)
Ghee
Cumin seeds
Ginger (chopped)
Onions (chopped)
Green chilli (chopped)
Turmeric powder
Kasoori methi powder
Cumin powder
Cardamom powder
Bengal gram powder
Salt
Coriander (chopped)
Ghee
Chaat masala
Qty
500 gm
75 gm
75 gm
30 gm
20 gm
5 gm
5 gm
20 gm
5 gm
1 gm
2 gm
5 gm
2 gm
50 gm
to taste
15 gm
15 gm
to taste
Instructions:
Heat ghee in a copper cooking vessel, add cumin seeds and let crackle.
Add chopped ginger and onion. Sauté till onions brown. Add green chilli and turmeric. Sauté for 30 seconds.
Add the cashews and raisins, and sauté for a minute or two.
Mix in the paneer, cumin powder, kasoori methi powder and cardamom powder. Cook for ten minutes. Remove from heat and set aside.
When room temperature, add hung curd, Bengal gram powder and coriander.
Divide and shape the mixture into patties of about 25 gm each and refrigerate.
Heat a little ghee and pan-fry the patties for a minute on each side.
Sprinkle chaat masala and serve hot.