A Paradise of Endless Stories

A banker for over 25 years now, and an avid art collector Sujata Varma says, "Art is what will help us understand who we are and is a medium to measure who we have been, at every point in our lives."
Beginning with that beautiful thought, the resident of Qatar talks everything about art and tells us that she dabbles in curating from time to time. Her house is a heaven for any art connoisseur, and a residence of endless stories. From oil/acrylic on canvas, to acrylic on acrylic, watercolours, mixed medium, cast iron sculpture to digital art, she possesses it all!
What is it about art that attracts you? "The gamut of emotions that a piece of art releases, and the lingering feeling that it leaves behind; the joy of looking at art and each time was discovering something new; the beauty in an etch, a stroke, the strength of the colour and the mystery of the real story behind the creation; endless interpretations and at times the sheer simplicity or even the brutality of the work," she replies.
Speaking of her prized possessions, Sujata states, "When I walk around my home, there's a story with every piece of art, furniture, lamp, artefact, carpet, and book. Nothing was planned or coordinated. My prized acquisitions would be by oriental carpets, my Vaikuntams, the Milburn Cherian that caught my eye in a gallery years ago and led to her, and resulted in Milburn and her family being cherished friends." She further adds, "Another early story is of my Jaya Wheaton. My aunt in Jaipur took me to her home, and I had the privilege of meeting the artist, walking around her home filled with her creations and picking out the marvellous 'Kutchi Bride' that adorns my house today."
Her quest for a Ram Kumar was fulfilled a couple of years ago and is very close to her heart. The list doesn't end here. The artworks of Paramjit Singh, Rabin Mondal, Lalu Shaw, Jhupu Adhikari, H R Das, Ashok Bhowmick, and Sangeeta Thukral are also her favourites. "I have several works of Yashwant Shirwadkar, and I regret not being able to bring him to Qatar. He left us tragically in 2020," she sighs. Her collection also includes some of the Qatari artists such as Moza AL Kuwari and Yousef Ahmed. "Each one is a treasured possession where a personal connection was established through the work, which endures," she notes.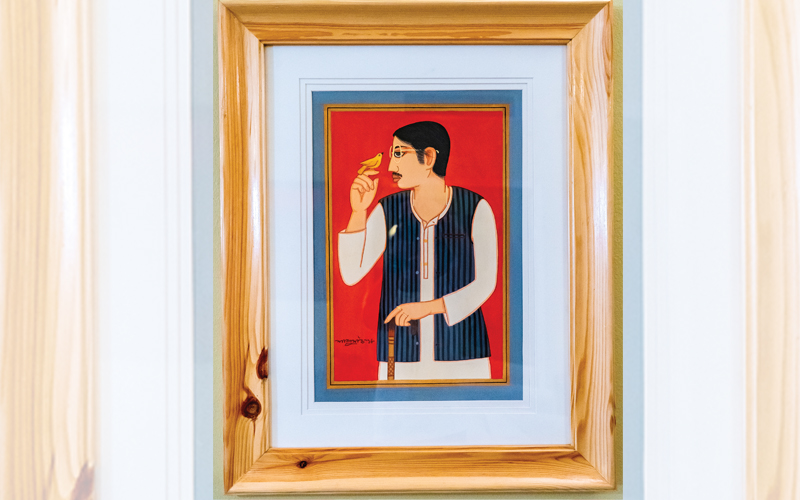 The works of Moza Al Kuwari and Thota Vaikuntam are some of Sujata's very first collections. When asked about her favourite artist, the banker says, "It would be Vincent Van Gogh, for the sheer madness and brilliance of his works."
Sujata's passion for art developed in her childhood. The strong influence of her parents, aunts, uncles, cousins and the deep-seated cultural atmosphere of her birth town Allahabad and the various cities of Gujarat she grew up in – primarily Ahmedabad and Baroda. "My entire family loves to collect, and we share our joys and swap pieces from time to time across India and Qatar," the art collector says. "I had the privilege of running into M F Hussain from time to time in Ahmedabad and Gandhinagar. The influences of the Faculty of Fine Arts, Baroda, National Institute of Design, the various galleries of contemporary art in Ahmedabad, architectural influences of Ahmedabad, and exposure to galleries across other cities also play a role in my interests," she concludes. – Srivalli