The past few years have been super busy for celeb moms, and at times they seem poised to take over the world with their glamour and ability to do it all. These yummy mummies, who've maintained super bods even after having kids, have become a source of inspiration to many mothers. It's no easy task to switch between the roles of celebrity and doting mother, but these supermoms do it to perfection. From being particular about every little detail of their kids' routines to keeping their own lives fit and fun, they're definitely having a moment! - Sumana
'
Kareena Kapoor Khan
This Bollywood superstar and mother of heartthrob Taimur married Saif Ali Khan at the peak of her career. Continuing to work even after her marriage and pregnancy, Kareena Kapoor Khan, went on to set an example by celebrating her motherhood sans any inhibitions. The Kapoor girl has been ruling Bollywood for years with her talent and mesmerizing beauty, and is all set to entertain audiences with her upcoming films. Taimur, on the other hand, is all of two years, and not only has his parents wrapped around his little finger, but also keeps the media on its toes, following his every move!
Esha Deol
B ollywood actress Esha Deol embraced motherhood and welcomed a cute baby girl, Radhya, on October 20, 2017. Now she's enjoying this phase with papa Bharat Takhtani. It's impossible to ignore how she's changed in just a short span and is currently looking fit and gorgeous as ever! Esha took to her official social media platform to share pictures with her hubby from her brother-in-law's engagement celebration, recently; Esha was glowing with a perfect shape. She also posted a very motivating message for all the newbie mothers, which said that she was "getting back in shape slowly but surely" and advised them "Don't sit. Jump out and go for it girls. Come on, we're all in this together."
Aishwarya Rai Bachchan
Considered one among the world's most gorgeous actresses, Aishwarya Rai Bachchan certainly had plenty of eyes on her during her pregnancy. Everyone waited with bated breath for the birth of her and Abhishek Bachchan's gorgeous daughter, Aaradhya. While the accomplished Bollywood actress initially faced some criticism for her weight post-pregnancy, she showed us all a gradual and healthy approach to staying fit. And yes, she inspired many mothers and mothers-to-be along the way, to be comfortable in their own skin, without giving in to the pressures of society. She took her own sweet time, but eventually was back on the silver screen with oomph and a gorgeously-toned body!
Genelia D'Souza
They say that with motherhood, the girly charm goes away. But Genelia D'Souza, now the mother of two boys, Riaan and Rahyl, got back into shape with a glow that definitely needs some commitment and a solid fitness regime. While she opted to take her time to shed that baby weight instead of just fast-tracking it, she has truly transformed with steady and low-weight workouts. She shares that apart from half to one-hour workouts, she likes to jog, and supplements it all with a balanced diet. Along with husband Riteish Deshmukh, Genelia is surely challenging us with some major couple goals!
Karisma Kapoor
Who better than Karisma Kapoor to show that new mothers can be fighting fit after giving birth?! She has become an inspiration, having maintained her fitness after embracing motherhood. Karisma Kapoor's peaches-and-cream complexion can lead you to believe that the actor must be in her 20s; one look at the mother of two and you'll wonder how she does it! Somehow she still manages to retain her hourglass figure. Divorced from industrialist Sunjay Kapur, CEO of Sixt India, Karisma has a daughter Samaira and a son Kiaan with him.
Celina Jaitly
Celina Jaitly, married to hotelier Peter Haag since 2011, has three boys, Arthur and twin sons, Winston and Viraaj. A well-known Bollywood actress, model, former Miss India and now a gay rights activist, she won the "Femina Miss India Universe" title in 2001. Soon after she gave birth to her bundle of joy, the ex-Bollywood actor shed all her pregnancy weight and was back to her voluptuous body. She follows a strict workout routine and trains at least 5 days a week. She also does yoga to stay fit, which she's been practising for years.
Malaika Arora
Malaika Arora is by far one of the fittest moms in Bollywood. The curvaceous beauty is known for her leggy, sizzling figure and gorgeous looks. Andthe entire outcome is due to her rigorous workout fitness regime, she confesses. Not only is she the queen of item numbers, but she also makes looking fit seem empowering. The 'Chaiyya Chaiyya' actress split with Arbaaz Khan after 18 years of marriage, and their son Arhaan recently turned 16. While Arbaaz moved on and is dating model Giorgia Andriani, Malla is rumoured to get hitched with actor Arjun Kapoor soon!
Shilpa Shetty Kundra
This yummy mummy doesn't look even a gram heavier than her pre-pregnancy days, and it's all because of her fitness routine. She exercises regularly and has even released a bunch of workout DVDs. But she mainlycredits yoga for her figure. One of Bollywood's fittest actors, Shilpa Shetty Kundra has highlighted yoga's immense potential as a weight loss tool. Shilpa never fails to give us some serious body goals! She married the London-based millionaire, Raj Kundra, and gave birth to Viaan in 2012. Apart frombeing a full-time mom, she also manages her IPL team, the Rajasthan Royals.
Neha Dhupia
Neha Dhupia juggles her professional and personal commitments with plenty of finesse. The former Miss India welcomed her daughter Myra last November, and was back to work within weeks after her delivery. And the actress is already taking her daughter on road trips, leaving no stone unturned to balance herprofessional and personal life! As a new mom, she says she wants to stay fit, healthy and energetic for her daughter. Hence she works out every day; sometimes even twice a day. She feels that "fitness is a priority and not fitting into' society's standards regarding looks". Neha currently portrays the role of a gang leader on Roadies Real Heroes, an adventure reality show on MTV.
Mira Rajput
Mira Kapoor is truly a yummy mummy, giving almost all Bollywood actresses a run for their money! Hubby and fitness enthusiast Shahid Kapoor helped her get back in shape with an exercise and diet routine. And before we knew it, she was back looking svelte with her firstborn, Misha. And the second time too, Mira is following the same regime to regain her fitness after the arrival of their little munchkin, Zain Kapoor last year. Beginning her journey of fitness with a long-term commitment, Mira has taken up a '100 days of walking challenge', and is often spotted after her gym sessions, sweating it out.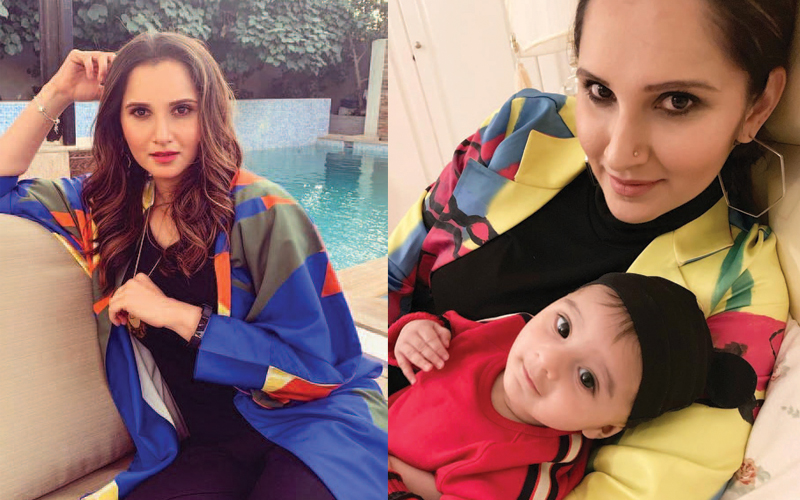 Sania Mirza
While the tennis superstar Sania Mirza is taking baby-steps into the new world of motherhood, she hit the gym soon after her pregnancy while also nimblycompleting her mommy duties. She welcomed her baby boy Izhaan Mirza-Malik along with husband Shoaib Malik in October last year, and is now all set to shed those pregnancy kilos. The former doubles world no. 1 has taken a maternity break from sports and seems to be missing some of the action. Sania stated that she wanted to return to tennis after pregnancy, and plans to participate in the 2020 Tokyo Olympics because she believes that people shouldn't hold back their dreams due to a hiatus in their career.
Soha Ali Khan
Soha Ali Khan married actor Kunal Kemmu in 2015, and the two had their first child, Inaaya Naumi Kemmu in 2017. The actress-author says that motherhood helped her evolve and has been a life-changing experience for her. During her pregnancy, she not only gave major maternity fashion goals like her sister-in-law, Kareena Kapoor Khan, but was also a fitness freak throughout and after that period. She proved that with a healthy diet and regular yoga, new mommies can stay in shape. Sharing her pregnancy and post-pregnancy diet, Soha revealed that ever since she became pregnant, she made a change to move away from "anything that has chemicals in it" to "things that are 100% natural."
Lisa Haydon
She's bold, beautiful, confident, and one of India's finest supermodels, and is also a super mom now! From proudly flaunting her baby bump to participating in photo shoots with her adorable baby boy Zack, Lisa Haydon somewhat broke the myths surrounding pregnant women. Visibly fit and glowing, this supermodel-turned-actor proved that a new mum can look smashing and get back into shape in no time. Within just two months after giving birth to her son, new mum Lisa Haydon was spotted with her husband Dino Lalvani in a stunning post-pregnancy transformation. Now that Zack is almost nine months old, she resumed work with Top Model Indiaon Colors Infinity as the judge on the show.
Chitrangada Singh
Actress Chitrangada Singh redefines the word sexy in every way possible. She not only manages a sizzling career with aplomb, butlooks after her son Zorawar with complete dedication. The hot actress has been juggling work and duties as a mother for a few years now, and brought up Zorawar singlehandedly following her divorce from golfer husband, Jyoti Randhawa. The actress is one of those Bollywood mommies who successfully maintained her fitness and came back even more glamourous. The 35-year-old has her workout in the morning and gets her pulse going by running before strenuous exercises. sweating it out.
Lara Dutta
There are those yummy mummies who always make heads turn and there are those mamas who get hotter with age. Lara Dutta, who won the Miss India title and went on to be crowned Miss Universe 2000, is one among them. In her avatar as a mom, too, she dazzles us with her toned figure. A staunch believer in the advantages of yoga, practising it for an hour every day, she also does cardio and weight training exercises. She confesses that her love for swimming has helped her further in attaining her weight goals. Lara Dutta married the sports icon Mahesh Bhupathi and is a mother to Saira Bhupathi.
Rani Mukerji
Rani Mukerji, who's married to filmmaker Aditya Chopra, gave birth to their daughter Adira in December 2015. She struggled to lose weight following the delivery, as she was not ready to leave her baby and attend gym sessions, nor was she naturally thin to return with minimum efforts. Rani has been keeping it low ever since her delivery and with the release of her film Hichki, she looks stunning and in the best shape. The versatile actress and her husband prefer keeping their daughter away from the media's spotlight.
Mandira Bedi
Mandira Bedi, a successful anchor and a fit mom with a svelte figure, and husband Raj Kaushal together have a boy named Vir. After losing 22 kilos following her pregnancy, Mandira has proved that nothing can stop her when she makes up her mind to do something. Fitness has now turned into a very important aspect of her life, and she never misses an opportunity to break a sweat. Pulling off a balancing act with work and being a full-time mom, Mandira manages to always look smashing, owing to her "fitness enthusiasm", as she puts it.