Onam: The Homecoming of King Mahabali

It's the time of the year when the most popular and biggest festival of Kerala is about to arrive, and the entire state is waiting to welcome the spirit of their most beloved king of all times King Mahabali, with great fervour and gaiety. Commonly acknowledged as the harvest festival, Onam is celebrated for ten days in the Malayalam month of Chingam, where the entire state turns into a festive mood reflecting the best of its culture, colour, history and traditions. Onam, which is also called Thiru-Onam or Thiruvonam, is the most magical time of the year for tourists to discover the enchanting beauty of Kerala.
Atham, Chithira, Chodi, Vishakam, Anizham, Thriketa, Moolam, Pooradam, Uthradom and Thiruvonam are the names of the ten different days that people celebrate, each in a specific manner. The main attractions of the festival are Pookalam: a beautifully designed flower carpet, Onasadya: a traditional and delicious feast served on a fresh banana leaf, enticing Pulikkali (tiger dance), exciting Snake Boat Race, and the alluring Kaikottikali Dance. The air of Kerala and the heart of every individual are filled with joy and happiness to commemorate the homecoming of King Mahabali.
The story dates back to the time when the state was ruled by the Asura emperor, King Mahabali (grandson of 'Prahlad' who was born to 'Hiranyakashyap'). King Mahabali was a worshipper of Lord Vishu. Everyone in his kingdom was living a prosperous and happy life. From poverty to crimes, King Mahabali's reign eradicated all the negativity. He was known for his generosity, character and courage; these factors were leading him to become more popular and loved among the citizens. However, this turned out to be worrisome for Gods who turned to Lord Vishnu for help.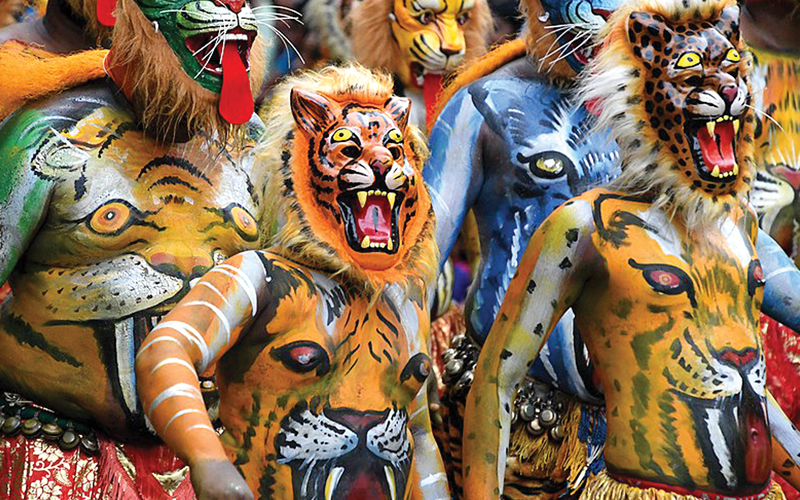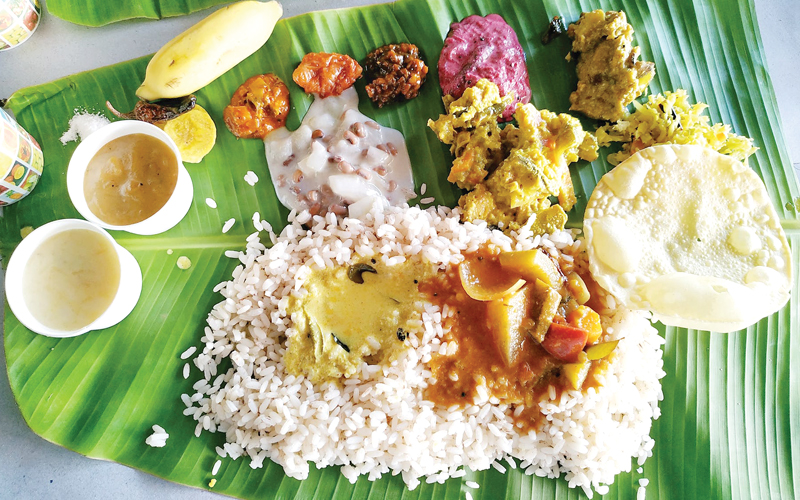 According to the tales, Lord Vishu after sensing the concern incarnated as a Brahmin named 'Vamana' approached King Mahabali and asked for three foot-steps of land. Being a generous person, the king obliged even though the wise adviser Shukracharya asked the king not to. Soon after that, Vamana expanded and grew massively and covered the earth and sky in two steps. He then turned towards the king, asking where he should take the next step towards. By then, King Mahabali realized that Vamana was no ordinary Brahmin and the world might get destroyed if he took the third step. So the king folded his hands and asked Vamana to put his foot on the king. As soon as Vamana did so, the king was pushed to Paatal. King Mahabali then asked Vamana to disclose his identity. Lord Vishu then appeared in his real self, and King Mahabali pleaded for a wish, which was to let him visit his empire once a year.
Overwhelmed by Mahabali's generosity, Lord Vishnu granted him the wish. It is said that Lord Vishnu also said that the king would remain immortal in the hearts of his people. Hence, the state celebrates Onam to honour the king and his visit. HridayamNiranjaOnashamsakal! – Srivalli and Pics Courtesy: Wikimedia, Wallpaperflare, Pixabay, Pexels