New Normal For Your Street Food Cravings

Remember the good old days when we would rush out anytime to our favourite food joints to satisfy our street food cravings? Since the start of the coronavirus pandemic, we've all been paying more attention to the quality of the food we eat and the hygiene measures taken while preparing it. Sadly, the risks of coming into contact with food vendors and huge crowds at eateries has forced us to have a long-distance relationship with delicious street food. Despite all the efforts to re-create our favourite dishes at home, somehow nothing is quite as good as the lip-smacking flavours of Hyderabadi street food!
To wipe away your blues and once again begin enjoying iconic dishes of the streets of Hyderabad, here's a rundown of all the tempting street food items that you can enjoy at places that follow the best safety and cleanliness practices. So why wait? These dishes will touch your soul with their irreplaceable flavours that we know you're ready to taste after all these months of quarantine!
Paani Puri
Puchka, golgappa or paani puri – different parts of India name the dish differently, and each place adds its own local twist. In the pre-pandemic era, one could find paani puri vendors at multiple spots in Hyderabad. Now the number of vendors has declined, and the rest are struggling for survival as people are cautious about their hygiene habits. Proxy Bar & Cafe in Kothaguda has got your paani puri cravings covered! The snack is prepared with top-notch hygiene practices and quality ingredients. The khatta paani and meetha paani served here are an absolute treat to the tastebuds!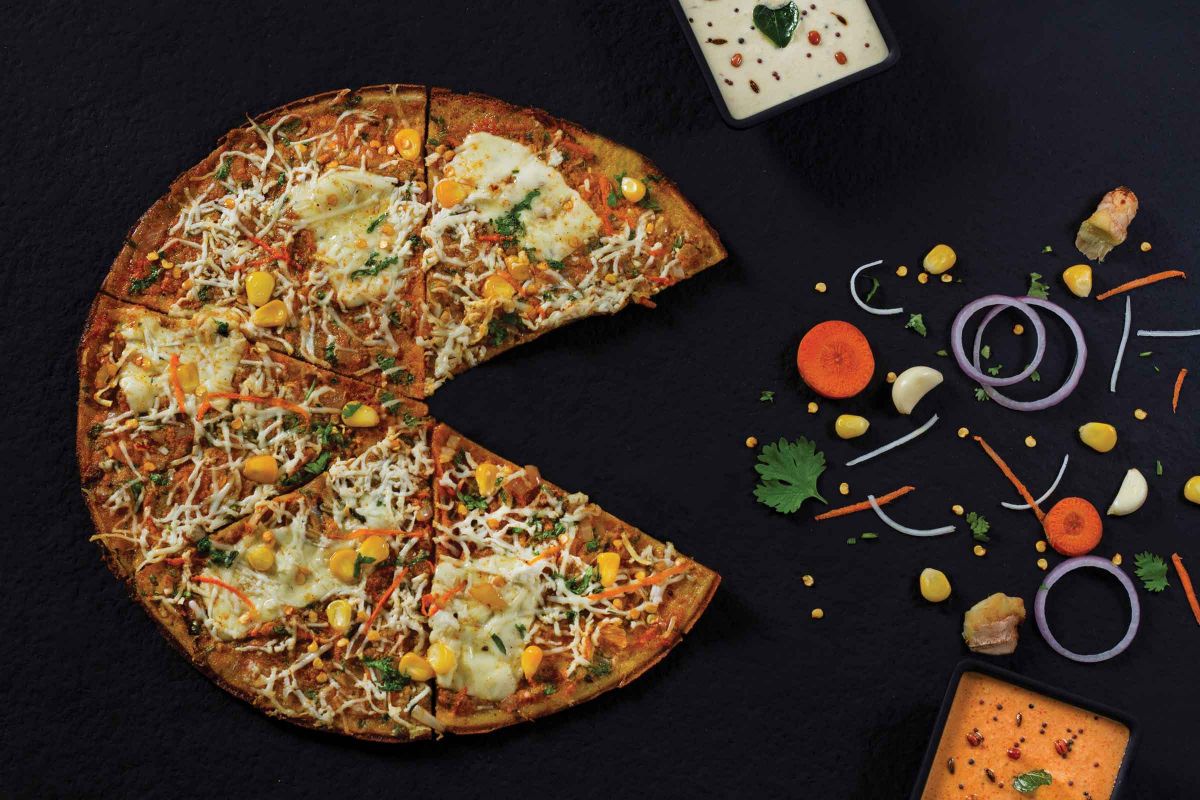 Dosas
We'll never say no to a crispy, buttery dosa, and every Hyderabadi knows where to go when your heart demands a flavourful dosa in the middle of the night. Yes, Ram ki Bandi. The eatery offers unique dosa varieties, like pizza dosa, Schezwan dosa, dry fruits dosa and, if that's not enough, you can even customise your dosa your own way. The best part is that Ram ki Bandi is now more than just a 'bandi' (cart). It has been opening outlets in various locations of the city, like the newest one in Hitech City, to ensure that Hyderabad's best dosa is served with all hygiene measures in place. So wait no longer to grab a bite of this mouth-watering South Indian comfort food.
Chole Bhature
When craving street food that's yum and satisfies your gut, chole bhature might naturally cross your mind. Known for serving impeccable sweets, namkeen and snacks for over 100 years, Bikanervala is your go-to place in the city for finger-licking chole bhature. The North Indian flavours and spice are appropriately packed into the dish, and will have you asking for more until your belly's ready to burst. The restaurant chain follows all necessary hygiene practices, some of which were prevalent even before the onset of the pandemic, including the use of gloves while serving customers.
Sev Puri
The crunchy tanginess that tickles our palate after that first bite of sev puri is an unparalleled feeling. Gappe Vappe makes delectable sev puri that you just can't miss out on. This light snack made using crispy puri, sev (small crunchy noodles), and many sweet and sour chutneys is something we could have every day without any complaints. The food joint has been taking all necessary measures to curb Coronavirus spread while you curb your cravings!
Momos
Next up on our list is a Tibetan delicacy that rules millions of hearts in India: momos. The feeling of having steamy hot momos dipped in spicy red chilli sauce, along with your homies after a long, tiring day is incomparable. If you are ready to experience it again without worrying about the dish's cleanliness, Zomoz is a must-visit. They offer a wide variety of momos like Schezwan Momos, Tandoori Momos and many more. Of all the delicious options, our favourites are the Hot and Crispy momos. Juicy stuffing inside a crunchy layer? It just couldn't get better.
Amritsari Kulcha
Deliciousness from the streets of Amritsar on a plate, Amritsari kulchas are a delight for our Punjabi cuisine cravings. The Kulcha Kulture is undoubtedly the best place to be when desiring a plate of scrumptious, buttery kulcha. Their tandoor, herbs and spices, including their unique chole masala used in the making, are especially sourced from Amritsar to provide Hyderabadi foodies with Amritsar ki mitti ka swaad. The crunchy, onion-stuffed kulchas are served along with chickpeas and a tangy imli chutney. And the eatery takes all necessary precautions against COVID-19. The owner, Sajan Sharma, originally hails from Amritsar, and settled in Hyderabad about eight years ago. He knows the flavours of his homeland inside and out, which makes the kulchas here no less tasty than those you'll find in the land of the Golden Temple.
Samosa Ragada
This dish looks super-tempting, and it's loaded with delectable flavours. Samosa ragada includes chickpeas curry and samosas accompanied by chutneys and spices. Chaat Company offers this hot, crispy and spicy samosa ragada among various street food options like papdi chaat, pav bhaji and many more. The eatery gives top priority to their safety measures against COVID-19. The unrivalled taste of their ragada will no doubt make you a regular visitor at Chaat Company.
Jalebi
On a sweet note, jalebi is one of those Indian desserts that makes our mouth water just by hearing its name. Thick or crispy, hot or cold, with or without rabri; however it's served, sign us up and we'll be there! For all jalebi lovers, Agra Sweets Banjara serve the juiciest jalebis in town. The eatery is packed with various Indian sweets and snacks, but their jalebis are sinfully good! And the place is full of personnel who prioritise your safety and hygiene. If you haven't checked them out yet, what are you waiting for? Don't forget to try their mango lassi – perfect for summer!
Raj Kachori
Famously known as the King of Kachoris, raj kachori is a widely loved Indian chaat made with crispy fried shells called kachori, which are filled with potatoes, yoghurt and yummy chutneys. Serving a variety of sweets and chaat options, Kesariya's sweets makes tempting Raj Kachoris that are a must-have for all chaat lovers in the city. The eatery encourages its customers to follow all safety measures against Coronavirus, and is also highly mindful and cautious of them in their establishments. While visiting them, do take a pack of their succulent Gujiyas before they are all sold out.