The new Koenigsegg Regera is specifically designed to be a luxury Megacar alternative to Koenigsegg's traditional extreme, light weight, race-like road cars. Combining a powerful twin-turbo V8 combustion engine with three electric motors and cutting edge battery power via new powertrain technology called Koenigsegg Direct Drive; Regera removes the traditional gearbox, making the car lighter and more efficient. With only 80 units to be produced, make sure you order this beauty at the earliest, because the Regera moves fast, literally and figuratively.
'Regera' is Swedish for 'to Reign' – a suitable name for a machine that offers an unforeseen combination of power, responsiveness, and luxury – it continues to make the fastest cars on the planet – around a racetrack or anywhere else.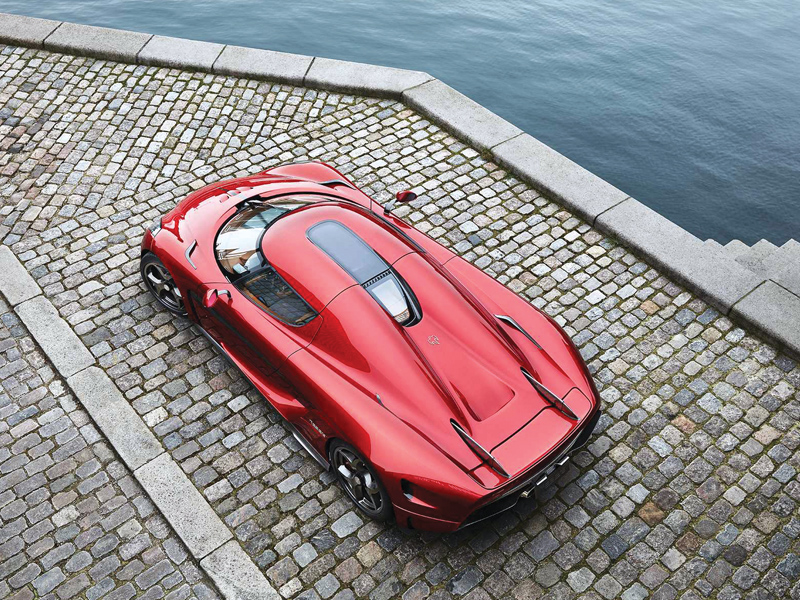 In spite of all its advanced technology and creature comforts, the Regera is comparatively light and can still perform competitively around a race circuit. The hypercar is to be handcrafted in an edition of just 80 vehicles at Koenigsegg's production facility in Ängelholm, Sweden. This is the first time ever that Koenigsegg will have two different models in parallel production.
The interior features added insulation, eight-way electrically adjustable memory foam seats, a Koenigsegg 9" infotainment system, 4G and Wi-Fi connectivity, front, inner and rear camera system with recording capability, Apple CarPlay, supreme sound system, and ambient lighting. It further comes with front and rear parking sensors and remote diagnostic, and firmware update capability.
The heart and soul of every Koenigsegg is its Internal Combustion Engine – the ICE. The ICE of the Regera follows the path of its siblings, the proven and extremely reliable Koenigsegg dry-sump twin turbo, DOHC, 5.0 litre V8. It also is the most downsized homologated production ICE in the world, with 220 hp per litre (using regular pump gas). The compact nature of the engine means the Regera is light in weight, and therefore nimble and efficient.
The Regera has a custom designed, tuned titanium exhaust system developed in conjunction with exhaust specialists and partners, Akrapovic. This unique exhaust system includes a fish tail outlet, designed by Christian, a design that has not been seen on production cars for at least half a century – bringing back the sound of performance cars from the past! – Source: Koenigsegg