Mouth-Watering Delicacies

Presenting some festive delicacies. Take a look!
PARVATHI SUDERSAN
Parvathi Sudersan, a lovely wife, doting mother and a homemaker, is passionate about cooking and travelling. For Parvathi, travelling with family to different places and exploring the local cuisines and cultures is a must. Besides travelling, she is also fond of reading. Lately, she has been drawn to books that focus on self-awareness and spiritual progress.
Parvathi and her family look forward to celebrating Sankranti every year with great enthusiasm. All her family members assemble at one place to celebrate this festival for three days. They start their day by decorating their house with flowers and making special festive dishes. During Sankranti, Parvathi makes it a point to offer katte Pongal and daddojanam to the divine god throughout the auspicious month. She and her family also make it a point to donate unused items, as they believe this act of theirs will bring in a lot of positivity and a sense of tranquillity, after offering prasad to god, the family feasts on dishes like lentil rice, dosa with spicy mutton curry, sweet Pongal, tangy pulihora, mutton pulao and chicken curry.
Parvathi says festivals like Sankranti are always repositories of memories. Recalling one of her most memorable celebrations, the family always gave new clothes and freshly cooked food with the newly harvested crop to her ancestors during her childhood. She continues to follow this tradition after she got married.
TAMARIND PULIHORA
Ingredients Qty
Rice
Tamarind
Jiggery
Oil
green chillies
turmeric
red chillies
salt
hing
peanuts
cashews
mustard
chana dal
ginge
curry leaves
250 gms
40 gms
½ tbsp
½ cup
4
2 tsp
6
1 tbsp or as per taste
¼ tsp
2 tsp
2 tsp
1 tsp
1 tsp
½ inch piece
2 twigs
Instructions:
1. In a pressure cooker, take a tsp of oil and cook rice for one whistle. After the steam is released, remove the rice from the pressure cooker. Now in a deep vessel, spread out the rice and add a tsp of oil, a twig of curry leaves and ¼ tsp of turmeric. Mix all the ingredients well and keep this aside.
2. Take tamarind and make a pulp. To this tamarind pulp, add jaggery, green chillies, salt and a pinch of hing. On the stove, cook this till it becomes a thick paste. Combine this paste with the cooked rice.
3. In a pan, heat oil and fry the peanuts and cashews. Once they are golden brown, add chana dal, mustard, whole red chillies and curry leaves. Once the mustard stops spluttering, turn off the heat and add the remaining hing.
4. Add seasoning to the rice and combine well.
5. Finally, make a powder using mustard seeds and one red chilli. Add a tsp of oil. Cover this paste and keep it aside for about 10 minutes. Add this to the pulihora for a more distinct flavour. Serve hot.
---
VARALAXMI REDDY
Varalaxmi Reddy is a homemaker, wife and mother with a keen interest in jewellery and clothing. For her and her family, the festival of kites is all about wearing new clothes, performing prayers to the divine lord and preparing an array of festive dishes. Just like on every Hindu festival, Varalaxmi makes sure that her house is thoroughly cleaned. She decorates it with stunning floral arrangements and hangs traditional mango leaves to the entrance of her lovely house. She believes that all the negative energy and evil spirits surrounding her house will vanish by doing this. Every year, Varalaxmi makes beautiful colourful rangoli in front of her house during Sankranti. When asked about one ritual that she follows on this auspicious day, she said, the first and foremost thing that she does is preparing payasam in the morning, which she offers to the divine god, Naivedyam. She, her husband and her two sons sit together and perform puja. Varalaxmi makes it a point to seek blessings from Ayyappa Makara Jyothi on television. Makara Jyothi means light of Capricorn. It is a star which is worshipped by millions of devotees at Sabarimala temple in Kerala on the day of Makar Sankranti. Varalaxmi shares the recipe of one of her family's favourite sweet dishes; she makes every year on this joyful occasion. Payasam is also a popular dish that is prepared in every household during Hindu festivals.
PAYASAM
Ingredients Qty
Vermicelli
full fat milk
sugar
cardamom
saffron strands
ghee
cashews
raisins
½ cup
500 ml
50 gms
¼ tsp
a few
1 tbsp
15 gms
15 gms
Instructions:
1. In a small frying pan, take some ghee and roast the cashews and raisins until they turn golden brown.
2. Now in the same frying pan, roast vermicelli. Fry till it turns golden brown.
3. In another large vessel, boil milk. Add sugar, roasted vermicelli, cardamom powder and keep stirring. The sugar must dissolve completely.
4. Allow the payasam to simmer for another five minutes until it becomes thick and creamy. Turn off the flame.
5. Garnish the payasam with roasted cashew and raisins. Top it off with a few strands of saffron before serving.
---
MADHAVI CHAPARALA
Madhavi Chaparala is a loving mother to a daughter and a son. A fashion designer by profession, Madhavi runs a fashion boutique. For Madhavi, Sankranti is an important festival. She celebrates with her family with much enthusiasm and zeal. During this auspicious occasion, she and her children deck up the house with floral arrangements and rangoli. Every year, the designer celebrates the festival with her parents in her village. Her husband and children also accompany her. The day starts with cleaning and decorating the house, then they bathe and wear new clothes. Then they offer prayers to the deities and most importantly prepare festive delicacies. The family loves food and enjoy trying various dishes. Some of the delicacies prepared during this festive season in their house include Ariselu, Payasam, Bobatlu, Madatha Puri, Tilladoo, Khichdi and Murukku. For Madhavi, one of her best memories of celebrating this festival of kites is during her childhood. As a kid, she thoroughly enjoyed watching cockfights. She and her mother used to decorate the entrance of their home with rangoli. Like every year, Madhavi is in her hometown with her children and husband to celebrate the joyful occasion. Here she shares the recipe of one of her favourite dishes - Ariselu.
ARISELU
Ingredients Qty
Rice
Jiggery
Water
cardamom powder
ghee
oil
sesame seeds
600 gms
300 gms
40 - 50 ml
½ tsp
¼ cup
to deep fry
1- 2 tbsp (for garnish)
Instructions:
Soaking and grinding -
Take 600 grams of rice and soak it overnight.
Rinse the soaked rice and strain out the water.
Allow the rice to rest on the strainer for 10 - 15 minutes until all the water is completely drained out.
Now take the rice and grind into a fine powder. Keep this aside.
Making jaggery syrup -
In a pan, add 300 gms of jaggery and 40-50 ml of water. Boil the syrup until it starts bubbling. Once it starts to bubble, then take a small spoonful of jaggery syrup and check by making a round shape using your fingers. If you're able to make a ball, then it is ready. (Be careful it might be hot).
To the jaggery syrup, add ghee and cardamom and stir well. Turn off the heat and keep this aside.
Making the dough -
Add the rice flour little by little to the jaggery syrup using a sieve. Keep stirring and add the remaining flour in small batches at a time. The dough has to become hard.
Deep-frying - Take a deep frying pan and heat oil on medium flame.
Take an Arize sized lid and place a plastic sheet on it. Apply some ghee to the plastic sheet and your fingers.
Take a fistful of dough and make a round shaped ball. Place it on the arize sized lid and pat it into a flat shape.
Now take the flat-shaped ariselu and drop it in oil. Wait for it to rise on top. Fry for a minute and flip to the other side. Fry till it turns golden brown. To remove the access oil, in a tissue paper, press it hard. Continue this process until all the dough is done. Tasty ariselu are ready to eat.
---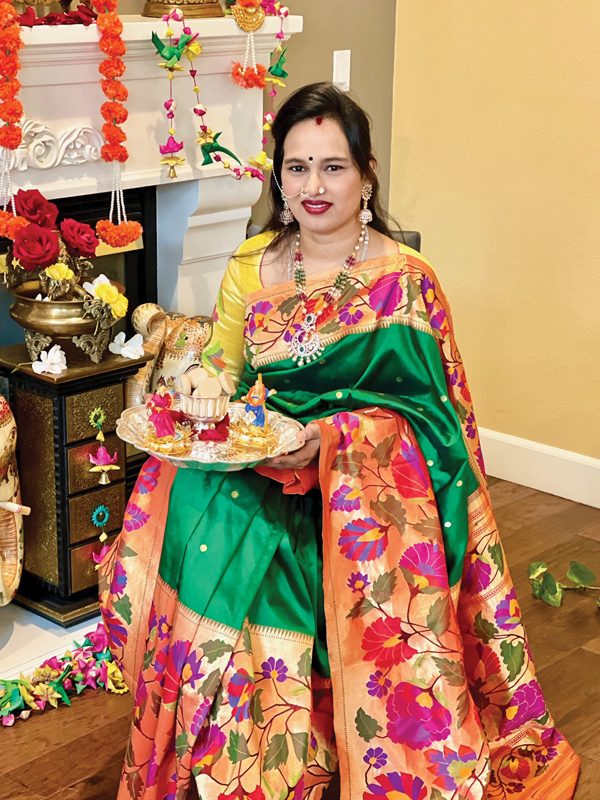 MADHAVI PATURI
A Mother of two beautiful children, aged 13 and 19, Madhavi Paturi, lives in California with her loving husband, Chakradhar Paturi and children, Abhijay and Anikha. Even after living in America for the past thirteen years, Madhavi and her family are well connected with the Hindu traditions. For this beautiful family, Sankranti is all about rituals and traditions. For Madhavi, cleaning her house and decorating with flowers and mango leaves is a ritual she follows every year on Sankranti. She is passionate about fashion and jewellery, hence on this auspicious occasion, she drapes beautiful saree and wears traditional jewellery that perfectly complements her look. After preparing scrumptious food, the family offers their prayers to the divine goddess Saraswati. Then the family bonds over a delicious spread of festive delicacies. Every year, on this auspicious occasion, Madhavi, her husband and children eagerly look forward to meeting and celebrating the festival with their friends at a social gathering organised for Indians in the Bay Area. All the Indians in the Bay come together to celebrate this joyous occasion with traditional Andhra food, music and dance performances.
Madhavi says she thoroughly enjoyed celebrating Makar Sankranti as a child. During this festival, she would go to her hometown with her parents. She loved celebrating Bhogi with her extended family. All her family members and friends would assemble and light a bonfire.However, this year, the family decided to have a low key celebration at their house. Madhavi, her husband and her children, are fond of food that is prepared for the festival. Some of their favourite dishes are Pulihora, Ariselu, Palkova, Pongal and Garelu. On this wonderful occasion, Madhavi wishes everyone a very happy and prosperous Sankranti. She also shares her family's favourite sweets that she prepares during the festival of kites.
PALKOVA
Ingredients Qty
sweetened full fat condensed milk
yogurt
ghee
400 gms
2 tbsp
2 tsp
Instructions:
1. In a pan, add ghee and sweetened full fat condensed milk, cook on low flame for about 5 minutes. The condensed milk has to boil.
2. Once the milk starts bubbling, add one tablespoon of yoghurt and mix well. If the condensed milk does not solidify, then add another tablespoon of yoghurt. Keep mixing until well combined.
3. By now the sweetened condensed milk should have curdled well. Keep stirring until the mixture is completely solidified.
4. Now allow the mixture to cool down completely. Using a palm, take the mixture and make a round-shaped ball and flatten it. You can make any desired shape. This rich and tasty sweet is ready to be served at room temperature.
---
KARUNA GOPAL
Karuna Gopal, is an internationally renowned thought leader, keynote speaker and a futurist. She is the founder president of Foundation for Futuristic Cities, a think tank that has influenced India's Urban Transformation.
Governments of all the developed nations have invited her for inputs on Smart Governance. In 2018, Ms Gopal was invited by the Prime Minister of UAE to address their flagship event – World Government Summit at Dubai. She was a key contributor to PM Narendra Modi's 100 Smart Cities and was a speaker at the Mission's launch. She is also a BJP leader.
Karuna celebrates Makar Sankranti every year with great enthusiasm. For this successful women, the auspicious festival symbolises a new beginning. She starts her day by offering prayers to Surya Bhagwan. Karuna strongly believes that the sun's entry into Makara represents the harvesting of crops and paves a path to new energy into all living beings. On the day of the festival of kites, Karuna cleans her house, bathes and prepares scrumptious traditional dishes. She is also fond of rangoli and makes it a point to decorate her house with beautiful rangoli, as she believes that this act of hers will attract positive energy into her house. Karuna indulges in charity on the auspicious occasion of Sankranti every year. She has adopted cows, dogs and young girls. On this special occasion, she will pray for happiness and peace for all.
SOJJI PULIHORA
Ingredients Qty
ricerawa (coarse)
lemon sized tamarind
sesame oil
jiggery
Cashews
green chillies
ginger
curry leaves
chana dal
peanuts
mustard seeds
asafetida
turmeric
To make the sesame chutney powder
sesame seeds
dry red chillies

1 cup
large (soaked in hot water)
3 - 4 tbsp
a little (optional)
10
5 - 6
1 inch
4 - 5 sprigs
1 tbsp
3 - 4 tbsp
1 tsp
a pinch
½ tsp

2 tbsp
4
Instructions:
1. Boil three cups of water and add a pinch of salt and 1 tsp oil. To this add the rice rawa and mix well for a minute or two. Make sure not to overcook. Drain the excess water after a minute. Let this mixture rest for a minute. If it's too sticky, add 1 tbsp oil and transfer to a large plate and let it rest.
2. In a frying pan, take 2 tbsp oil, add mustard seeds and asafoetida. Once it starts to splutter, add peanuts and chana dal. Fry till golden brown and add chopped green chillies, chopped ginger and curry leaves. Fry for a minute and add the tamarind pulp.
3. Next step is to add some salt, turmeric powder and jaggery. Allow it to boil till it comes to a thick consistency.
4. Now make the sesame chutney powder. Roast sesame seeds and dry red chillies separately and grind them into a powder.
5. The final step is to combine the cooked rice rawa and the pulihora mix. Adjust salt as per your taste. Add the sesame chutney powder and mix thoroughly. If it becomes too sticky, add one more tbsp of oil. Before serving, garnish with fried cashews.
---
CHALLA SHIRISHA REDDY
A talented fashion designer by profession, Challa Shirisha Reddy is also a loving mother to two amazing children. She has an immense passion for clothing and loves designing indo-western wear. Coming from a Telugu family, Shirisha celebrates Makar Sankranti by following all the rituals and traditions. It is also a time when her family gets together.
Besides her love for designing clothes, Shirisha is also a great cook. One of the festive dishes made at her household every year is a tasty mixed vegetable gravy with til roti for this auspicious occasion. Other mouth-watering delicacies eaten by this family are Ariselu, Pongal, coconut burfi, pulihora, murukku, and garelu. On the day of the festival, Shirisha and her family wear new clothes and offer prayers to the divine lord. Then they all sit together and savour the food. Later in the evening, they meet their friends and family.
COCONUT LADOO
Ingredients Qty
fresh coconut
milk
cashews
elaichi powde
sugar/ jiggery
raisins
ghee
1 cup (desiccated)
½ cup
50 gms
1 tsp
6 -7 tbsp
50 gms
1 tbsp
Instructions:
1. In a small vessel, take little ghee and lightly roast the cashews and raisins. Keep this aside.
2. Place a large vessel on the stove, take 1 tbsp ghee and lightly roast 1 cup of desiccated coconut. To this add ½ cup milk. Keep mixing until the coconut is well combined with the milk.
3. To this add 6 -7 tbsp of sugar or jaggery. Add more sweetener if needed. Keep the flame on low and mix continuously to avoid the formation of lumps. The sugar will start to melt. Keep stirring on low heat.
4. Once the milk starts to evaporate, the coconut mixture turns to a crumbly texture.
5. Allow the mixture to cool. Add elaichi powder, cashews and raisins. Mix thoroughly.
6. Take a plate and grease it with some ghee or butter. Grease your fingers with some ghee, take a fistful of coconut mixture and make a round shaped ball. Repeat the process for all the ladoo. Garnish with raisins on top.