If you think it's only women who are conscious about their bodies and how they look, think again. On some level, everyone yearns for the perfectly sculpted physique of a Greek god, and even men have body issues. There are several ways to go about getting your ideal physique, with diet and exercise chief among them. But those looking for a quicker route often choose plastic surgery. Procedures like etching and sculpting can give men what they desire, whether it's Chris Hemsworth's abs or Channing Tatum's pectorals.

Since more men face nearly as much scrutiny as women when it comes to their appearances and are adhering to the 'metrosexual' way, going under the knife is becoming more and more common. The areas men tend to focus on with these procedures are around the torso – namely the abs and chest. These are a couple of the cosmetic procedures available to men.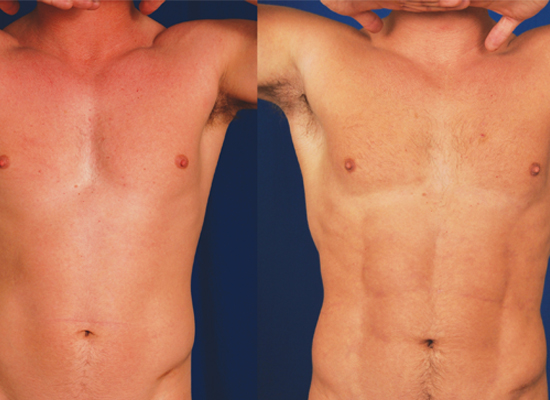 Abdominal etching has become an increasingly popular procedure for men. It's a great way to achieve an athletic, masculine torso. Making use of special liposuction cannulas and a high-definition liposuction machine that gives the abdomen crisp contours, it shapes the area and provides a lean, washboard look.

The stomach has always been a trouble area, so abdominal etching is in great demand these days. Men have natural muscle contours in the region, and this technique gently draws out pockets of fat that lie around these contours, leaving the lines looking naturally sculpted. It essentially drains out unnecessary fat that your body has accumulated, so what's left is a flatter, more athletic-looking mid-section. The procedure usually results in patients getting the desired 'six pack' by highlighting abdominal muscles.

As with most cosmetic procedures, a surgeon examines the body extensively, making marks at every point and checking natural contours by making the patient flex his muscles. These markings help pinpoint the areas to target during the procedure. On the operating table, the surgeon removes fat from the marked areas, leaving behind what are essential and organic body contours.
Keep in mind that this procedure is not suitable for everyone. People who aren't perfectly fit, or who are in shape but have small amounts of what's called 'pinchable fat' are perfect candidates. If you are obese, overweight or have excessive body fat, stick to eating right and working out.

Liposuction usually does not allow surgeons to remove large amounts of fat, and specialised liposuction is certainly not for the overweight. Should you still wish to explore a surgical option, consult a cosmetic surgeon about conventional liposuction.

To further the appeal of their chests, some women elect to get breast enhancement surgery, while men may turn to pectoral etching. Even fitness buffs sometimes find it hard to get rid of the pesky bit of fat that tends to sit around the chest muscles. Implants are one answer, but there is also this less invasive alternative that offers a more natural look.

Gynaecomastia is the accumulation of fat and breast tissue around the male chest, giving it the appearance of developed female breasts. In some cases, this is limited to fat, and that is the biggest reason why men opt for pectoral etching. Liposuction is the obvious answer, as are pectoral implants, though men tend not to want those. Though fairly new, pectoral etching is a better technique than implantation.

Much like abdominal etching, pectoral etching sculpts your chest to its natural, fat-free self. The excess fat is drained from around the pectoral tissue via liposuction, leaving behind a decent-sized pad of fat that is placed on the pectorals. This successfully reduces the size while giving the region a more sculpted appearance.

The main advantage of this procedure is that there is no chance that your body will reject it. In many implant cases, the body rejects the foreign object, leaving behind scar tissue. In addition, complications with pectoral etching are minute and rare. Overall, it tends to result in a tauter, more contoured torso.


You & I checked in with cosmetic surgery expert Dr. Deepu Chundru, owner of the Newyou Centre for Cosmetic Surgery & Skin in Banjara Hills, who has an M.Ch. in plastic surgery and a fellowship in aesthetic surgery from New York and Brazil, to find out what he had to say about some of these techniques.

"Abdominal etching is relatively new in India, and we only recently brought it to Hyderabad. It is done more commonly in Mumbai, Chennai and New Delhi. With high-definition vaser liposuction, we can create the visual appearance of enhanced musculature resembling that of a 'six pack' or 'eight pack'. But cosmetic surgery should not be done on individuals younger than 18, and liposuction is for motivated and conscious individuals who want to preserve the results with a healthy lifestyle, diet and exercise."

Dr. K. Balasubramanyam, M.Ch. is the medical director at Oliva Cosmetic Surgery Centre. He says, "As our dressing sense gets more Western, body contouring surgeries have become very common among men in recent years, both in Hyderabad and across India. These surgeries are safe in the skilled hands of experienced plastic surgeons, and the results are immediate and permanent." ..... Saloni