The McLaren 720S embodies our relentless quest to push the limits of possibility. Lighter, stronger, faster. It's all of these and more. But how it makes you feel is altogether something else. The contours of the 720S are distinctly McLaren, yet the details are boldly different. The resulting design for the 720S is exquisite form following ingenious function. The smooth flow of the exterior lines manipulates onrushing air to reduce drag and cool the engine. Slim pillars on the teardrop-shaped cabin allow for the extraordinary glass canopy that floods the interior with daylight and offers unrivalled visibility. Read on to find out more…
Carbon Fibre Monocage II
An innovation of the technology first seen in the McLaren P1™ hypercar, the MonoCage II is a one-piece carbon fibre tub that now includes the roof. Unique to the supercar category, this high-strength, low-weight passenger cell provides unrivalled rigidity, resulting in thrilling driving dynamics and exceptional protection for you and your passenger. The MonoCage II, unique to the 720S, extends over the engine bay and includes wider door apertures that open into the roof.
Power is instantaneous and seemingly endless. Always ready to give more, it devours road and track with a ravenous appetite. Combined with the world's most advanced suspension system, the 720S gives you the ultimate balance of power with control.
Relentless Power
The beating heart of the 720S is a new and fearsomely powerful M840T engine with 720PS. Press the start button and the twin-turbo V8 comes alive with a potent growl that ignites your senses and focuses your mind. Bathed in vibrant red light, every part of this 4.0-litre unit is refined to maximise power, sharpen responses, and increase fuel efficiency.
Superior Handling
The immense power of the 720S requires an equally responsive chassis. Proactive Chassis Control II was born from the findings of a five-year PhD course at the University of Cambridge. It gives you enormous ability on all road and track surfaces. Data from an array of sensors enables the 720S to better read the road and select a set-up that maximises grip. From a winding mountain pass to a challenging racetrack, you can push the limit with breathtaking control.
Driver-Focused Perfection
From the welcoming smell of superior leather to the tantalising touch of aluminium switchgear, our most luxurious cabin to date captivates the senses. The realisation of supreme quality and comfort is visible in every detail. Controls are carefully angled and positioned for easy reach with minimum distraction. It's an interior crafted around the driver, allowing you to commit to an exhilarating drive.
Luxury Interior
One of the most sumptuous leathers in the world extends from the electronically operated and heated seats to the dashboard, headlining and rear luggage area. Finishing touches are provided by exquisite iridium bright ware and details in dark satin graphite.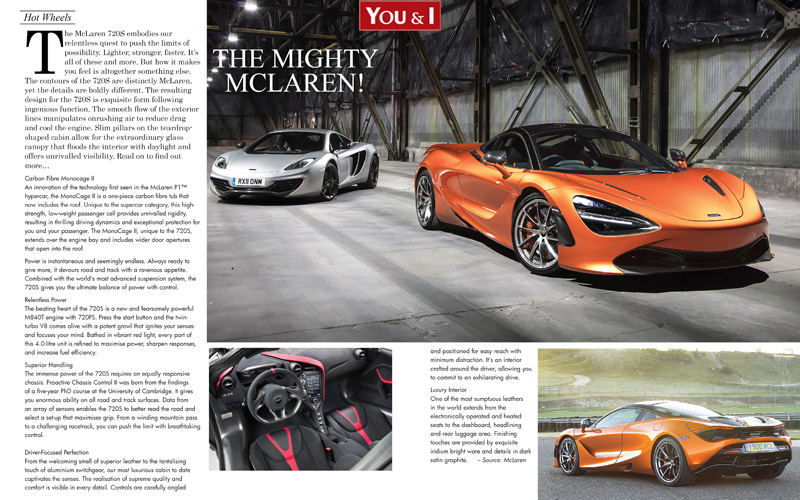 – Source: McLaren