Met Gala 2021: Celebrity Style on the Beige Carpet

The highly-anticipated Met Gala – an annual fundraising gala that marks the opening of the Costume Institute's fashion exhibit and an event to benefit the Metropolitan Museum of Arts – finally returned after it was postponed from its usual May date. And boy, did the stars take the theme and run with it! The "fashion's biggest night" was practically overflowing with the coolest, creative, and outrageous looks we have and will see all year. (There's a reason this event is one of our most-anticipated!) But not everyone can make our best-dressed list. Check out who our selected celebs were this year; we awarded points for thematic accuracy, grandeur, beauty, and hair, too. While some of our favourite looks were very in-step with the "In America: A lexicon of fashion" aspect of the dress code, there were plenty of looks that pushed the boundaries and made us do a double-take. See our favourite looks ahead and celebrate the bigger, bolder and more balls-out-bonkers fashion!
Sheer Perfection!
Who: Kendall Jenner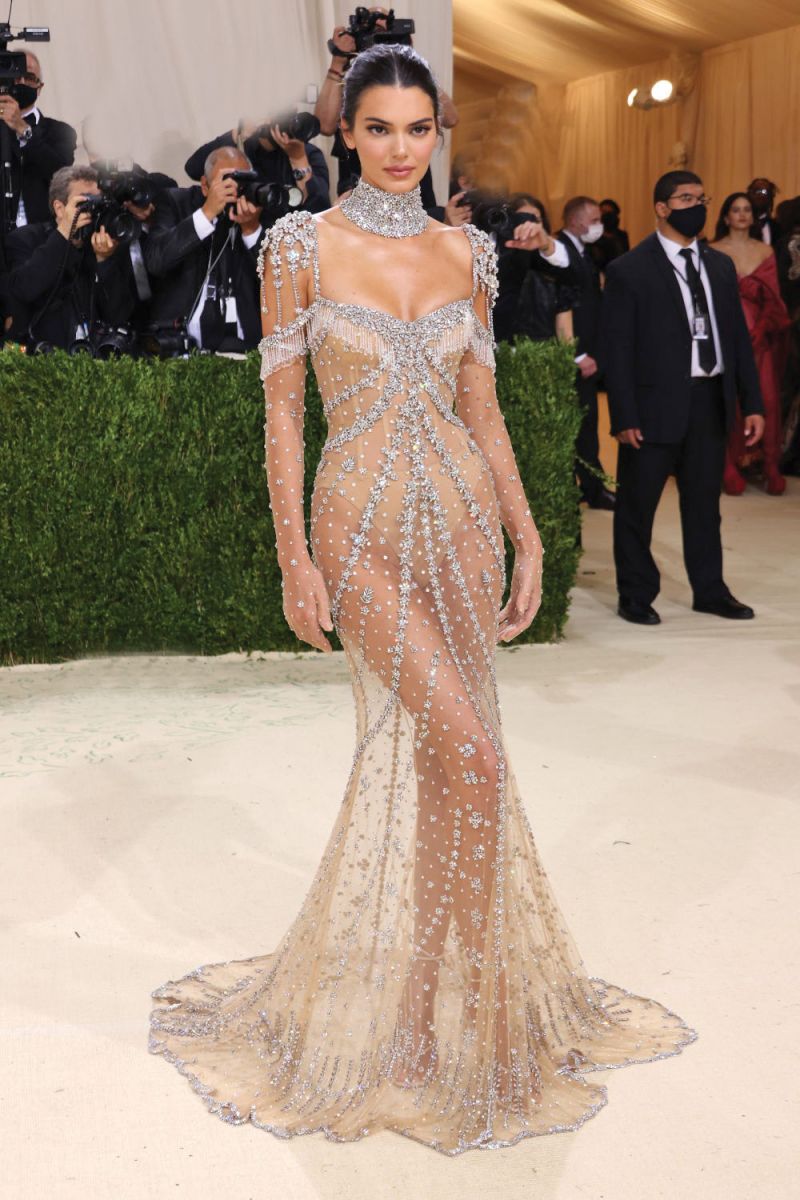 Why: Can we all just give praise hands emojis for how well this look worked out? Because it could have gone super risqué and super tacky, super fast — just the words "naked dress" fills us with cold dread. And yet, somehow, Kendall looks sleek, almost elegant in Givenchy's sheer gown adorned in delicate crystals with a dramatic train. Well, I guess she is a professional model.
Taking Our Breath Away
Who: Billie Eilish
Why: When it comes to Billie Eilish, you never really know what you're going to get. And that's what makes this diva and her style so exciting. As the co-chair (along with Timothée Chalamet, Amanda Gorman, and Naomi Osaka), the pressure is to show exactly what you can do with the theme, and others in the past have wimped out; this doesn't. It checks all the boxes: The Oscar de la Renta gown was carefully constructed, it's got a princess-sy vibe while still being very Billie, and so was her Marilyn Monroe-esque bob. Anna should be pleased. However, the nude princess dress just started Billie's night at the Met Gala. The diva channelled some sheer magic and stepped out in an embellished gown that bore a long train and accessorised it with Cartier jewellery. While most celebs debuted their second looks at the Met Gala after-parties, the 'Bad Guy' singer changed inside the gala. She switched into another Oscar de la Renta sheer red cape dress!
We Bow to You!
Who: CL
Why: Va-va-voom. That's what we think of CL's epic look. When we were told that she was making her Met Gala debut this year, we expected nothing less. And she didn't disappoint either. The South Korean rapper made a dramatic entrance during her first red carpet appearance, dazzling in a denim gown designed by Alexender Wang, which was tied with a traditional Korean Hanbok knot in the front.
We don't know which we love more: CL's dramatic dress or her bow-like updo, inspired by the traditional Korean headpiece worn by Queens. As one of the first female K-pop stars to attend the Met Gala, along with Blackpink's Rose. CL's monochromatic makeup tops every best of beauty list. And can we talk about that edgy thick winged liner?
Goddess Worship
Who: Iman
Why: Iman basically staged her own one-woman runway at this year's prestigious event. Sure, Iman could have been a showstopper in just about anything, but this gold
Dolce & Gabbana x Harris Reed outfit feels a notch above the rest. The supermodel's complete look ended up being one of her sexiest to date — and that's saying a lot, considering she is an iconic supermodel.
The 66-year-old was clearly feeling it, too, as she twirled her otherworldly tiered and gilded feather cage overskirt all along the beige carpet. The elaborate skirt also featured a custom brocade bustier and trousers underneath. We love the finishing touches of the bespoke matching larger-than-life headpiece, paired with golden jewellery, emerald eye makeup and gold-toned nude lipstick. Seriously though, is there anything she can't slay?
Hostess with the Mostess
Who: Rihanna and ASAP Rocky
Why: Leave it to Hollywood sensation Rihanna to bring the dress drama to any event. Turning heads wherever she goes, the songstress made quite the entrance at this year's MET. The stunner wore a voluminous black Balenciaga parka and a matching hat. The dramatic overcoat came with ruffles. The singer exuded drama with strappy black heels, oxblood lips, bold lashes, pastel eyeshadow, and several shades of highlighter draped over her cheekbones.
As if that wasn't eye-catching enough, Rihanna wore a humble beanie hat, which was uplifted by what appears to be a jewel-embellished mesh panel peeking out from underneath. The singer finished off the sophisticated look with her arms wrapped around rapper boyfriend ASAP Rocky, who complemented her to perfection in a quilt-inspired ensemble designed by ERL and black tuxedo underneath. The power couple's looks are a red-hot winner in our book.
Ethically Fashionable
Who: Lorde
Why: Lorde's looks have officially stopped hearts at Met this year. Event after event, Lorde and her stylists have put together some flawless looks. Take the white custom-made Emily Bode exquisite gown show wore at the Gala with detailed handwork featuring found objects like pressed pennies, 1920s cabochons, and 1940s Cracker Jack charms - proving that Sustainable fashion is effortless. In fact, Emily X Lorde may have done more to make the case that upcycled fashion can be fabulous than a hundred sustainability summits this year.
Lorde's also garnered much attention for her accessories, seven pieces made by Prounis Jewelry, a small-batch New York fine jeweller that favours recycled 22-karat gold. As for her beauty look, her hairstylist opted for a nymph aesthetic look and topped her natural waves with an ornate crown. Magnifique!
Ah, the Drama!
Who: Lil Nas X
Why: Lil Nas X was all glitters and gold at the fundraising gala, as the rapper donned three looks in one. The 22-year-old singer wore three separate but coherent looks designed by Versace. He first donned a regal golden velvet robe that later unveiled a golden armour suit underneath. Last but not least, LNX walked up the steps of the Met wearing a gold embellished black bodysuit that showed off his incredible figure following his pregnancy announcement. Talking about his trinity of outfits and how he has the freedom to expresses his vision in his art, whether it's in music or fashion, he said, "It was royalty at first, right? And then we copped down to the armour, right? And then we got to sexy, you know, we got real sexy slutty."
Feasting our Eyes
Who: Quannah Chasinghorse
Why: All eyes were on Indigenous model and activist Quannah Chasinghorse and her gold couture gown when she debuted onto beige carpet. Bringing much-needed representation for Indigenous people, Chasinghorse is of Oglala Lakota (from South Dakota) and HänGwich'in (from Alaska and Canada) ancestry, and her ensemble at the benefit gala was a reflection of that.
Staying true to her feminine style, Quannah wore a gold Peter Dundas for Revolve gown – a gown so flowing that it got everyone drooling! Plus, the cut-outs complemented the gorgeous diva's figure perfectly. Met is as much about jewellery as it is about gowns. The model paired her outfit with layered pieces of turquoise jewellery that represented protection, guidance, and love in Navajo culture. The jewellery came from her aunty Jocelyn Billy-Upshaw's personal stole the show, proving that the devil is indeed in the details.
TO. DIE. FOR.
Who: Maisie Williams
Why: Where to begin with this look?! By now, we know that Maisie Williams can either wrap a piece of muslin around herself or turn up showing off more than a little skin. And at the Met Gala last week, the Game of Thrones actress showed just that! The superstar donned a black full bodysuit dress that had a long train, and WOW! Designed by Maisie's boyfriend Reuben Selby, the look was inspired by The Matrix and had ruffles on the bodice and mesh details on the bottom and sleeves. Well, ruffles, mesh and trains aren't new to the carpet, but the interesting layers took our breath away.
Maisie paired the emo-esque sustainable dress with a statement-making diamond choker and earrings and black crystals. Consistently ruling the beige-carpet style, the star finished off the look with dark eyeshadow and liner for extra drama, along with dark lips, black and green nails to complete the look for a goth-glamour effect. And oh, all of this whilst keeping her eyebrows bleached, only she could pull it off.
Oozing Glamour
Who: Anok Yai
Why: This 20-something model makes dressing for parties and red-carpet events hauter than ever. Of course, it's incredible to be famous at that age, but to dress the part is even better. Anok Yai owned the beige carpet in a black, figure-hugging Oscar de La Renta ensemble that featured a demure, plunging neckline with crystal designs in the shape of flowers and stars. Channeling peak "Old Hollywood" glam, Anok accessorised the dreamy outfit with Giuseppe Zanotti heels, matching sheer black opera gloves, and an oversized shawl bursting with black feathers, which Anok pulled off effortlessly. Looking left or looking right, the model nailed every single pose and came out looking like a star in her own right from every angle. Thank you, Oscar de La Renta couture, for convincing us that a black dress can be anything but basic. And props to the model for having the verve to wear it. Pics: IANS