A journey fit for travellers, adventurers, and storytellers; that is what Seema and Mohanchandran experienced on their latest getaway. When a trip to one exotic location didn't pan out, another took its place in a heartbeat. This week You & I takes a look at this duo's latest vacation in the incredible country of Italy.
Our first choice for a holiday this year was South Africa, but given the time we had, the flight connections just didn't seem to work out. Then Italy sprung out of the history books and before we knew it, we were out and away! During our 10-day trip to Italy, we visited Rome, Naples, and Florence. And as the saying attributed to Julius Caesar goes, "veni, vidi, vici" ("I came, I saw,
I conquered"), Rome and Italy certainly conquered our hearts.
First up was the the Flavian Amphitheatre, the original name for the Colosseum; it surely lived up to our expectations. The visit to Vatican City was like visiting the Taj Mahal, but that wasn't where it ended. Every time we turned a corner there was a piece of history staring at us. We were gobsmacked many a time by the sheer scale of the architecture and preservation of bygone eras. For both of these visits, I recommend a guided tour and, if your pocket permits, a private guide for the Vatican tour is a boon.
Rome is easily one of the most beautiful cities to walk through. The wide pavements lined with beautiful trees and cafés made it such fun. Thankfully, most of the sights were within walking distance from our hotel, the Westin Excelsior Rome. A walk to the Spanish Steps to witness the magnificent views of the city was followed by a pilgrimage to the Fontána di Trevi, the largest and most famous Baroque fountain in Rome.
Italy's capital also has numerous piazzas, or squares, the most beautiful of which is the Piazza Navona with its three spectacular fountains. However, our hidden gem was a walk along
Via Appia Antica, or ancient Rome's 'Queen of Roads'. Constructed in 5th century BC, it was the widest and largest road of its time. According to Christian legend, it was here that Jesus Christ appeared to St. Peter. Today, it's remarkably well preserved, flanked on both sides by fields punctuated with ruins and other vestiges of Roman history, its large flat paving stones polished by millennia of use and weathering.
We also stumbled across the Catacombs of St. Sebastian, created as burial sites for 4th century Christians. They consisted of four dark, musty levels, and were named after the martyred Roman saint originally buried here. St. Sebastian's remains are now in the basilica above the catacombs. Another must-see was the sound and light show; the Fori Imperali tour. This one conveyed the life and times of Emperor Augustus and his Rome, a prosperous city back then.
Our next stop was Naples, where we stayed for three nights. On the first day we visited the ruins of Pompeii and Herculaneum. The well-preserved ruins dated back to
79 AD when the lava from Mt. Vesuvius covered the city and the entire population of Pompeii (20,000 people) perished. 200 years of excavation have unearthed almost 80% of the city.
But what was even more stunning and unexpected, was the ruins of the city of Herculaneum, which is believed to have been built by the mighty Hercules. While Pompeii was submerged under 10 metres of lava, Herculaneum was buried under 25 metres of volcanic ash; hence the damage was far less and the preservation even more spectacular. We then visited the beautiful peninsula of Sorrento and the stunning vertical town of Positano. This was followed by an amazing drive along the coast to the jaw-dropping town of Amalfi.
After our short but memorable stay in Naples, we boarded our Frecciarossa train to Florence, the capital city of Tuscany and a centre of medieval European trade and finance. During our two-day stay in Florence we chose a private guide for our tour of the Uffizi Gallery. Ms Paola Barbetti, our guide, showed us a Florence only she could have. Now a dear friend, Paola is perhaps one of the most passionate people that I have ever met in all my years of travel.
On our second day we booked a tour to the Chianti Classico region. Only Chianti wines made in this region can be called Classico. It's the wine country in Tuscany situated between Florence and Sienna. Among glasses of wine and nibbling on cheese, we wound our way from a vineyard in a 13th century castle to medieval towns, one of which boasted of having the oldest butcher in the region, Marcellaria Falorni, founded in 1806. A trip to a boutique vineyard on a hill and finally a fabulous dinner watching the sunset concluded the day.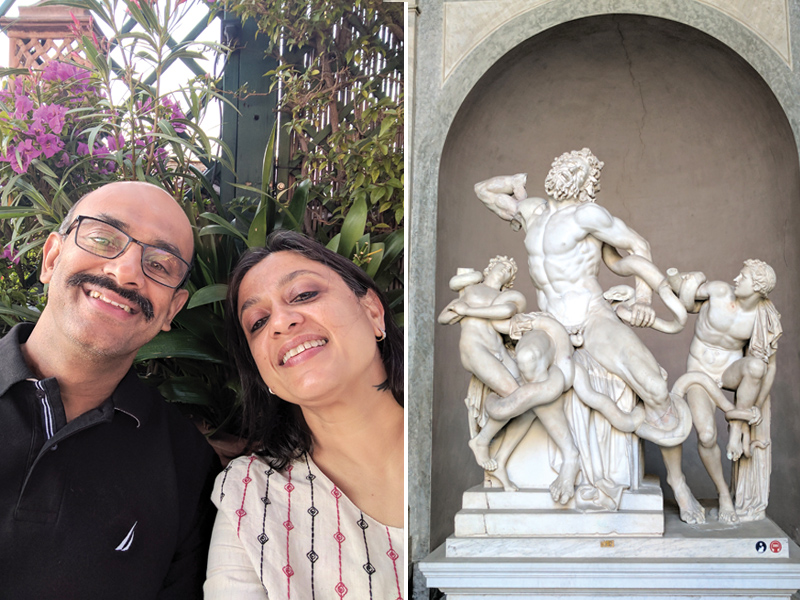 Owing to the modest size of the city, we were able to walk to and explore quite a few famous sights in Florence. These included the Duomo, Palazzo Vechhio, Palazzo Pitti, Accademia Gallery (which houses Michelangelo's David), and the Basilica di Santa Croce.
One might never have enough time to explore a country such as Italy, and that was definitely the case for us. As we neared the end of this trip I already began reminiscing about the time we spent at the Colosseum. A person could almost hear the cheers of the spectators as the gladiators came out to fight for their lives and freedom. I closed my eyes and Russell Crowe, in probably his most memorable role, flashed by. Such was the pull of the place.
I couldn't help but also think of the visit to Pompeii and Herculaneum. It moved me so and when I thought of it, I could visualise the sheer scale of the cities in all their glory and modernity; to think that the Romans built these in the 6th or 7th century BC.
Other than marvelling at what a treasure trove of history this destination was, we were glad to have booked hotels that were close to the sights and monuments. Being able to walk to these sights was certainly a bonus. Booking the must-see tours well in advance was a smart decision as well.
There wasn't a moment where we weren't surprised by the sheer beauty of the cities, each one different from the next. Even the food was so varied; from Florentine specialities to Neapolitan delicacies. For our next visit, we'd like to go back to Florence to walk along the Ponte Vecchio. Detours to Sicily, Capri, Milan, and Venice are a must. And finally, we would love to go back to Rome, this time to further explore the road less travelled. – Seema Mohanchandran