Madagascar's Tiny Paradise By Aiden Joseph

Sainte Marie is a tiny, tropical island located three kilometres east of Madagascar's mainland; its main town is Ambodifotatra. The island forms an administrative district within Analanjirofo Region. Now called Nosy Boraha, Île Sainte Marie is a laid-back idyll of simple fishing villages tantamount to 222 square kilometres of a sleepy paradise. With its wild animals, picturesque beaches, reefs, strong waves and intriguing stories (and still wilder and even more heavenly little islands), Sainte Marie is a much loved destination among avid travellers.
I recently visited Sainte Marie and then struggled to leave as elemental forces conspired to trap me inside its paradise forever! I landed in Madagascar on Christmas Day and after a quick whizz around the nation's capital of Antananarivo, commenced the two-day bus journey toward the eastern seaboard to catch the ferry to Sainte Marie.
Upon disembarkation at Sainte Marie's dock, the lazy island atmosphere was instantly tangible and contagious. The town itself consists of some two-storey buildings, two cash points and one straight road lined with rickshaws. Whatever worries and cares I may have had before leaving the mainland didn't make it off the boat, and I instantly felt completely at ease.
There are some hotels around the town but the magic of Sainte Marie lies in the villages strewn along its coastline. After a bumpy jeep ride along the island's single road, I arrived at my temporary home at the north side of the island. The accommodation in Sainte Marie was quite luxurious for US$25 a night. I checked into a gargantuan wooden bungalow situated right beside the ocean; Madagascar offers amazing value for money.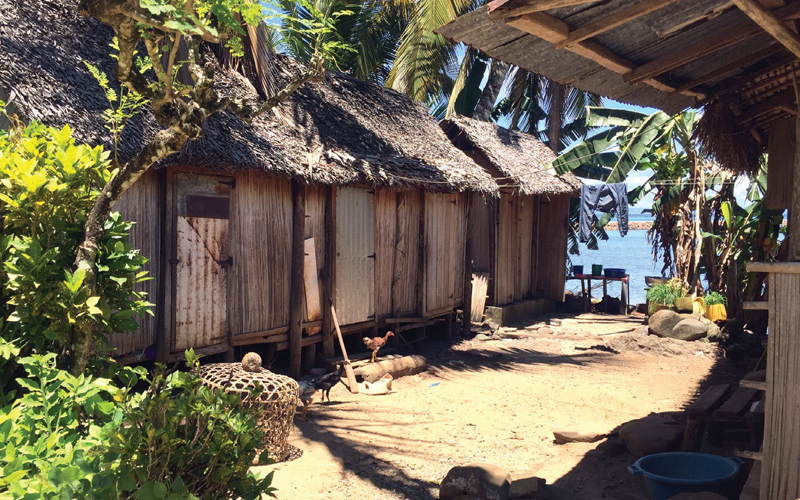 In the mornings I would venture out from my bedroom, make the short descent to the coral beach and bathe in the sea. As I performed my daily yoga routine on my hut's veranda, curious lemurs would come to see just what I was doing; in exchange for a piece of fruit or glass of juice, they could even be convinced to let me pet them.
I passed my days in Sainte Marie either trekking or riding around the island, exploring its empty, pristine beaches or the dense rainforest which dominates the centre of the island. There are not exactly many 'sights' in Sainte Marie other than observing the day-to-day life in the villages and feasting on delicious seafood washed down by local rum. That said, one day I did ride to the spooky pirate cemetery and visited some sacred stones which the natives still revere as deities and make offerings to; in Madagascar, staunch Christian Protestantism and ancient primeval animism make fine bedfellows.
In case all of this sounds too perfect, there were also storms quite literally a-brewing. In my enthusiasm to book the trip I'd failed to check the weather forecast, and so learned the hard way that I had waded into this little paradise during its annual 'cyclone season'. After a few days exploring and sunbathing, Cyclone Ava arrived, stirring the sea into a rollicking tempest and tearing branches from trees. Boats were cancelled, flights grounded and the town closed down as traders fled to hide from nature's wrath. The electricity and water failed and the island began to run out of food. The day of my flight home was fast approaching, and I still needed to get back to the mainland and the capital of Antananarivo.
To cut a long story short, I managed to find a seat on a tiny speedboat whose captain was brave (or reckless) enough to cross the seas. After a choppy ride, I made it back just in time for my flight!
- Aiden Joseph
www.poorexplorer.com