The Luxury List For 2017 - by Rahim Latif

The luxury list consists of top notch products, which are some of the most sought-after in their fields. Yachts, jets, airlines (first class suites) are just a part of a journey to any destination. Eating at a fine dining restaurant or living at a chateau or estate, is just for comfort. Shopping for couture and jewellery is just a necessity. Elegance, beauty, and style are the essence of these true necessities, and is what creates the desire and drive to have the best. Our list takes the most expensive and beautiful into consideration, but also the most tasteful. Last month we published our 'Top Seventeen Hotels for 2017', which consisted of the best properties around the globe. This month, we thought we'd go broader and see the other sides of glamour the world has on offer. In putting together our list, we considered the most expensive and beautiful offerings, and also the most tasteful. So here's our look at the world's most glamorous and luxurious airlines, restaurants, jets, real estate, designer labels, jewellery and yachts, located in all corners of the globe.
Destinations like Paris, London, New York, Milan, Dubai, and Hong Kong are cities of both culture and modern beauty, but don't forget that they are also cities of opulence, style, and luxury. For places to go to aura is vital; for something to see, simply subtle but chic; and for something to eat, the character of the dish is paramount. The imaginative mind is best, and in luxury what sells is the best. You may think there is no comparison between snowflakes and swimsuits, shining stars and Buckingham palace, but trying to integrate that thought process into a product is what makes luxury interesting. An example is when people thought of couture, they never thought of swimsuits, until brands like Victoria Secret came along. People like Lady Gaga heavily influenced other celebrities to mix the two. Luxury is defined when something is unique in its characteristic. The fact that it's perfect and expensive makes it luxurious and that's what you'll see in this list.
TOP FIVE AIRLINES
The finest in the sky has become better than everyday life. In-air bars, lounges, apartments and suites make for an experience that passengers will never forget. A first/business class gourmet meal, a royal evening tea service is a part of the glamorous journey onboard these airlines, which can include eating the best cheeses and drinking the finest wines in the sky. Here are the airlines that have created some of the most extravagant experiences.
1. Emirates Airlines
Emirates Airlines launched a new onboard product, and it's a clear game changer. The new first class suite features many elements from the 1970s and 1980s, but maintains its modern touch. Details such as curtains, binoculars and complete privacy round out the lavish suite experience. Decorative details such as the cream-coloured roof push elegance in air travel to a new level. The airline's well-known mini bar sits next to the largest airline screen in the world. They also launched a new business class, and revamped the economy and onboard bar design, inspired by yachts and Mercedes Benz.
2. Etihad Airways
While several airlines have launched new products in the past year, Etihad's The Residence and its onboard lounge remain classics. As a three-room suite, it's designed to be a private jet-style experience. The onboard chef creates a menu made to enrich your palette. The apartment is the suite to be in, nearly resembling a studio apartment on Manhattan's Upper East Side. The elements of this suite are designed for the best – absolute royalty in the sky.
3. Singapore Airlines
Singapore Airlines' new first class is among the best. Their new apartment is basically a hotel room, as it has a bed and a seat, and the ability to convert two of these first class suites to create a duplex apartment. The earlier first class was designed to be as sleek as a yacht and the new one enhances the look and feel. Its new business class looks like a regular first class, but its flat beds create a super-luxe feel.
4. Cathay Pacific
Cathay Pacific is a Hong Kong-based airline that was launched in 1946 and has seen phenomenal growth. The airline's products are kept simple, but its service is extraordinary. First class maintains a flat bed in a partial suite, while business class features just a flat bed. Gourmet meals flood the aircraft; from caviar to champagne to some of the most exclusive wines and cheeses, the airline tailors its food based on the country to which you are flying. If you're going to Japan, you get a bento box; if you fly to India, you get a combination of curries and spices; and if you're heading to France, crepes and classic French wines and cheeses are on offer. The crème de la crème of travel is when you feel that you are at a five-star in the sky.
5. Qatar Airways
Qatar Airways' new product – the QSuite – is the new first class in business class. The product released in early March, and is now among the world's most opulent. Launched on the A350, the aircraft has family sections where a family of four can dine and interact. There are also sections where a couple can stay in a duplex bed, and where privacy for one is available. Another landmark is their A380 bar; the luxury space was designed using their logo's purple colour, branding it as a Qatar Airways classic.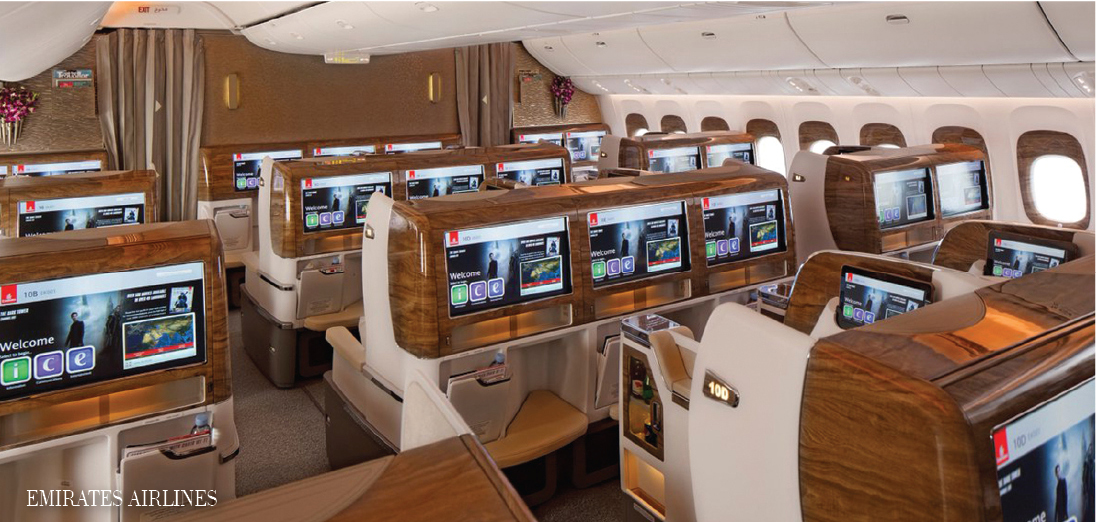 TOP FIVE JETS/YACHTS
There is more than one way to travel in luxury and style, as made clear by these coveted jets and yachts. With their next-generation technology, sleek architecture, and scrumptious interiors, these vessels will make you never want to travel commercial again.
1. EVO 43 HT Yacht
Italian designed, the Evo 43 HT is a stunning example of innovative and clean yacht design. Built by Blu Emme Yachts, the incredibly sculpted pearl-white coloured 13-metre vessel's elegance is amplified by its light blue windshields. It also flaunts a straight bow and high topsides that flow impeccably towards the stern. With interiors and exteriors by Valerio Rivellini, the yacht will (according to EVO's website) feature "a double BBQ grill, an icemaker and a microwave oven in the dinette, and tropical air conditioning. "Adding to that is its unique 'Xtension' feature; the Studio Tecnico Rivellini-designed vessel allows the cockpit to expand by 40% and convert into a beach area for the guests.
2. The Sea Drive Concept
Boatbuilder Beneteau has collaborated with carmaker Peugeot on a sport-utility vessel: the Sea Drive Concept. The global leaders in their respective industries have uniquely combined Beneteau's Ship Control technology with the Peugeot remarkable i-Cockpit to bring about a powerhouse of a pilothouse. The luxurious two-person yacht is equipped with a small, compact steering wheel for exceptionally easier handling, and a large 17-inch display with intuitive controls. This conceptual watercraft's interior is complete with Napa leather and satin chrome trim accents. Jean-Philippe Imparato, general manager of Peugeot, was clearly enthusiastic about the collaboration, noting, "It revolutionises the interior of our vehicles--claimed Imparato--by re-inventing the driving experience."
3. Wally's Tango
Monaco-based company Wally launched the fourth unit, Tango, in the Wallycento series. "She is a further step forward in the evolution of the high-performance superyachts," stated Wally president, Luca Bassani. An amalgamation of talent brought by Mark Mills' naval architecture, Pinifarina interior design and Persico Marine construction technology brings about a balance of comfort and elegance for superior performance.With contemporary interior design, the high performance-oriented sailing yacht – which is complete with three suites and a dining table for 10 – can accommodate six guests and four crew members. The standout features are the cutting-edge deck layout and the advanced Wally sails, which guarantee a smooth sail.
4. Citation Hemisphere Jet
After a 20-year wait, Textron's largest-ever corporate jet is finally here! The Citation Hemisphere is the first new private jet model which, according to Scott Ernest, president and CEO, Textron Aviation, "is designed to transform this segment, offering customers the latest technology available and the widest cabin in its class." The $35 million aircraft will be able to accommodate up to 19 passengers in Textron's usual style and comfort, as all the interior furnishings will be designed and handcrafted in-house, complemented by thermo-electric technology. Two next-generation Safran Silvercrest engines, boasting of 12,000 pounds of thrust and advanced field-proven technologies, will propel the jet at speeds up to Mach 0.9 for more than 5,100 miles.
5.Embraer's Manhattan Airship
The Brazil-based aircraft manufacturer, Embraer, has launched an $80 million private jet: the Manhattan Airship. The interiors have been influenced by the art deco era of the 1920's and 1930's. The aircraft's mahogany interiors with gold and brass appliqués, the distinctive metallic mural of the Manhattan skyline, the Chrysler Building-inspired decor and the entry mural that pays tribute to the Leif Neandross-designed work in the lobby of the Empire State Building, was designed by Jay Beever. "We want to give people a reason to get dressed up to get on the plane," explained Beever. The 19-seater Lineage 1000E, also features a master suite with a queen-size bed and a walk-in shower.
TOP FIVE RESTAURANTS
Michelin star restaurants, a touch of glamour in food and décor, and indulgent yet refined flavours are defining characteristics of the best restaurants. Here are our picks for the most unique flavours and imaginative dining experiences around the world and what is relished at these top notch restaurants.
1. Eleven Park Madison
Head Chef Daniel Humm is a huge presence at one of the world's best restaurants, Eleven Madison Park. The crème de la crème of contemporary American fine dining is located just around the corner from Madison Square Park. The restaurant focuses not just on its food, but on the overall experience, which includes eight or ten-course meals, a tasting menu and a unique wine menu. The restaurant opened in 1998 and has rounded out 2017 with three Michelin stars.
2. Pierre Gagnaire
Pierre Gagnaire is the name of this three Michelin star restaurant and the chef who owns it. The purpose here is to highlight and re-invent French cuisine. The well-known Paris restaurant opened in 1996, and is known as one of the best in the world. Opulence isn't just showcased, but it is also hidden in each individual flavour. Working with French classics, the chef uses taste, texture, and ingredients from the essence of French cuisine to create more intricate yet polished works of art. The restaurant has an eye for perfection, and the head chef's mission statement – 'Facing tomorrow but respectful of yesterday' – is clearly seen through each of itsgourmet dishes.
3. The Fat Duck
Celebrity chef Heston Blumenthal is the head chef at this ultra-fine dining establishment. Modern culinary is the restaurant's key to success, as Blumenthal's inventions instantly gain a stellar reputation. Part of its unique style is its multi-sensory development of cooking, which he's been re-inventing since August 1995. Located in Bray, Berkshire, England, The Fat Duck is a three Michelin Star restaurant; much of its food inspiration comes right out of books like Alice in Wonderland. One of there staurant's famous dishes is the "Sound of the Sea," which includes an audio element.
4. Nobu Downtown
Nobu Downtown is part of the Nobu chain, but has an individual appeal all its own. Famous fine dining dishes, like the yellowtail sashimi with jalapeno, or the banana candied pecans and malaga gelato, are a few delicious specialities. Nobu represents the reinvention of Japanese flavours, taking elements of sushi, sashimi and even tempura,and spinning them into a whole different, but exciting experience. The Downtown Manhattan restaurant opened in 1994, and its new take on classic Japanescuisine was an instant hit.
5. Osteria Francescana
Three Michelin star restaurant Osteria Francescana was established in 1995 and specialises in modernist cuisine. In the city of Modena, Italy, current owner and chef Massimo Bottura is famous for his balance of intricate textures and flavours. Critics and food enthusiasts have referred to it as "three hours of pleasure." Standing on the street Via Stella 22, we all know that the restaurant is a true masterpiece.
TOP FIVE REAL ESTATES
Royal, jaw-dropping houses that are replicas of palaces are some of the world's most beautiful and extravagant. Mansions on this list are a mixture of on-market and off-market ones. These estates flood the world with beauty and style and a new eye to grandeur and royalty and have been inspired and created on the likes of Palaces like Versailles, Buckingham, and Udaivilas. These Estates also have sufficient butlers, chefs, and chauffeurs making them into five star hotels at home.
1. Four Fairfield Pond
Four Fairfield Pond is an estate of beauty, class, and elegance located in the Hamptons on Long Island, New York State. The $248.5 million house is pure royalty and has around 29 bedrooms, 30 bathrooms, three swimming pools, and two tennis courts. A beautiful lush driveway as you enter awaits, and this spreads across a huge percentage of the property. The property is one of the biggest in the Hamptons, and was designed to be a replica of an Italian palace, with its facade inspired by Italian and French architecture.
2.The Chartwell Estate
The Bel Air Mansion, the Chartwell Estate, is worth $350 million and sprawls across 25,000 square feet of luxury. Late Hollywood TV Executive Jerry Perenchio got architect Sumner Spaulding to design the estate. Royalty takes centrestage at the mansion, with a 75-foot swimming pool, several beautiful fountains, lush lawns, and carefully designed gardens. As it is a typical Beverly Hills, California mansion, it has an astonishing guesthouse with a wine cellar, royal ballroom, and parking for 40 cars. The 10-acre estate is visited by the crème de la crème of Los Angeles, and it maintains its Beverly Hills aesthetic through its jaw-dropping flawless style.
3. Villa La Leopolda
An estate designed to create happiness through every detail, the Villa La Leopolda overlooks the marine aqua blue Mediterranean, situated on the French Riviera. Its exclusive style is evident in an18-acre spread of French culture. The Belle époque style has been ingrained in its architecture and the grounds surrounding the mansion. The Red Shoes, a movie filmed in 1948 by Lermontov, features the heroine of the film climbing up the stairs to the grand estate. Ever since, it has been known as one of the most glamorous houses in France.
4. The Pinnacle
The $110 million penthouse is seven floors of elite chic. Manhattan is one of the most stylish and plushest places in the world, and the 9,700-square-foot apartment is just one of many in the Woolworth building. The apartment was first unveiled in 2014 and later introduced as the Pinnacle. Being one of Manhattan's and the world's finest, there is almost no comparing this penthouse to other forms of real estate, making it one of the best to live in.
5. Updown Court
Updown Court is an estate that sprawls across 58 acres. The 103-room mansion features lush shaved and landscaped gardens and a mesmerising private woodland. The estate was created to be a royal Californiaone, even though it's situated in the heart of Britain. The village of Windlesham in Surrey is the location of the $138 million hillside palace, which is generally regarded as one of the most beautiful in the world.
TOP FIVE JEWELLERY
Diamonds, rubies, emeralds, and sapphires make every woman happy, and pieces from these globally reputed jewellers are treasures in themselves. They have produced some of the most coveted pieces of jewellery and continue to do so. These craftsmen have redefined jewellery and introduced various techniques and designs to the world of luxury.
1. Cartier
A name synonymous with elegant jewellery, Cartier was founded in 1847 in Paris by Louis François Cartier. Over the years the French brand grew to become one of the most sought after brands, and was referred to as the "jewellery of the kings and the king of jewellers" by King Edward VII. The distinguished jeweller to royalty produced their first iconic Panthère brooch in 1914, and since then has re-imagined the panther in many of its designs. Other legendary designs by the brand include the Love bracelet and the Love ring. Some of the major patrons of this iconic brand have beenthe Duchess of Windsor, Andy Warhol and Princess Grace of Monaco.
2. Chopard
A hallmark in luxury watches and jewellery, Swiss-based Chopard was founded in 1860 by Louis-Ulysse Chopard. The jeweller uses only the finest materials, like pure 18-karat gold, The brand's signature playful diamond collection – 'Happy Diamonds' – makes each piece of jewellery exquisite. Precision, quality, and detail is seen extensively in the Geneva-based brand's collections, and they only use diamonds and gemstones that have been authenticated and certified by Gemological Institute of America and the Hoge Raad voor Diamant in Antwerp, Belgium.
3. Tiffany & Company
American luxury jewellery company Tiffany & Company was founded in 1837 and established by Charles Lewis Tiffany. The brand is a household name thanks to being featured heavily in iconic films like Breakfast at Tiffany's and Sleepless in Seattle. Their signature pieces, like the heart tag charm pendant, the infinity bracelet and their famous diamond engagement rings are universally well regarded. Tiffany & Co. takes pride in making each piece a masterpiece, and they celebrate the idea of keeping it modern and simple, yet evocative and refined. The company employs expert artisans to create new collections every year that embody the famed house's spirit.
4. Van Kleef and Arpels
French brand Van Kleef and Arpels was the result of the collaboration between Alfred Van Kleef and Estelle Arpels in 1896. The French brand's signature pieces always come adorned with nature motifs bearing birds, flowers, and animals. The legendary Paris atelier in 1933 was granted the patent for a proprietary and unique gem-setting style dubbed the Mystery Set, otherwise known as invisible setting which they are most well-known for using. This innovative technique is so intricate that for an artisan to produce a single clip it takes no less than 300 hours work. The house is also renowned for its ornate timepieces that come adorned with gem-laid dials.
5. Harry Winston
Harry Winston founded his eponymous company in 1932 by acquiring and selling estate jewellery.But his big break was when he purchased Arabella Huntington's opulent jewellery collection for $1.2 million. The 45.42 carat Hope Diamond remains Winston's most notable acquisition, which he purchased from Washington socialite Evalyn Walsh McLean and later donated to the Smithsonian Museum in Washington, D.C. in 1953. Harry's keen eye for craftsmanship and high quality still reverberate in his jewellery, making them the most coveted pieces. A red carpet favourite, the extravagant and unique pieces are truly magnificent works of art that make statements every time they're worn.
TOP FIVE FASHION LABLES
couture and luxury accessories are evocative of mastered techniques spanning fashion's history. These designers have redefined fashion with their innovative skills and incredible craftsmanship. Their seasonal and classic collections exceed expectations of luxury, making them objects of desire that will make you stand out in a crowd of thousands.
1. Chanel
Talk about fashion, and Chanel's ubiquitous influence is obvious. The French haute couture label was founded in 1909 by Coco Gabrielle Chanel. Started as millinery shop, the house progressed to designing sportswear, blazers, and trousers for women. Coco then gave the fashion world the iconic 'little black dress' and her signature Chanel suits. A revolutionary in fashion, Coco's techniques and designs became the most sought-after amongst the elite. Her way of styling her outfits with strings of pearls, a quilted bag and the two-toned pumps became the definition of class and modernity. In 1983, Karl Lagerfeld took over as chief designer for Chanel, and with his vision continues to keep the brand as the premiere couturier of today.
2.. Christian Dior
Founded by Christian Dior in 1946, the French luxury powerhouse redefined classic and tailored style. Maria Grazia Chiuri, the first woman creative director of the major couture house in the company's 70-year history, has brought her feminist aesthetic to the brand to make it more unconventional and prosaic, and to champion the modern Dior woman. It has become a brand that resonates not only with their loyalists but with millennials and younger consumers too, thanks to its ever evolving vision and hand-picked creative designers that keep the brand relevant. From extraordinarily constructed timeless gowns to wearable "The Future Is Female" emblazoned T-shirts, Dior has an identity of its own.
3. Christian Louboutin
While many luxury brands are identified by their logos, a brilliant red lacquered sole is synonymous with Christian Louboutin. Founded in 1991, Louboutin gave the fashion industry glamorous towering heels which sported his iconic soles. Christian Louboutin, who was mentored by Charles Jourdan and Roger Vivier, has collaborated with major designers such as Jean-Paul Gaultier, Roland Mouret, Azzedine Alaia, Yves Saint Laurent, Rodarte, Martin Grant, Sabyasachi Mukherjee, and Diane Von Furstenbuerg. Spotted everywhere from red carpets to TV shows like Sex and the City to framing the feet of Dita Von Teese in burlesque shows, Louboutin's footwear have become a fashion must-have.
4. Bottega Venetta
Founded by duo Michele Taddei and Renzo Zengiaro in 1966 in Vicenza, Italy, Bottega Venetta, which translates into English as Venetian atelier, has become a brand known for making creating artisanal leather products conspicuous only to the cognoscenti. The timeless brand's leather weaving technique called Intrecciato has become its trademark, and affirms their approach to fashion and craftsmanship. The brand famously eschewed logos, which is also conveyed by their motto: "When your own initials are enough". Bottega Veneta's design philosophy has also expanded into fragrances, sunglasses and furniture.
5. Alexander McQueen
An iconic British luxury brand, Alexander McQueen, was founded by Lee Alexander McQueen while he was pursuing a master's degree at Central Saint Martin's. His graduate collection showed in 1992, and was famously bought in its entirety by style icon and fashion editor Isabella Blow. Known for unbridled creativity and dramatically constructed gowns combined with sharp tailoring, McQueen caused a huge stir in the fashion industry. His provocative collections were a combination of British sensibilities and French atelier craftsmanship that pushed fashion's limits to a different extreme. Sarah Burton, McQueen's right-hand woman, who was appointed successor of the brand after the influential designer's death, continues to makean impeccable mark with her iconoclastic designing vision.