Icons aren't made overnight. The 2020 GR Supra carries forth a legacy that goes back 40 years, and it's a legacy we don't take lightly. It was imperative to take the time to make it not only something that honours its heritage but also, just like its predecessors, becomes its generation's leading definition of performance. Supra is the sports car we've been dreaming about for a long...a long time, and its creation was a true labour of love. This is the story of the 2020 GR Supra.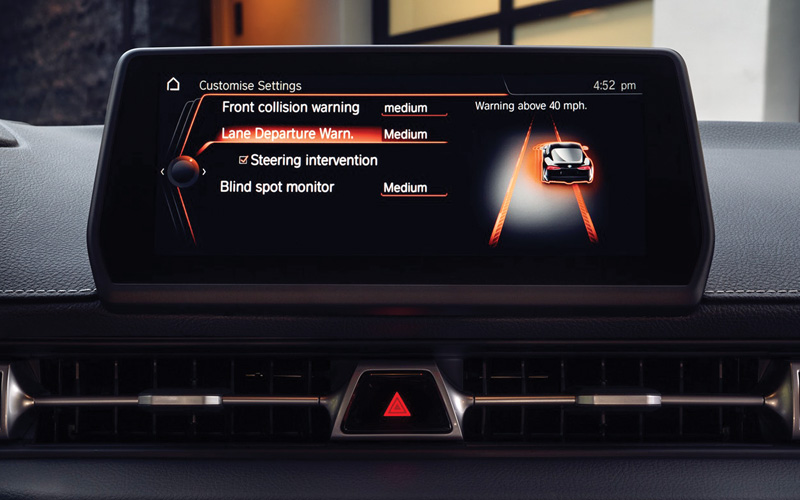 Shaped by Emotion… and Racing
The 2020 Supra embodies its rich lineage at first glance, with a design that shows a particular kinship with the fourth-generation Supra built from 1993 to 2002, as well as the landmark 1967 Toyota 2000 GT. The resemblance is more than skin deep, the new-generation Supra also shares with those notable models the common traits of a short wheelbase, sophisticated chassis, and high-performance inline-six-cylinder engine.
Optimisation of the FT-1 design onto the efficient, high-performance packaging of Supra was achieved by condensing the forms, reducing unnecessary elements and further enhancing the dynamic and powerful character. It focuses on core Supra attributes, such as its inline six-cylinder engine and rear-drive layout, while enhancing other features, such as stretching the hood to highlight the engine, creating a taut, but spacious two-seat cabin that helps accentuate an ultra-wide stance. The result is a look unique to Supra internally referred to as Condensed Extreme.
Functional by Design
The Supra design delivers a 50:50 weight balance while optimizing a front-to-rear aerodynamic balance. Toyota sports car heritage is evident throughout. The double-bubble roof design, for example, recalls the Toyota 2000 GT, and it reduces drag by shaving the roof centre to reduce the projected frontal area without sacrificing occupant headroom.
The front fascia was inspired by the fourth-generation Supra, yet is even more expressive, with a prominent central grille section flanked by large air intakes. In the rear, the prominent, arching rear integrated spoiler, which helps to suppress aerodynamic lift, pays homage to the tall rear wing available on the fourth-gen Supra Turbo. The trapezoidal rear bumper shape conveys a dynamic sense of movement toward the tires.
Details Matter
Expressive colours accentuate the emotional connection drivers feel with a high-performance sports car, which is why the 2020 Supra's paint palette will include bold Renaissance Red 2.0, Nitro Yellow and Downshift Blue. The Phantom Matte Gray adds a sense of drama to the Supra's tautly curved surfaces by combining a matte finish and a hint of blue to create a metal-like texture. Other available colours include Absolute Zero White, Tungsten Silver, Turbulence Gray, and Nocturnal Black.
Wrapping the Driver
The 2020 Supra cockpit deftly blends traditional GT elements with ultra-modern functionality. The low, narrow-section dash gives the driver expansive forward visibility, ideal for precisely placing the car in corners.
The display's easy-to-read layout puts multimedia information, including audio and available navigation, on the right side. An available full-colour Head-Up Display projects vital driving and navigation information ahead of the driver.
Toyota designers took a fresh approach to design the centre console, giving it an asymmetrical shape that tightly envelops the driver, with a padded pillar that serves as a right leg bolster. The passenger's side of the console, meanwhile, is open for a roomy feel, yet also features kneepads for bolstering in corners.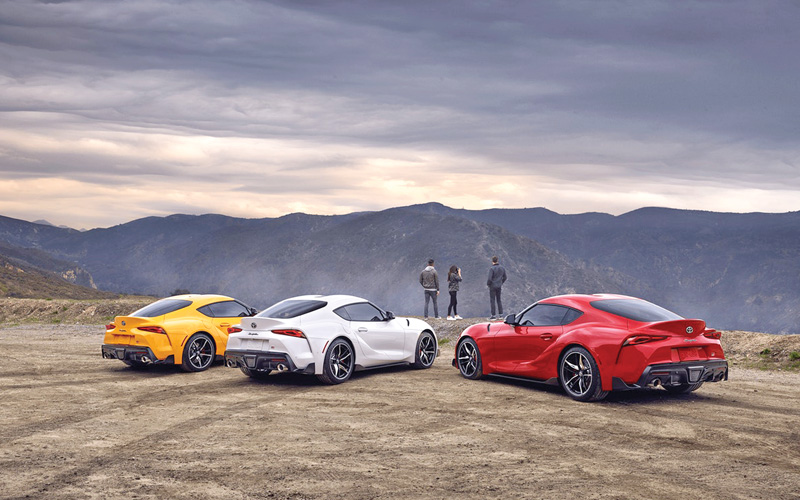 Racing-Inspired Seats
Toyota designed the 2020 Supra to be both an everyday sports car and an occasional track car. To that end, its sport seats, featuring integrated head restraints, were inspired by racing. The seats use a narrow main section combined with the shoulder bolsters to firmly hold the driver and passenger. The 3.0 Premium grade will feature heated, leather-trimmed seats, while the 3.0 will come with Alcantara power seats with memory.
The 2020 Supra Performance Story
The 2020 Supra will feature a 3.0-litre turbocharged inline-six that will produce 335 hp and 365 lb-ft of torque. The torque comes on strong from very low engine speeds, thanks to a combination of a twin-scroll turbocharger, direct fuel injection and continuously variable timing on both the intake and exhaust camshafts. Engine response is further enhanced thanks to the inline six's variable intake valve lift system that adjusts intake valve timing and duration.
The 8-speed automatic transmission delivers quick up- and downshifts and features paddle shifters for manual control when desired. Short ratios for the lower gears and a Launch Control function enable powerful acceleration with maximum traction. Toyota estimates 0-60 mph acceleration in 4.1 seconds. Top track speed will be electronically limited to 155 mph.
For performance driving enthusiasts, the Supra will have an active differential that uses an electric motor and multi-plate clutches to control lateral torque. The active differential precisely controls torque distribution between the rear wheels, with step-less variable locking from 0 to 100%. The differential can control torque distribution between the rear wheels when cornering under both acceleration and braking, enabling greater momentum through a corner. The active differential is also effective at ensuring neutral handling by reducing both understeer and oversteer.
– Press Release: Toyota