Perched high in the Himalayas, the tiny, remote and mystical kingdom of Bhutan is among the most culturally rich of all Himalayan nations. A visit to Bhutan has been a long-standing dream, and it finally came true last month when a few friends and I decided on a five-day trip to the "Land of Druk," or the "Land of Thunder Dragon," where time stands still.
We flew into Bagdogra (Siliguri) and drove straight into Phuentsholing, the border town adjacent to India's last frontier town, Jaigon. After a seemingly endless 94-kilometre drive, we crossed over to Phuentsholing through the majestic Bhutan gate, into a different world altogether. My first Impression was…wow! There were clean, sloping roads, well-regulated and disciplined traffic and parking, and Bhutanese style row houses lined up, one after another.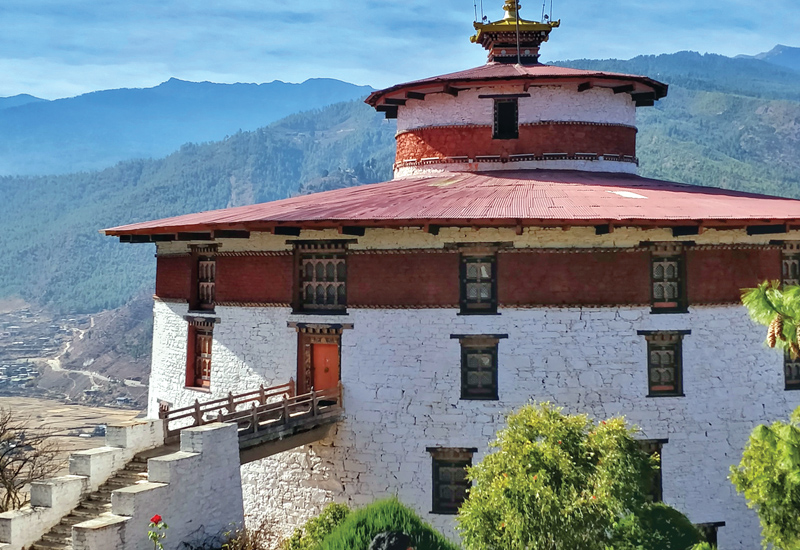 Obtaining a permit to enter Bhutan with the help of a travel agent took about two hours, after which we stopped at Phuentsholing for the night. Phuentsholing is the second-largest city in Bhutan and is a thriving commercial centre. Situated directly at the base of the Himalayan foothills, it is a fascinating mixture of people and cultures from India and Bhutan.
After breakfast the next morning, we drove to Thimpu, which was about a five-hour drive through numerous hairpin bends and scenic spots. Thimpu is the nation's capital and largest city. It gives the feeling of a quaint and neat little town. At the centre of the town is an assembly point with an ornate clock tower and surrounding it are prominent government buildings, hotels and shopping centres. Before checking into our hotel, we stopped for lunch at ZaSa, a family run restaurant that was highly recommended by a travel blogger. We absolutely loved the EmaDatshi (chilies and cheese), JashaMaru (chicken stew), Hoentay(buckwheat dough wrapper), Ezay (a spicy chilli sauce) and red rice. From our very first Bhutanese meal, we realised that the food is characterised by its heavy use of cheese chilies.
We then drove up the hillside overlooking Thimpu to a place called Kuensel Phodrag (Buddha Point), which features a gigantic Shakyamuni Buddha statue that overlooks the southern approach to Thimpu. Tashincho Dzong Fortress, the main secretariat building that houses the office of the King and the Throne Room, along with Memorial Chorten and the folk heritage Museum were some of the other notable attractions here. An evening stroll around the Nordzin Lam is also quite a sight. The entire street is lined with handicraft shops and others that sell fresh fruits, yak butter and cheese. The bottle of Red Panda beer and K5 Whisky at Zombala, along with some spicy Tibetan food that we had for dinner, still sits in my mind and on my tongue.
The next day we left Thimpu and drove straight to Dochula Pass. At 3,150 metres, the pass is not the highest, but it is certainly one of the most beautiful. It offers a 360-degree view of the snowcapped Himalayas. The beauty of this place is further enhanced by the Druk Wangyal Chortens-108 stupas, built by the eldest Queen Mother, Her Majesty Ashi Dorji Wangmo Wangchuk.
After a two-hour drive we reached Punakha Valley, often referred to as the "Place of Happiness." It is the second-largest and second-oldest Dzong in Bhutan. Punakha had been Bhutan's capital from the 17th century up until 1955, when it was shifted to Thimpu. Two major rivers of Bhutan, the Pho Chhu and Mo Chhu, converge in this valley.
Punakha Dzong – which houses the sacred remains of Zhabdrung Ngawang Namgyal and Terton Padma Lingpa – is arguably the most majestic structure I have ever seen.
All of Bhutan's kings have been crowned here. Just a short walk from the Dzong, you come across the160-metre long Punakaha Suspension Bridge, draped in prayer flags.
The next day was Paro – a historic town with many sacred sites. Located just an hour from the capital city, this charming town comprises both the ancient as well as the modern face
of Bhutan. This is also the place to visit some of the most revered temples in Bhutan – especially the famed Tiger's Nest Monastery.
Tiger's Nest Monastery, or Paro Taktsang as it is known locally, was the foremost reason for me to visit Bhutan. Blessed and sanctified as one of Bhutan's most sacred religious sites, the temple clings almost impossibly to a sheer cliff face 900 metres above the Paro Valley. Legend has it that this is where Guru Rinpoche (Padmasambhav) landed on the back of a flying tigress, bringing Buddhism to Bhutan from Tibet. The only way to access it is through a three-hour uphill trek, and then descending and ascending another flight of 700-odd steps.
At first it looked like a daunting challenge, but I was determined to conquer it and I did! After the ascent, when I looked back at the monastery, it seemed to exude a sense of serenity that I will always remember. Kyichu Lhakhang, Chelela Pass and Rinpung Dzong were some of the other attractions that we witnessed in Paro, before our Bhutan trip came to an end.
All in all, the kingdom of Bhutan is indeed a slice from a fairy tale world, and travelling to this incredible destination gave us some rewarding moments. The magnificent fortresses across the country, the spirit of hospitality among locals, houses with multi-colored wooden facades and other quirky cultural nuances were a delight; they will all be etched in my memory forever.
Vishal Fernandes,
Food and Travel blogger at jetseteat.com