David Warren, Christie's Senior International Jewellery Director shares stories and tales of some of India's most magnificent regal jewels and how they were auctioned for stellar prices

In 1995 Christie's managing director in London asked me what we could do to celebrate the 50th anniversary of Indian Independence that would take place in 1997. My immediate response was to suggest we held a spectacular auction of important Indian jewels in celebration of Indian cultural heritage, tracing their traditional designs from 1600 to the present day. My managing director loved the idea and so one of my long time ambitions, to hold a sale purely of Indian jewels and jewelled objects, became an exciting reality.
The unprecedented interest worldwide in this auction and the very strong results lead to a succession of similar sales every alternate year that metamorphosed into our current Arts of India auctions.
Since those days I have had the privilege of accessing some of the greatest Indian jewellery collections and I have personally handled the sale of around 200 items from the collection of the Nizams of Hyderabad, as well as many jewelled treasures currently in the Qatar Museum of Islamic Art.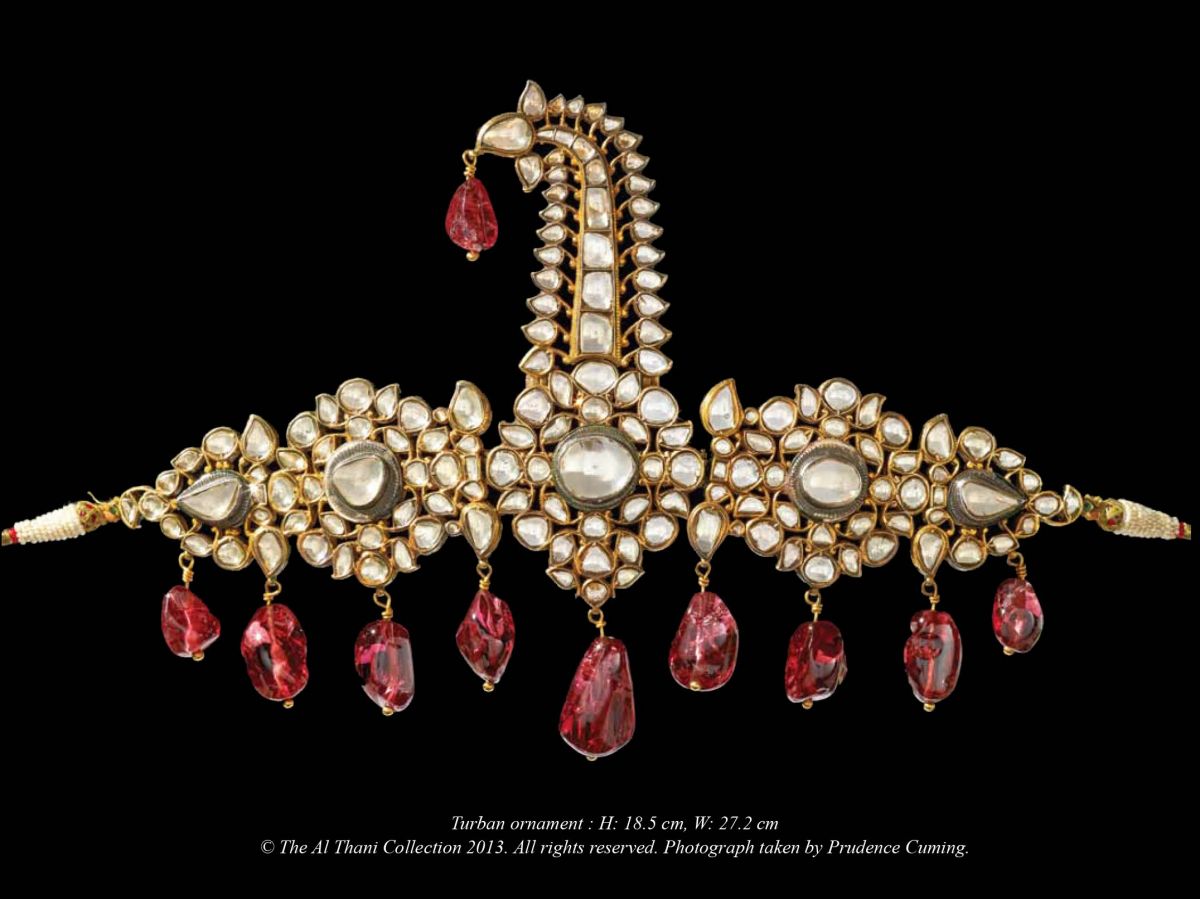 Nizams Spinel Sarpech
There is no greater statement in Indian jewellery tradition than the Sarpech, worn by emperors, royalty and Maharajas. The larger the Sarpech, the more gem-encrusted, the greater one's position in society. This massive diamond Sarpech from the treasury of the Nizams of Hyderabad suspends a fringe of fine spinels. The logic behind enamelling the reverse of these North Indian jewels, stems from practical origins. Made of thin sheets of gold, applied over a lak interior, the jewels were greatly strengthened by enamelling the reverse. Through the ages the enamel designs and colours used in the enamelling process changed and developed, rendering the process of dating each piece far easier. This majestic Sarpech would have been one of the more important head ornaments in the Nizams collection and was sold in our auction of Maharajas & Mughal Magnificence on 19 June 2019 when it achieved $1,155,000.
Carved Emerald
This magnificent early 17th century carved emerald weighing 55.80 carats, most probably originated from the royal workshops of Jahangir. Exquisitely carved on both sides with an explosion of poppy flowers, the design was inspired by Jahangir's visits to the Mughal Gardens in Kashmir circa 1620. Not many carved emeralds are of the finest gem-quality like this, as carving was normally used to hide the many internal inclusions frequently seen in emeralds. However, this gorgeous old mine Muzo stone from Colombia is of such fine quality; it may well have originally been in the collection of Jahangir. It is now resplendent in the Qatar Museum of Islamic Art. Sold in our Arts of India sale in London 24 September 2003 £1,181,000. ($1,900,000)
Baroda Pearls
After the decline of the Mughal Empire, Baroda became one of the wealthiest states in Western India. Maharaja Kande Rao Gekwar (r 1856-1870) amassed a fortune in principally diamonds and pearls, owning the 127 carat Star of the South diamond as well as the 78 carat English Dresden diamond, both of which were set into a gorgeous necklace consisting of three rows of enormous diamonds. However, at the Delhi Durbar of 1909 the Maharaja of Baroda, Sayaji Rao, chose to wear his most impressive piece, an exceedingly fine seven-row pearl necklace of enormous size, more valuable than his famous diamond necklace. We sold two rows from this necklace, with pearls measuring 16.04 to 9.47 millimetres diameter in New York in 2007 for a world record price of $7,000,000.
Kapurthala Sword Hilt
This sumptuous ceremonial sword handle, set with diamonds, emeralds and enamel, was part of the State regalia of Karpurthala made circa 1900. It was one of 388 pieces that came to auction recently from the famed Al Thani Collection of Indian jewels and jewelled objects, miniatures, daggers, swords and Indian inspired jewels from Cartier, VirenBhagat, JAR and many others. The auction of Maharajas & Mughal Magnificence in New York on 19 June 2019, totalled $109 million for the whole collection with the exceptional Kapurthala State sword handle realising $150,000.
Jahangir's Emerald Cup
Another treasure is the remarkable emerald drinking cup that almost certainly belonged to Jahangir. I will never forget the excitement of the moment when William Robinson (head of our Islamic department at the time) and I, carefully removed the top from a small wooden box that revealed this unique solid emerald cup. It was probably one of the 30 wine cups that Jahangir owned, documented at the time to be in his possession and would have been made by the royal workshops in India circa 1620. A tour de force of carving it stands 7.2cm tall, made of three pieces of emerald, with a gold rod through the middle to connect them. The bowl alone weighs 408 carats and is made of fine quality Colombian emerald, decorated on every surface, and with a daintiness that is totally unexpected for such fragile material. I know of no parallel to this remarkable cup, which is currently on view at the Qatar Museum of Islamic Art and is a must-see! The emerald cup was sold in our Arts of India sale in London 24 September 2003 £1,797,000 ($2,900,000).
Spinel bead necklace
Spinels were for many centuries the most valuable of gems often bearing the names of the Mughal Emperors who owned them, passing from father to son, cherished and fought over. Fine examples symbolised the highest level of power and wealth within Indian aristocracy. The principal source for spinel was Afghanistan, and the Indian armies endeavoured to make sure there was always a clear route from India to the mines, to ensure the safe supply of fine spinel crystals to the treasuries of Indian rulers. The most popular way of fashioning these crystals was tumble polishing into characterful irregularly shaped beads. The Mughal Emperors then engraved their names and dates on their most precious of these stones. This remarkable collection bears inscriptions for Jahangir on three of the beads with dates 1607, 1609, and 1610 with two further beads engraved Sahib Qiran 1636 and Alangir Shah 1660. It was sold in our Geneva sale in 2011 for $5,000,000.