India's Ten Power Couples

Power Couple"– the term evokes many words and qualities, such as driven, passionate, inspiring, glamorous, and charitable, among others. Gone are the days when it was just the man supplying "power" to a couple! Today, the wives of these extraordinary men are also quite successful and accomplished in their own right. While it might be true that behind the success of every man is a woman, in today's world, it's equally true the other way around. Together, these husband-wife duos are taking India by storm – both individually and as a team.
Nita and Mukesh Ambani
When one thinks of the rich and powerful in India, Ambani is often the name that comes to mind. Mukesh is the richest man in India and Nita is the co-owner of Mumbai Indians' cricket team. Together they're worth more than $40 billion. They are famous for living in the world's most expensive abode – Antilla–which cost a cool billion to build.
Mukesh Ambani is the largest shareholder of the second most valuable company in India: Reliance Industries Limited.
Nita Dalal Mukesh Ambani is the chairperson and founder of the Reliance Foundation and a non-executive director of Reliance Industries. She is also an art collector and owner of the Mumbai Indians. Nita is also founder and chairperson of Dhirubhai Ambani International School, Mumbai. She is the chairperson of Hero Indian Super League. She is the first Indian woman to become a member of the International Olympic Committee (IOC). Nita Ambani was honoured by the Metropolitan Museum in New York for her work in philanthropy, education and promoting the arts. These two truly define the term 'power couple' in every sense.
Usha and Lakshmi Mittal
Lakshmi Niwas Mittal is a UK-based, Indian steel magnate. He is famously known for kick-starting the Big Fat Indian Wedding trend, when he threw a big party in Versailles to celebrate his daughter's marriage. He is the chairman and CEO of Arcelor Mittal, the world's largest steelmaking company. Mittal owns 38% of Arcelor Mittal and also holds a 11% stake in Queen's Park Rangers F.C.
In 2005, Forbes ranked Mittal as the third-richest person in the world. He sits on the World Steel Association's Executive Committee, and is a member of the Global CEO Council of the Chinese People's Association for Friendship with Foreign Countries, the Foreign Investment Council in Kazakhstan, the World Economic Forum's International Business Council, and the European Round Table of Industrialists. His wife, Usha, is the driving force behind him. While he is the CEO of the world's largest steel company, she's been a part of the steel industry for 12 years. Together, they're worth more than US $10 billion. Usha is a celebrated businesswoman, and at one point ran her own steel business in Indonesia. She is also the namesake of the Usha Mittal Institute of Technology – a university that promotes women's education in India – and is a patron for Treasure Trove, a charity auction by the Jaivakeel School for children in need of special care in Mumbai.
Yasmin and Azim Premji
Azim Hashim Premji is an Indian business tycoon, investor, and philanthropist. He is the chairman of Wipro Limited. He is informally known as the czar of the Indian IT industry. He was responsible for guiding Wipro through four decades of diversification and growth to finally emerge as one of the global software leaders. He has been listed twice among the 100 most influential people by Time Magazine. Premji owns 73% of Wipro and also owns a private equity fund, Premji Invest, which manages his $2 billion personal portfolio.
He is currently the second-richest person in India with an estimated net worth of $19.5 billion. In 2013, he agreed to give away at least half of his wealth by signing The Giving Pledge. His wife Yasmeen is noted for her philanthropic activities and social development work over the last several decades. She is also a director at the Azim Premji Foundation charity. These two are the epitome of understated elegance and grace.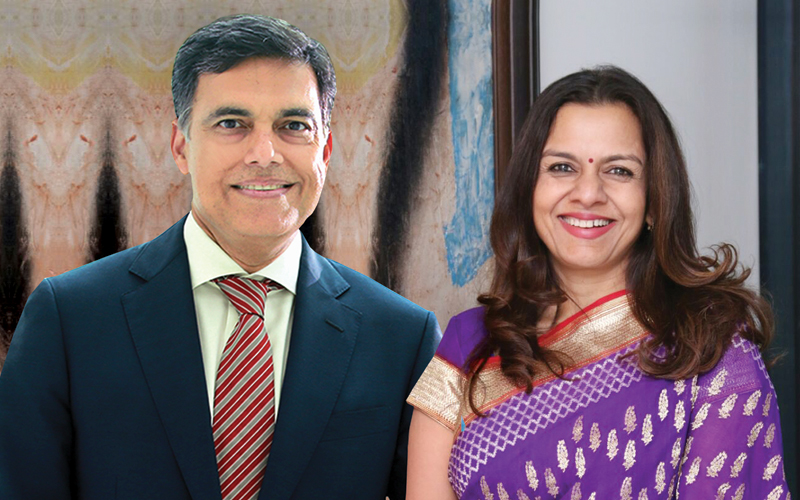 Sangita and Sajjan Jindal
Sajjan Jindal is the chairman and managing director of JSW Group of Companies diversified in steel, mining, energy, sports, infrastructure, and software. He is also known for his stringent fitness regimen, which is evident in how fit the 50-something year-old man is.
His wife, Sangita, is the chairman of the JSW Foundation, which drives social development projects within the JSW Group. She also leads the Jindal Arts Centre, which promotes interdisciplinary arts activity in India. At the foundation, she improves people's quality of life by empowering them and supporting them with sustainable scalable solutions. She also engages in philanthropic work, including vocational training and partnerships and alliances with institutions. She is also involved with holistic development for the mentally challenged, and the empowerment of women through a rural BPO infant and maternal health initiative called `Mission Hazaar Campaign', adopted by Ministry of Women and Child Development under the "Beti Padhao, Beti Bachao" campaign..
Natasha and Adar Poonawalla
Adar Poonawalla is the CEO of Serum Institute of India. Founded in 1966 by his father, Dr Cyrus Poonawalla, it is the world's largest vaccine manufacturer by number of doses produced. Adar joined Serum Institute in 2001 after graduating from the University of Westminster in London. Poonawalla concentrated on the company's international market by exporting its products to 35 countries and getting new products licensed and pre-qualified by the World Health Organization for supply to United Nations Agencies including UNICEF and PAHO.
Natasha is one of the most glamorous women in India and is also a philanthropist and chairperson of the Villoo Poonawalla Foundation, Executive Director of Serum Institute of India, Director of the Poonawalla Science Park in the Netherlands and Director of Villoo Poonawalla Racing and Breeding Pvt. Ltd. She is also known to be a great hostess at their massive sea-facing bungalow in Mumbai, formerly called the Lincoln House, which used to be the US Consulate. Together, this glamorous duo jet-set around the world and are a part of all major international events like the Amfar Gala, the Cannes Film Festival, and Met's Costume Institute.
Kareena Kapoor and Saif Ali Khan
They have been Bollywood's toast of the town for several years now, thanks to their celebrity and fashion quotient. Individually, both Saif and Kareena are brands by themselves, and together, the pair—fondly dubbed as 'Saifeena'—have taken the nation by storm. He is a blue-blooded gent who studied in England and loves the good life, while she is from one of Bollywood's most famous families, the Kapoor. Kareena has elegantly taken over the title of Begum of Pataudi after her marriage to Saif and together the couple has a gorgeous baby boy, Taimur, who recently turned a year old. Saif and Kareena are known to love their annual vacations to London and Gstaad, and ever since baby Taimur's birth, they have become the most googled celebrity parents in India.
Neerja and Kumar Mangalam Birla
Kumar Mangalam Birla is an Indian industrialist and chairman of the Aditya Birla Group, one of the largest conglomerate corporations in India. He is also the chancellor of the Birla Institute of Technology & Science. Birla took over as chairman of the Aditya Birla Group in 1995, at the age of 28, following the death of his father, Aditya Vikram Birla.
With a mission to create awareness about mental health in India, his wife Neerja, along with daughter Ananya, went on to launch Mpower Centre in South Mumbai, focusing on the importance of mental health issues. This duo is another one of India's richest, but most understated couples around.
Pinky and Sanjay Reddy
Sanjay holds the position of Vice Chairman at GVK Power and Infrastructure Limited, Managing Director of Mumbai International Airport Pvt. Ltd., and GVK Biosciences Pvt. Ltd. and, also one of the Director for Taj GVK Hotels. He describes his passion for excellence as his core competency. Educated in the United States, he combines his professional expertise and knowledge with a global perspective and a practical approach to business. He holds a Bachelor's in industrial engineering from Purdue University and an MBA from University of Michigan, Ann Arbor. Sanjay was recently elected as Chairman of CII, Southern Region for 2012-13. He actively participates and contributes to various programs of national interest through forums like Confederation of Indian Industry (CII), Young Presidents' Organization (YPO), Mindmine Summit and the prestigious Jagdish and Kamla Mittal Museum of Indian Art.
Aparna, also fondly known as Pinky, is one of India's best hostesses, and is known for her impeccable hospitality at her parties. Equally popular in the party circuit of Mumbai and Hyderabad, Pinky and Sanjay are known to be the ying and yang to each other, as she has said about their relationship, since they complement each other beautifully.