Home COOKING - The New Normal! - Shankar Krishnamurthy, Swati Sucharita, Asmita Marwa, Jasmine Sahney, Kalyan Charan

Ever since the pandemic began and the lockdown was imposed in India, in March 2020, people have been trying various things to pass time. While some spent the first few weeks being total couch potatoes (guilty much), others indulged in Netflix and movies, and some even took on a new hobby. But one activity seemed constant in every household—cooking! Some people made cooking a fun activity with family, others cooked out of no choice, but there were many who, although had never entered a kitchen before, began cooking to generate a variety of dishes to satiate their taste buds. Several factors contributed to the rise in home cooking of course—dining out in restaurants was not possible owing to the lockdown, people felt unsafe to order in as there were various channels and touchpoints involved, there was a lack of variety in regular day-to-day meals. Financial concerns also played a catalyst in having home-cooked meals as they were much more economical.
Whatever the reason was, many people decided to wear the chef's cap and try their hand at cooking. So, it is safe to say that the pandemic brought out the chef in many of us!
While YouTube, grandma's recipes, and various cookbooks available online and in libraries are sources good enough for some great and easy-to-make dishes, nothing gets better than a first-hand recipe from a professional or a seasoned cook. This week, we at You& I reached out to some of Hyderabad's greatest cooks to get secret recipes from their collection. These are scrumptious, quick and easy to make for anyone who is a novice at cooking. Take a look, and try it out for yourself! - Niharika
---
Shankar Krishnamurthy
A name everyone in Hyderabad might be familiar with, Shankar Krishnamurthy is a chef par excellence and the man behind Fusion 9 and one of the best catering houses in India, Voila F9 Gourmet. His career began as an accident while he was immersed in preparing to be an electrical engineer. However, his proficiency and dedication to his craft made him a name to reckon with in the hospitality and F&B segment. Over three decades, Shankar has catered to heads of states and countries, high profile industrialists, royalty, socialites, film personalities and practically the who's who of India.
Chef Shankar's expertise lies in Indian, Italian, Thai, Lebanese, American, Spanish and a range of other cuisines, but the one ingredient that remains constant in all his dishes is Love!
He shared recipes of two dishes from his 1$ Cook book which is a compilation of Shankar's signature recipes that have made every foodie in India swoon with delight. Take a look and be ready to tantalise your senses! You can also access the cook book on https://shankarkrishnamurthy.academy/ where every recipe is priced within a dollar.
Sliced Chicken with Spinach, Serves 4, (prep-20min, cook-15min), Cost per portion –Rs 72/-
Ingredients

Chicken legs (boneless)
Red chilli 2
Black bean sauce
Oyster sauce
Chicken stock
Cornstarch
Minced garlic
Minced ginger
Whole spinach leaves
Red bell pepper
Spring onions
Vegetable oil
Sesame oil
Black pepper
Salt

Qty

600 gms, cut into thin slices
finely sliced
1 tbsp
1 tbsp
¼ cup
½ cup
2 tbsp
2 tbsp
1 cup
1 cup (equally sliced pieces)
4 (1-inch pieces)
2 tbsp
2 tbsp
to taste
to taste
Method:
Dredge chicken pieces in corn starch and deep fry. Remove when golden brown in colour and set aside.
In a wok, add garlic, ginger and spinach leaves along with a teaspoon of vegetable oil, and cook until fragrant.
Add red pepper and continue to stir fry adding in red chilli, bean sauce, and oyster sauce mixture. Add the fried chicken and cook for about a minute.
If desired, add a teaspoon of cornstarch mixed with a teaspoon of water to thicken the mixture. Add the scallions, sprinkle with sesame oil and serve.
Kodo Millet Vegetable Andhra Pulao, Serves 4 (prep-20 min, cooking time-30 min) Cost per portion – Rs 26/-
Ingredients

Kodo millet
Shallots
Whole garam masala
Ginger garlic paste
Cumin seeds
Green chillies
Yogurt
Carrot

French beans
Cauliflower
Green peas
Fresh mint
Coriander leaves
Fried cashew nuts
Water
Salt
Ghee
Vegetable oil

Qty

2 cups (soaked for 15 minutes)
8
2 tbsp
2 tbsp
1 tsp
split 3
½cup
1 medium sized cut into,
1-inch-long diamond shapes
¼ cup
¼ cup, cut into small florets
¼ cup
2 sprigs
2 sprigs
60 gms
4 cups (1:2 ratio)
to taste
3 tbsp
1 tbsp
Method:
In a pan, heat oil and ghee, saute whole garam masala, ginger garlic paste, slit green chilli, and cumin seed until it turns aromatic and golden. Add in the mixed vegetables and sauté for 5 more minutes.
Add the drained millet and sauté for a minute and then add water and mix well.When it starts to boil, cover and cook for 8-10 minutes or until the water is completely absorbed. Set aside for 10 minutes and fluff it up.
In a pan, heat ghee and lightly sauté cashews until golden brown. Add to the pulao along with coriander leaves and mix well. Serve with cucumber yogurt.
---
Swati Sucharita
A journalist by profession and a blogger by passion, Swati is a food connoisseur and has been a food critic for decades. Previously a food critic for a leading national newspaper, of late Swati has been exploring the world of food and sharing her culinary journeys on Instagram. She calls it an "enriching experience".
The food aficionado started cooking after she got married and set up her own kitchen. From cooking out of recipe books and phone calls to family and friends, life has come a full circle for Swati who now shares her recipes with the same people she learned from. She shares, "I love pan Asian cuisine, especially Thai food because of its aromatic and wellness-nurturing aspects. I am sharing a pan Asian recipe which I have tweaked personally, which uses tempeh or fermented soya which is now being celebrated for its plant protein content."
Tempeh Stir Fry In BBQ Sauce, Serves – 4, Prep time- 10-15 minutes
Ingredients

Tempeh cubes
Ginger-Garlic (chopped)
Onion (chopped into cubes)
Vegetables of your choice:
Zucchini, Peppers, Spring Onion
Cornflour
Olive oil
Maggi Liquid Seasoning or
any stir fry sauce of your choice
Barbecue Sauce

Qty

200 gm (1 pack)
1 tsp
1 large

1 each
1 tsp mixed in half a cup of milk
1 or 2 tbsp

1 tbsp
1 tbsp
Method:
Season tempeh cubes with salt and pepper and toss them with a little oil in a pan for a couple of minutes, then remove and keep aside. If you are using flavoured tempeh (like Sriracha or others) you can skip this step.
To the same pan, add a tsp of olive oil and sauté some chopped ginger garlic for a couple of minutes, add the shallots and fry for a couple of minutes more. Add the veggies like zucchini and peppers and toss on a high flame. Season with salt and pepper or paprika flakes or condiments of your choice.
Add Maggi liquid seasoning (it is the best thing which has happened out of the Nestle stable) and barbecue sauce (I added a sweet-spicy Korean bbq sauce).Toss it some more, add the cornflour slurry and a little water and when it becomes a thick consistency, add spring onions and the tempeh cubes.
Toss it a bit more, try keeping a liquid consistency so that it goes better with rice or noodles. You may experiment with other sauces of your choice like Schezwan or Green Curry paste. Best served with rice or noodles.
(Tempeh which is fermented soya is being celebrated by chefs worldwide for its healthy plant protein content and being gluten-free and being both versatile and easy to cook. It is now available both on online retail and physical stores.)
---
Asmita Marwa
"Cooking for me is extremely therapeutic," says fashion designer Asmita Marwa who is a great cook and enjoys preparing healthy and tasty dishes in her kitchen. She calls herself an intuitive cook and says she enjoys cooking as long as she's not following a recipe and measuring ingredients. Asmita loves recreating recipes through memory and taste and her favourite cuisines are Italian and Indian. Travel is her greatest inspiration when it comes to cooking, she says, as she tries to recreate dishes that she had on her various travels, when she returns home.
Having learnt cooking at the young age of 14 or 15, her repertoire was very limited back in the day, but it has now grown to cover almost all world cuisines. A foodie at heart, one look at her social media accounts and you will see how much this designer enjoys making and eating good food. Whether it's a simple salad, soup, dip or a more elaborate entrée or main course dish, Asmita makes it all, and with the freshest produce! Check out this simple yet tasty dish she shared with us.
Egg Salad
Ingredients
For the dressing:-
Mayo(American Garden)
Greek yogurt or hung curd
Dijon mustard
Sugar
Salt and pepper
For the salad:-
Boiled eggs (sliced)
Green or red apple (sliced or diced)
English cucumber (sliced or diced)
Spring onion (finely chopped)
Mixed salad greens or lettuce

Qty

2 tbsp
2 tbsp
2 tsp
a pinch
to taste

3
1
1
1
1 bunch
Method:-
Whisk together all the ingredients for the dressing until smooth, creamy and combined.
On a bed of mixed salad greens, add cucumber, apple and eggs. Drizzle the creamy dressing and garnish with spring onions.
---
Jasmine Sahney
A foodie at heart, Jasmine Sahney has had a tryst with good food for as long as she can remember. She used to watch her dad, a hotelier, cook as a child and was always fascinated about how something that smelled and tasted so wonderful could be created with such simple ingredients. So, she watched her father, and her mother-in-law who was also a great cook, and learnt the art of cooking.
Jasmine loves experimenting with food and often dishes out hearty and interesting meals. She enjoys cooking for her friends and family and watching them eat it around her table. Whether it's a large dish of Lasagne or a Roast Leg of Smoked Ham, Roast chicken, Roast Turkey during Christmas or a simple Saffron Biryani or a hearty soup, she knows how to churn out tasty yet wholesome meals for people of all tastes and preferences.
Here, she shares a recipe of Khow Suey, a traditional Burmese noodle soup dish, that has been passed down generations, from her great grand aunt who was from Burma. This one's a must try!
Khow Suey
Ingredients
For the soup:
Chick pea flour (lightly roasted)
Onions (finely chopped)
Oil
Ginger and garlic paste
Turmeric
Red chilli powder
Chicken (with bones)
Coconut milk
Salt
Qty

1 cup
5 large
1/3 cup
2 tsp each
1 tbsp
2 tbsp
2 (cut into medium sized pieces)
2 (approximately 4 litres)
to taste
For Garnish:
Boiled noodles thinly sliced and fried onions and potatoes, Chopped full boiled eggs, spring onions, mint, coriander, green chillies, fried red chillies, ginger and garlic pieces. Lemon juice to taste.
Method:
In a large pan, fry the onions lightly till it turns transparent. Add the ginger and garlic paste, red chillies, turmeric and salt and cook on slow flame for 2-3 minutes till the raw smell disappears.
Add the chicken pieces and cover and cook for 15 minutes on a low flame. In the meantime, mix the roasted chickpea flour with the coconut milk and keep aside.
Once the chicken is semi-cooked, add the coconut milk mixture and keep stirring till it comes to a boil. This is a must or else the soup will curdle.
Cook it for an hour or more till the meat is almost falling off the bone and the soup is thick and smooth.
To serve, layer the individual bowls with noodles and condiments. Ladle over plenty of soup and chicken and lastly add the lemon juice to taste.
---
Kalyan Charan
Having left India to study Hotel Management in Switzerland at the age of 17 and having lived on his own in foreign countries for over a decade, Kalyan began cooking for himself out of necessity. However, he was always passionate about good food and thus, cooking came quite naturally to him.Now, Kalyan is a hospitality consultant at various restaurants in Hyderabad and his offerings are a must try for any foodie.
A self-taught cook, when Chef Kalyan is at home, cooking for himself and his family, he prefers to cook Indian food, as ingredients for international cuisines are not easily available here. He tells us, "I enjoy cooking Indian food because there is no homogeneity of flavour in our cuisine. Every state and every district have distinctive flavours and methods of preparation.Kalyan takes inspiration from food he's eaten in star hotels to roadside eateries and staff cafeterias.
The food expert shared with us a recipe of Prawns Fry, which tastes as good as it looks, and is quite easy to prepare. Check it out!
Royallu Iguru (Prawns Fry)
Ingredients
Prawns (cleaned and deveined)
Onions
Fresh coriander
Green Chillies
Oil
Salt
Red Chilli Powder
Turmeric Powder
Coriander Powder
Ginger Garlic Paste
Qty
500-600 gms
3 large
2 bunches
3-4
150 ml
to taste
a pinch
a pinch
a pinch
1 tbsp
Method:-
Thoroughly clean and devein the prawns. Add turmeric powder on the prawns and mix well. Set aside.
Finely chop the onions and the coriander and set aside.
Heat oil in a cauldron and add three to four vertically slit green chillies. Let it fry for 2 mins. Add the finely chopped onion and stir well. Add 1 large tbps of ginger garlic paste and stir again.
Allow the onions to fry until they turn golden. This should take about 8 – 10 mins on high heat.
Add salt (to taste), Red Chilli Powder (I use Kashmiri Mirch for the colour), turmeric powder and coriander powder. Mix well and let it fry for another 2 minutes.
Add in the deveined prawns and stir well for 30 seconds. Add the chopped coriander and stir well for another 30 seconds.
Fry for 5 minutes until the prawns are cooked. Keep mixing the dish regularly while frying to ensure the prawns are evenly cooked and the contents in the bottom don't burn.
Once the prawns are cooked, sprinkle fresh coriander on top and allow the dish to rest for 10 minutes. Enjoy with hot rice and ghee.
---
Devashree Goenka
Growing up, cooking of any sort was never on Devashree's radar, nor when she was in the UK pursuing her undergraduate and postgraduate degrees. She always enjoyed trying out new cuisines and dishes but was never interested enough to recreate them, until the pandemic hit and the lockdown was imposed. She shares, "I used to find cooking intimidating, but when the lockdown was imposed and restaurants were shut, I found the push to try cooking since I was bored by the monotony of basic homemade meals. Sourcing ingredients was very tough during this time, so I searched for recipes with minimal ingredients, and gave them a try."
During the course of time through the lockdown, she tried her hand at baking and cooking several times and thus, organically fell in love with the whole process, including the complexity and science behind it. "It was exhilarating to bake for my family and friends and watch them devour every loaf that popped out of the oven," she exclaims. From being a total novice at cooking, Devashree has progressed into an exceptional baker. She has experimented with various recipes from YouTube and social media and has learnt in the process. Check out the recipe that she shared with us!
Croissant
Ingredients
Strong bread flour
White sugar
Salt
Lukewarm milk
Lukewarm water
Yeast 1 sachet or 8 gms dry yeast
Unsalted butter
Qty
500 gms
55 gms
10 gms
150 gms
150 gms
Yeast 1 sachet or 8 gms dry yeast
250 gms (at room temperature)
Method:
In a bowl, add milk and water and mix the yeast. Set aside. In a separate bowl, add bread flour, sugar, salt and mix it well. Add the yeast mixture to this and mix to form a dough.
Knead the dough for 10 minutes and then place it on a tray lined with baking paper. Press the dough down gently to form a rectangle and cover with cling wrap. Place the tray in the fridge overnight.
Fold two sheets of baking paper to the size of 20cm x 40cm. Place the butter between the top sheets and roll the butter out to an even thickness using a rolling pin. Transfer the butter encased in the baking sheet to the fridge overnight.
Next morning, roll the dough out to 40cmx 40cm in size. Cover and refrigerate for 30 minutes.
Remove the butter to allow it to come to room temperature. Then remove the dough and place the butter in the middle of the dough. For the first fold, gently fold the left and the right side of the dough to encase the butter, press it gently with your rolling pin and extend the length of the dough to 60cm. This process is called lamination and will create the buttery and flaky layer.
Fold the dough and refrigerate for 30 minutes.
Take the dough out and roll it out to 60 cm. Repeat the previous folding method and then refrigerate for 20 minutes.
Repeat the lamination process for a third time and refrigerate for another 20 minutes. Take your dough out and roll it to 60 cm x 28 cm. Taping the workspace helps.
Mark the rolled out dough along the bottom length at 10 cm intervals. On the top length of the dough, mark the dough at 10cm intervals but offset by 5cm.
Slice your triangles, gently stretch the triangle and roll it from base to tip.
Transfer them to a tray and let it proof for at least 4 hours in a warm area. Brush the croissants with either an egg wash or some milk.
Bake your croissants on the middle rack for 7 minutes at 200°C, reduce the heat to 180°C and bake for another 13minutes. Enjoy the croissants warm.
---
Ankit Sondhi
Ankit Sondhi is a chef and partner at Kwality Catering Services and founder of Manger by Ankit, and he is the third generation of food aficionados whose business has been catering.
He developed a passion for cooking when he was in his mid-teens when he would spend a lot of time in the kitchen with his mother, watching her cook and learning in the process. It was something not many kids his age would do, but somehow the aromas of the kitchen and the process of whipping up simple ingredients into flavoursome dishes always appealed to this young man.
After completing his schooling in Hyderabad, Ankit decided to take a professional course in Hotel Management from the prestigious Les Roches school of Hotel Management. Here he honed his skills in food preparation and learnt the tricks of the trade. However, his experience has been self-taught and all the recipes in his menu are a result of practice and a lot of tweaking. His favourite cuisines are Thai and Hyderabadi, and hence, he decided to share a recipe from his favourite cuisine that is simple and can be made by just about anyone.
Pad Kee Mao
Ingredients
For the noodles:-
Dried rice noodles (5mm)
For the stir fry:-
Oil (peanut or sunflower)
Garlic (minced)
Birds eye chilli or Thai chillies
(deseeded, very finely chopped)
Onion
Chicken thighs
Fish sauce (or soy sauce)
Green onions (sliced diagonally)
Thai Holy Basil leaves
For the sauce:-
Oyster sauce
Light soy sauce
Dark Soy sauce
Sugar
Qty

Dried rice noodles (5mm) 7 oz/200 gm

2 tbsp
Garlic (minced) 3 large cloves
2

(sliced) ½
(cut into bite sized pieces) 200 gm/7 oz
2 tsp
2
1 cup

3 tbsp
1 ½ tbsp
1 ½ tbsp
2 tsp
Method:-
Prepare noodles as per packet directions.
Mix sauce in a small bowl. Heat oil in a wok or large heavy based skillet over high heat. Add garlic and chilli and cook for 10 seconds. Then add onion, cook for 1 minute.
Add chicken and fish sauce, and fry until cooked, for around 2 minutes. Follow it up by adding green onion, noodles and sauce and cook for 1 minute until the sauce reduces and coats the noodles. Remove from heat and immediately add basil.Toss until just wilted, then serve immediately.
---
Sadaf Mirza
Baking the world a better place is Sadaf Mirza who, through her venture, Bake 23, has been churning out a variety of scrumptious baked goodies for those in Hyderabad with a sweet tooth. From flavoursome cakes to fresh and tangy pies, nutritious cookies to fruity tarts, she offers it all and much more. Although self-taught, Sadaf had the opportunity to work with the patisserie at Olive Bar & Kitchen, Hyderabad, where she got to polish her skills.
Having begun baking when she was six years old, watching her mother bake coconut cookies, Sadaf experimented and practiced till she got the perfect formula for her desserts. Here, she generously shares her recipe for an eggless Chocolate Cake with Chocolate Chunks. It is a single layer cake with rich chocolate chunks and a moist and tender crumb—a great option for snacking!
Easy Chocolate Clouds with Chocolate Chunks
Ingredients
All purpose flour
Granulated white sugar
Unsweetened cocoa powder
Semi-sweet chocolate (chopped)
Baking powder
Baking soda
Salt ¼ tsp (2 gms)
Unsalted butter (melted)
Warm water
Vinegar
Pure vanilla extract
Pure coffee
Qty
1 ½ cup (200 gms)
1 cup (200 gms)
½ cup (35 gms)
150 gms
1 ½ tsp (8 gms)
½ tsp (4 gms)
Salt ¼ tsp (2 gms)
¼ cup (45 gms)
1 cup (240 ml)
1 ½ tbsp (15 gms)
1 tsp (4 gms)
extract (optional) 1 tsp (4 gms)
Method:
Mix all the dry ingredients in one bowl and the wet ones in another.
After mixing, add the mixtures to a baking tray and bake it at 180°C for 30 minutes. To ensure it is completely baked, prick a toothpick in the cake and if it comes out clean, it is done.
Transfer the cake to a serving bowl and eat it at room temperature or heated for better taste.
Note: you can substitute the melted butter with corn, canola or vegetable oil.
---
Soundarya Dhupar
A baker by passion and a remedial therapist by profession, Soundarya has had a love for cooking since a very young age. She began baking professionally at the age of 18 and has been in a constant state of learning ever since. Her home baking business, Intoxicake, was founded a few years ago and since then Soundarya has been making and selling cakes and desserts to a discerning clientele. The lockdown gave her time and an opportunity to try her hand at savoury dishes too. Here the self-taught baker gave us a recipe of the easiest and yummiest no bake cheesecake.
No Bake Cheesecake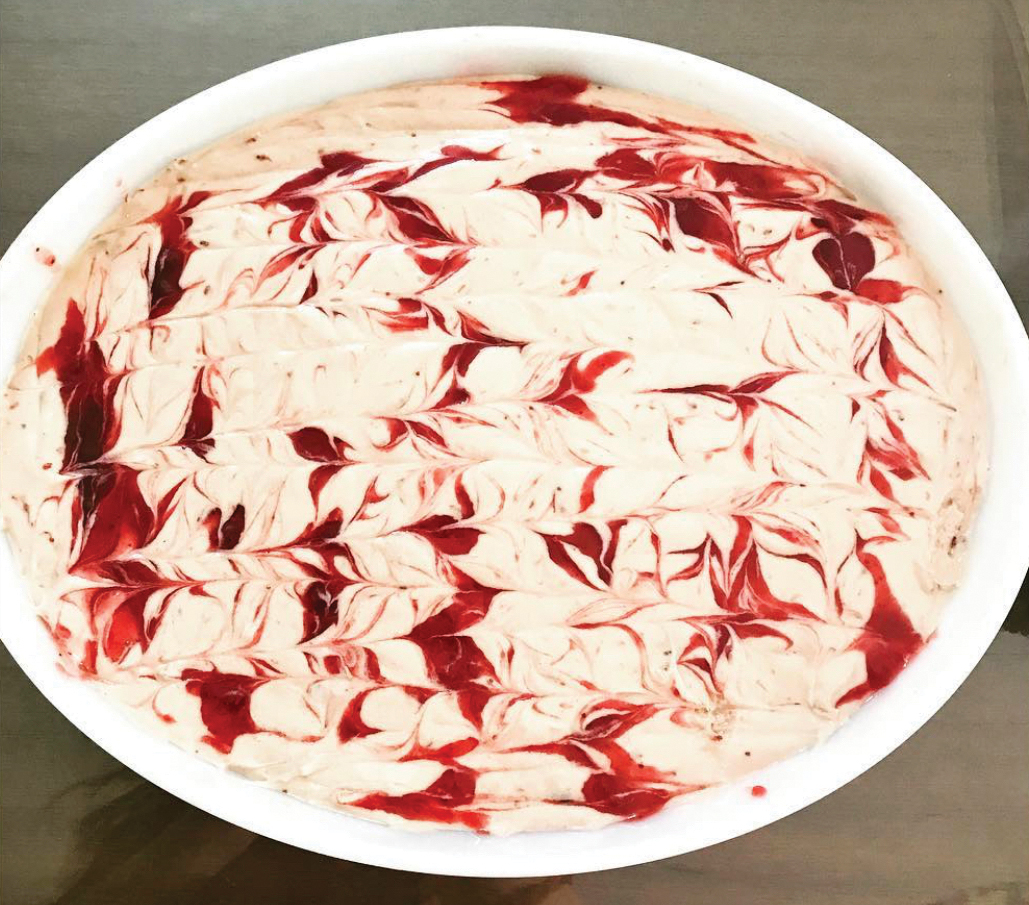 Ingredients
For the crust:-
Butter cookies
Melted butter
Icing sugar
For the filling:-
Cream cheese
Condensed milk
Sugar
Vanilla extract
Whipping cream
Powdered sugar
Qty

2 packets
100 gm
½ cup

700 gm
80 gm
50 gm
1 tbsp
½ cup
a pinch
Method:
Add all the ingredients for the crust and blend it until you get a sand like consistency. Then add the melted butter and mix well.
Transfer this mixture to a springform pan and spread evenly. Keep in the refrigerator.
Beat the room temperature cream cheese with an electric whisk until soft and creamy. Add the sugar and vanilla. Scrape down sides and add in condensed milk.
In a separate bowl, whip up the cream until stiff peaks are formed. Fold the cream cheese mixture in with the cream. Pour the cheesecake filling into the prepared tin.
Keep refrigerated for atleast 6-8 hours or overnight. Serve it with fresh berries or jam.
---
Samyra Ruheen
Cooking makes up for the most memorable times of Ruheen's life, she shares. The food aficionado would often watch her mother who is an Afghan, stir up her specialities and modify the recipe to suit the taste of her Hyderabadi father's liking. After her marriage too, Ruheen extended her repertoire by learning how to make a range of Indian dishes from her mother-in-law who is also a great cook. Thereafter, she started an Instagram page where she started posting pictures of her dishes and recipes, and received great appreciation for the same.
Although Ruheen worked in the hospitality industry, albeit in a different capacity, she was always drawn to the kitchen. She now even hosts cooking experiences for some expat guests. Her expertise lies in Arabian, Hyderabadi, South Indian, and Punjabi cuisines. Check out that recipe of Taco Shawarma that she has given us here.
Taco Shawarma, Makes 15 to 18 taco shells.
Ingredients
For the tacos:-
Maize Flour
Maida
Salt
Oil
Luke warm water to make the dough
Oil
For the shawarma:-
Boneless chicken
Soy sauce
Vinegar
Black pepper powder
Red chilli sauce
Olive oil
Salt
For the fillings:-
Cucumber (finely chopped)
Carrots (finely chopped or grated)
Lettuce (grated)
Mayonnaise
Qty

1 cup
½ cup
1 tsp
2 tbsp
Luke warm water to make the dough
to deep fry

½ kg
1 tbsp
2 tsp
2 tsp
2 tbsp
1 tbsp
as to taste
-
2 medium sized
2 medium sized
½ bunch
150 gms
Method:
For the tacos, mix the flour, salt and oil and make dough using lukewarm water, as needed. Make sure the dough is not runny. Keep the dough covered.
Mix all the ingredients of the shawarma and refrigerate overnight or for a minimum of 2 hours. Mix the ingredients for the filling and keep aside. Now take the marinated chicken and shallow fry in some oil, in a non-stick pan. Slip and fry both sides until it is well cooked and turns golden brown. Remove the chicken and keep it to drain the oil.
Once the chicken cools down, shred the chicken and again shallow fry in some oil. This time sprinkle some black pepper powder and salt, if needed. Keep aside. Now in a kadai, heat the oil to deep dry tacos.Take the taco dough, roll it, and cut the edges with a bowl to make it perfect round.
Slip the rolled taco into the hot oil.When you see one side is little well fried, flip it and keep a laddle in between to dry other side.Do not remove the laddle, in order to get the shape of taco. Once you see the other side is also well cooked, remove and drain the excess oil. Repeat the same for the rest of the dough.
Once the taco shells cool down, take the mayonnaise vegetables filling and fill into taco, along with the shredded chicken filling. Enjoy the taco shawarma with chipotle sauce.
---
Rubaina Bilgrami
Founder of home-based bakery De La Luna Pasteleria, Rubaina Bilgrami has been an avid foodie for as long as she can remember. Her cravings for delicious desserts led her to experiment with and understand cooking at a very young age. Watching her late grandmother churn out some of the most mouth-watering delicacies, Rubaina felt inspired to try her hand at the same. She would often act as a sous chef to her grandmother and lend her a helping hand while in the kitchen.
The self-taught baker loves baking and her favourite dish to create is cake as you get to be creative with the flavours and textures. Take a look at this Banoffee Pie recipe that she shared with us!
Banoffee Pie
Ingredients
Digestive biscuits
Melted butter
Condensed milk
Bananas
Heavy whipping cream
Powdered sugar (or confectioner's sugar)
Vanilla extract
Cooking chocolate
Qty
3 cups
½ cup
1 tin
2 (sliced)
1 ½ cups
¼ cup
1 tsp
for garnish
Method:-
Grease an 8 inch tart or pie plate with butter and set aside.
Heat up water in a large pot and place the condensed milk tin in it, without opening it. Leave it on the stove for 3 hours, refilling water every 30 minutes. After 3 hours, remove the tin from hot water and place in cold water to cool down. When opened, the condensed milk should have caramelized and turned a deep golden. This is called Dulce de Leche.
Crush the digestive biscuits with a rolling pin or food processor. Melt the butter and stir into the cookie crumbs until well combined. Create the crust in the pie plate with the crumb mixture, making it around 1/4 inch thick. Refrigerate the pie plate for a couple of hours to ensure the biscuit base is set. Once set, remove from fridge and fill up the crust with the home-made Dulce de Leche. Flatten it out with an offset spatula. Then add a layer of sliced bananas.
Whip the heavy cream till stiff peaks form, adding icing sugar slowly as you whip. Also add vanilla essence.
Top the pie off with the whipped cream, creating swirls with a spoon to give it a rustic look. Finish with chocolate shavings on top! Chill the pie in the fridge for atleast 2 hours for the layers to set before digging in!