By now, we know that cooking is like a balm for our soul, especially in these tough times! It keeps us occupied, satisfied, and most importantly, leave us with a full stomach! With that very thought in mind, people all around the country have got to cooking, and come up with a lot more recipes than usual, each better than the last. Here we've gathered a few of the recipes shared by those kind-hearted people to guide you, and help you whip up a storm – be it tasty appetisers, a heavy main course, or yummy desserts! Let's hope this list encourages you to cook, both for yourself and your loved ones! As the High School Musical song goes, "We're all in this together!" – Devanshi
Surabhi Sehgal, the curator of "Su Paints On Plates" on Instagram, hails from Dehra Dun, a scenic valley nestled in the foothills of the Himalayas. Having completed her Masters in English Literature and lived and worked in six different countries, Surabhi decided to devote all her time to her one true passion, food! Over the past few years, while living in UAE, she worked with various brands creating recipes suitable for their clients and styling and photographing them for their websites and marketing campaigns. Her global exposure enables her to work with varied cuisines and ingredients.
Surabhi currently resides in Pune with her husband and two sons. She undertakes Food Styling projects and develops recipes for various brands and restaurants. To know more about her work, visit: instagram.com / supaintsonplates. To reach her, email to supaintsonplates@gmail.com.
Mango Chia Pudding
Ingredients Qty
coconut milk
honey
chia seeds
mangoes
fresh mint
1 cup
1 tbsp
2 tbsp
2 ripe
to garnish
Instructions
1. In a bowl, add the coconut milk, chia seeds, and honey, then mix well and refrigerate for at least an hour. Remove the pudding from the refrigerator and give it a stir. Add a little more coconut milk to loosen the pudding, if required.
2. Remove the pulp of a mango and puree it. Dice the second Mango into small pieces. Take two glasses, transfer the mango pulp to the glasses, add the chia pudding, and finally top with the diced mangoes and fresh mint leaves. Enjoy!
Herb Cheese Stuffed Pasta with Tomato Basil Sauce
Ingredients Qty
For the Pasta
store-bought large pasta shells for stuffing
ricotta cheese/ cottage cheese
basil leaves (finely chopped)
parsley (finely chopped)
chopped caper berries (optional)
salt
pepper
For the sauce
tomatoes (pureed)
tomato paste
cloves of garlic (finely chopped)
basil leaves
paprika powder
brown sugar
olive oil
salt


7-8
200 gms
5-6
2 tbsp
2 tsp
to taste
to taste

3
2 tbsp
2-3
as required
½ tsp
¼ tsp
1 tbsp
to taste
Instructions
1. To make the stuffed pasta, boil the pasta in salted water till al dente (approx 12-13 mins), then strain and cool. In a bowl add ricotta/cottage cheese, caper berries, basil, parsley, salt and pepper, and mix with a light hand.
2. Stuff this mix in the cooked pasta shells and set aside. To make the sauce, in a pan, add the olive oil, and once warm add garlic and sauté till light brown. Now add the paprika powder, pureed tomatoes, tomato paste, salt, sugar, and fresh basil leaves. Cover and gently simmer for 10-12 minutes.
3. Transfer the sauce to a baking dish, top with the pasta shells and leave in the oven at 200° for 10-12 minutes. Top with olive oil and parmesan cheese (optional) before serving. Enjoy!
Like what chef Auguste Gusteau in Ratatouille said, "Anyone can cook." It's true in case of Reshma Merchant. The lockdown has allowed her to pass-on tips, tricks, and kid-friendly baking skills to her daughter, Amayra. The nine-year-old, who managed to replicate the brownie recipe the second time, with a little help. The trick, she says, is simply mixing all the ingredients at once! At a crazy time like this, Reshma finds comfort in small achievements.
Herb Potato
Ingredients Qty
baby potatoes
mixed dry herbs
red chilli flakes
coarsely chopped garlic
salt
sea salt
olive oil/chilli oil/butter
1kg
as required
as required
20 cloves
as required
as required
as required
Instructions
1. Boil the potatoes (along with the skin) in a pot of hot water with 1 tsp of salt. Strain it, and leave in the refrigerator overnight. In a hot wok, add adequate olive oil/chilli oil/butter, and fry the garlic till golden brown.
2. Next, add all the herbs and chilli flakes, the potatoes and sauté till the potatoes skins are lightly coated. Serve immediately, and just before serving, add the sea salt to taste.
Hung Curd Dip
Ingredients Qty
curd
green chillies
green garlic
1kg
2-3
1 bunch
Instructions
1. Tie the curd in a muslin cloth, hang it over the kitchen tap, and let it drip for an hour. Chill the tied curd, and then sieve it. Finely chop the green garlic and de-seeded green chillies, and mix this it into the curd lightly with a fork. Never over mix the curd, and do NOT add salt. Serve chilled.
Brownies
Ingredients Qty
cocoa powder
demerara sugar
flour
baking powder
milkmaid
milk
melted Bournville chocolate
unsalted butter
vanilla essence
marshmallows
salt
2 tbsp
½ cup
¾ cup
1 tsp
½ can
½ cup
50% dark 6 bars of 30gms
2 tbsp
1 tsp
to garnish
a pinch
Instructions
1. Lightly oil, and dust your baking dish with cocoa powder. Combine all the dry ingredients first, and then add the wet ingredients to it. Pour the batter into the dish and bake in the oven at 150° degrees for 20-28 minutes.
Shivani Malik, along with her husband Sahil is the name behind the flourishing leather accessory brand, Da Milano. In this lockdown, they're doing what everybody else is doing – cooking! Shivani was kind enough to share with us a great recipe for Sesame Chicken and Chilli Basil Tofu!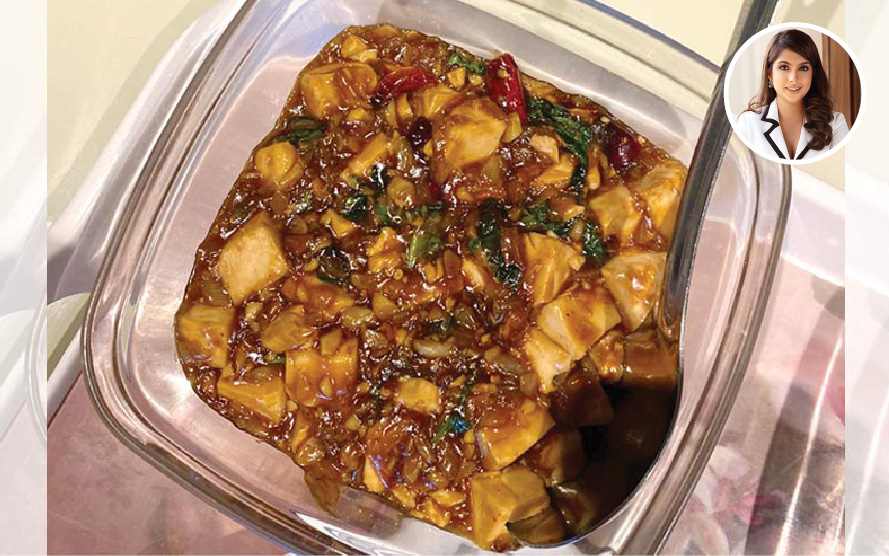 Chilli Basil Tofu
Ingredients Qty
vegetable oil
finely chopped garlic
roughly chopped large and dried red chilli
sliced onion
cubed tofu
baby bok choy, sliced lengthwise
Thai basil leaves
steamed rice
oyster sauce
fish sauce
dark sweet soy sauce
sugar
cornflour
2 tbsp
4 cloves
6
1
500 g
4
1 cup
to serve
1/3 cup
2 tbsp
2 tsp
1 tsp
½ tsp
Instructions
Take a pan and heat the oil on medium flame. Add garlic and onions and stir fry for about 2-3 minutes, and then add Tofu to it. Once the tofu turns a brown colour, add the sauces and top it with some basil leaves. Cook it till the sauce becomes thick, and then it's ready to serve.
Sesame Chicken
Ingredients Qty
thinly sliced chicken breast
chopped bok choy
diced red pepper
diced green pepper
chopped spring onions and a few leaves
roasted white sesame seeds
garlic
sesame oil
soy sauce
white vinegar
chilli oil/chilli paste/chilli sauce
sesame oil
spring onion leaves
chopped red chilli
roasted white sesame seeds
roasted black sesame seeds
250 g
1
as required
as required
1 -2
1 tbsp
2 cloves
to drizzle
3 tbsp
1 tbsp
3 tbsp
½ tbsp
to garnish
to garnish
to garnish
to garnish
Instructions
1. Roast the sesame seeds in a dry frying pan for 2-3 minutes, or until golden. Keep the seeds moving in the pan, so they colour evenly. Transfer to a mortar, and use a pestle to grind to a semi-fine powder. Set aside in a small bowl.
2. Using the mortar and pestle, bruise the spring onion and garlic. Try to make sure the garlic is finely ground, but leave the spring onion quite chunky. Transfer to the same bowl as the sesame seeds.
3. Mix the stir fry sauce ingredients in a bowl, and add 1 tbsp cornflour. In a pan add oil, garlic, spring onion, and the sesame paste. Cook till the onion is transparent. Then, add the chicken and let it cook for another 2-3 minutes, or until done!
4. Add the bell peppers and cook further for another 2 minutes! Add in the stir fry sauce and the chopped bok choy. If required, add 2 tbsp of water. Once the sauce is thick, turn off the gas and drizzle some more sesame oil, as per taste.
5 Garnish with spring onion leaves, chillies, and roasted sesame seeds. Garnish the rice too with a few roasted sesame seeds, and sprinkle red chilli powder over it. Add some sauce first, and taste. If required, add some more.
Asuccessful producer from Bollywood, Elahe Hiptoola loves yoga, Urdu poetry, and cooking. In addition to producing films, this talented lady also had several roles in various films. Stuck at home in this lockdown, she's got to cooking!
Ande Ki Biryani
Ingredients Qty
boiled eggs
rice
big onions
tomatoes
green chillies
yoghurt
ginger-garlic paste
chili powder
dhania powder
turmeric powder
jeera full
elaichi
cloves
whole pepper
cinnamon
big bay leaf
kothmeer
mint leaves
ghee
salt
oil
4
½ kg
3
2
2
½ cup
1 tsp
1 & ½ tsp
2 tsp
½ tsp
1 tsp
2
4
12-13
½ stick
1
1bunch
1 bunch
2 tbsp
to taste
as required
Instructions
1. To make the masala, take oil in the vessel and fry the whole boiled eggs till light brown. Take out the eggs, and in the same oil put the whole garam masala (jeera, elaichi, clove, cinnamon, and bay leaf). Cut 2 of the onions and add to this, and fry till it turns golden brown.
2. Add the ginger-garlic paste, cut tomatoes, and fry for about 2 minutes. Then add the chilli powder, dhaniya powder, and turmeric powder. Fry a little more. Sprinkle a little water and then put a lid on the vessel till the tomatoes become soft.
3. Simmer the gas, add the yoghurt, and mix well. Sprinkle a little water so that the masala doesn't burn. Then, add the kothmeer, mint leaves, and sliced green chillies. Fry further. Gently place the boiled eggs on this masala, cover the vessel, and remove from the flame and place aside.
4. Now cook the rice with 1 tsp rice, ½ jeera (whole), and salt to taste. Cook the rice just a little underdone, and then strain out the water. Add one cup water evenly on the rice and cover the vessel and put the gas on very low flame and put on dim for 15 minutes.
5. Add rice as a layer on the eggs so that the bed is of the masala, eggs, and rice is on top. Garnish with crispy fried onions, kothmeer, and mint leaves. Heat the ghee and ladle it uniformly on the rice, and sprinkle a pinch of saffron.
Surita Tandon has been a pop-art artist for 15 years now. Fond of cars and sports cars, she also does a lot of events that involve glamour and style. Surita has been decorating homes – she designed the interiors of a couple of farmhouses in Delhi, including the Ambassador of Rwanda. She loves food, clothes, and being fit. At home right now, she's keeping herself busy with her art, and of course, cooking!
Garlic Vegetables Jasmine Rice
Ingredients Qty
boiled jasmine rice
corn
beans
peas
shallots
diced capsicum
fried onions
scrambled eggs
ginger
garlic
1 cup
½ cup
½ cup
½ cup
½ cup
½ cup
½ cup
2
2 tbsp
2 tbsp
Instructions
1. Fry garlic and ginger in butter till brown. Add the vegetables till all done. Add the jasmine rice, salt, pepper to taste and stir fry. Add the scrambled eggs on top garnish with fried onions.
Chilli Tofu
Ingredients Qty
cut tofu
dry red chillie
roasted peanuts
hoisin sauce
black pepper barbecue sauce
teriyaki sauce
Garlic pods
Ginger slices
Basil leaves
butter
Salt
pepper
2 cups
1 cup
1 cup
2 tsp
2 tbsp
2 tbsp
as required
as required
for dressing
2 tbsp
to taste
to taste
Instructions
Fry the cut tofu in butter until slightly brown. Fry the ginger and garlic in butter, and add red chillies till it sizzles. Then, add peanuts. Add the liquid mix of all the sauces, and stir fry for a few minutes. Add the basil leaves as garnish.
A cake is one of the most integral parts of a birthday. While getting it from a bakery was not possible during this home quarantine phase, nothing stopped actress Mannara Chopra, who baked a red velvet cake for herself!
Red Velvet Cake
Ingredients Qty
for the cake
red velvet cake mix
fudge brownie mix
egg
oil
water
sweetened condensed milk
for the topping
room temperature cream cheese
thawed cool whip
hot fudge
cake crumbles


1 box
1 box
as required
as required
as required
1 jar (14 oz)


1 pkg (8oz)
1 container (8oz)
to decorate
to decorate
Instructions
1. Preheat the oven to 350° F. In a mixing bowl, combine the red velvet cake mix with all the ingredients listed on the box. Mix well until all the ingredients are combined. Pour the batter into a 9"x13" pan. In a mixing bowl, combine the brownie mix with the ingredients listed on the box and mix well until all the ingredients are combined.
2. Pour the brownie batter on top of the red velvet batter. Bake the cake in the preheated oven for 30-35 minutes. When done, remove from the oven and allow to cool for at least 30 minutes. While the cake is still warm, take the end of a wooden spoon, or any other round object and poke holes in it.
3. Pour the can of sweetened condensed milk all over the top of the cake, and allow it to absorb in the cake until cake it's cooled. Let sit until completely cooled, and while the cake is cooling, prepare the chocolate cream topping.
4. In a mixing bowl, combine the chocolate and whipped cream. Beat on medium speed for a few minutes until well combined, and then spread over the completely cooled cake. Garnish with cake mix, hot fudge, and cream. Sprinkle the crumbled cake trimmings on top to decorate. After frosting, refrigerate.
Devyani Khosla whipped up a storm in her kitchen with spectacular Asian Cuisine. Here are the recipes that she shared with us for her Thai Yellow Vegetable Curry and Celery Khichdi.
Thai Yellow Vegetable Curry
Ingredients Qty
For the yellow curry paste
chopped medium onion
chopped Thai red/green chillies
coriander seeds
cumin seeds
turmeric powder
galangal/chopped ginger
chopped garlic
chopped lemongrass
kaffir lime
water
For the Thai yellow curry
small chopped broccoli
chopped carrot
chopped baby corn
chopped small red bell pepper
chopped small zucchini
choppedfrench beans
basil leaves
soya sauce
brown sugar
vegetable stock
coconut milk
vegetable oil
salt

1
2
2 tsp
2 tsp
1 tsp
½ inch
5-6 pods
½ stalk
1-2
as needed
For the Thai yellow curry
1
1
8-10
1
1
8-10
4-5
1 tsp
1 tsp
2 cups
1 cup
1 tbsp
to taste
Instructions
1. To make the yellow curry paste, grind all the ingredients together till you get a smooth paste. In a pan, heat the oil and add the yellow curry paste. Sauté it till there is no raw smell, then add brown sugar and salt to it. Now, add the chopped vegetables and stir fry for 5 minutes on low flame.
2. Add the vegetable stock and cook on low flame with lid on, till the vegetables are tender. Then add the coconut milk and the soya sauce and cook for another 5 minutes. Lastly, add the basil leaves and cook for another minute. Serve with rice!
Celery Khichdi
Ingredients Qty
rice
moongkati
celery chopped with the stalk
chopped jalapenos
large chopped onion
chopped garlic
paprika powder
butter
vegetable stock
celery salt
1 cup
½ cup
2 stalks
1
1
6-7 pods
½ tsp
1 tbsp
4 cups
to taste
Instructions
1. Soak the rice and the moong for half an hour. In a pressure cooker, melt the butter, and add the onion and garlic.Sauté till it's translucent, add the Jalapenos and stir fry for 2 minutes.
2. Now add the moong katidal and rice and stir fry for a minute.Add the celery leaves and stalk, paprika powder, andcelery salt. Mix properly, and add the vegetable stock. Cook for 3-4 whistles, and it's ready to serve!
Alka Butail Chopra has always been passionate about what she does and ensures her work meets her impeccable standards. Alka's dishes are nothing less than perfect, and she constantly surprises her loyal customer base with regular, new, and exotic additions to her menu. She is hard-working and determined to please her customers, even if that means hours of painstaking kitchen work. Keep being awesome, Alka!
Smashed Roast Potatoes with Lemon and Chilli
Ingredients Qty
olive or any oil
medium-sized potatoes
sea salt
freshly ground black pepper
crushed garlic cloves
Aleppo pepper
chilli flakes
paprika
lemon juice
extra-virgin olive oil
finely chopped cilantro coriander
4 tbsp
1kg
to taste
to taste
5
1 tbsp
½ tbsp
½ tsp
½
as required
to garnish
Instructions
1. Pre-heat the oven at 200°C. Pour cooking oil on two large baking pans, and place in the oven to heat. Clean the potatoes, wipe them dry, and then place in the oven for 45 minutes. When done, take them out and hammer them with a rolling pin or ice crusher hammer.
2. Take out the pan from the oven, sprinkle Aleppo pepper, garlic, sea salt, and pepper on it, then toss everything together quickly and put it all back in the oven for another 20 minutes. When the skin is crisp, it's done.
3. As soon as you take the potatoes out, judiciously squeeze lemon juice all over them, and add the seasoning. Transfer to a warm serving plate, drizzle extra-virgin olive oil over it and garnish with chopped coriander.
Roast Chicken with Sumac and Red Onions
Ingredients Qty
chicken thighs and drumsticks
extra-virgin olive oil plus
ground cumin
ground allspice
ground cinnamon
sumac
juiced lemon
crushed garlic cloves
sea salt
freshly ground black pepper
large red onions finely sliced into half-moons
pine nuts
olive or any oil
chopped parsley leaves
1kg
3 tbsp
½ tsp
½ tsp
¼ tsp
as required
1
4
to taste
to taste
2 or 500g
2tbsp
1tbsp
to garnish
Instructions
1. Slash each piece of chicken diagonally with a knife a few times, around 2 cm apart, and then place the meat in a large bowl. Mix the extra virgin olive oil, spices, lemon juice, garlic, 1 & ½ tsp salt, and ¼ tsp pepper, and rub it on the meat.
2. Add the red onions, toss everything together well, then cover and leave it to marinate in the fridge for 1-3 hours. Preheat an oven at 190°C. Transfer the meat into baking pan and roast it for 35 minutes, or until the chicken juices run clear when pierced at their thickest part.
3. Once the chicken is cooked, cover it with a foil and set it aside while you prepare the toppings. Fry the pine nuts in the cooking oil for a minute or so or until they turn golden brown, then tip onto a paper towel to drain the excess oil.
4. To serve the dish, place the chicken and red onion on a tray, and finish with a smattering of pine nuts, sumac, and chopped parsley. Drizzle over any remaining roasting juices, so they get soaked up by the chicken, and then sprinkle over a little extra virgin oil.
A South of France twist on a classic dessert that is as simple to make as it is delicious to eat, by Jeffrey Khan from Dallas!
Lavender Creme Brûlée
Ingredients Qty
heavy cream
dried lavender flowers
salt
egg yolks
sugar
raspberries
strawberries
mint leaves
2 cups
½ cup
1/8th tsp
5
200 g
for garnish
for garnish
for garnish
Instructions
1. Heat the heavy cream until just before it boils. Turn the heat down, put the lavender in the cream, and simmer for 5 minutes. Let it cool down completely then strain the lavender and discard.
2. Whisk the eggs in a bowl using a wire whisk or a fork, but don't use an electric blender as this will introduce too much air into the mix. Add the salt and approximately 175g of the sugar, and slowly blend into the eggs.
3. Slowly, pour the lavender-infused cream into the eggs while whisking continuously to get an even mixture. Preheat the oven to 160°C. Pour the mixture into four or more ramekins (depends what size you have) until 2 mm below the top.
4. Place the ramekins in a bain-marie pan (or any baking pan whose walls are as high as the ramekin sides). Pour hot water in the pan until it comes to about 3/4th the way up of the ramekins.
5. Place the pan on the centre rack of the oven, and bake for 40-50 minutes until the centres are wobbly, and beginning to set. Remove the pan from the oven and let cool completely, then refrigerate for two hours.
6. Distribute the remaining sugar evenly on the surface, and broil under high heat until the sugar starts to caramelize and turn brown. Remove, let cool completely, and garnish with a raspberry or strawberry and two mint leaves.
7. Voila! Makes 4-6 servings depending on ramekin size. Although it tastes divine as is, drizzling a little green Chartreuse, Grand Marnier, or Cointreau will take it to another level!