Nestled in Narayan Dabholkar Rd in Mumbai, the home of lawyer Mridula and leading senior counsel Ravindra Kadam exudes contemporary charm, with its airy interiors and interesting mix of modern art and traditional artefacts. The house is a product of the combined taste and vision of the Kadams and architect Nozer Wadia, and absolutely reflects the family's joie de vivre. We were delighted to take a tour.
Located on a leafy street in Malabar Hill, Mridula and her husband Ravindra Kadam's four bedroom house boasts a rare combination of remarkable panoramic views of the Arabian Sea, and absolute privacy from the street. In a household that includes their two sons Karan and Rohan and their daughters-in-law Aanchal and Radhika, this relaxed, uncomplicated interior made perfect sense. "We were after certain things and knew the look we wanted from the get-go," Mridula says. To her, the house is all about the family's hybrid personality. "We are into contemporary design with warm hues of mocha and biscuit offset by taupe and khaki," she says, while attributing the success to her team. "To ensure that the architecture and interiors would flow seamlessly, we hired a well-known architect and interior designer Nozer Wadia of Nozer Wadia Associates, who had worked on a number of other projects for celebrities like Saif Ali Khan, Amitabh Bachchan and Arjun Rampal."
As you enter the chic foyer, the stone statue of the Chhatrapati Shivaji Maharaj in one corner establishes an elegant architectural mood. On the other hand, the eclectic shade of red on the walls provides a unifying theme. "The house is not so big, so it was important to use cohesive finishes throughout," Mridula points out. The ground floor – which is devoted to a sitting room, dining area and a library – are much more vivid. In the living room, a glass coffee table rests leisurely on a hand-woven Kashmiri carpet, while a massive chaise lounge is offset by cushions in aqua and gold that convey minimal, understated elegance. "All of these pieces were very thoughtfully picked out," the lawyer states. Opposite is the dining room, where an elegant oak dining table – which the Kadams always decorate with scented flowers – is paired with a set of chairs customised for the narrow space. Placed around the dining table are the colossal veneer, a custom-made chandelier that hangs above the table, and a unique mirror that glazes the wall above. "This is basically the first thing guests see when they enter the residence," Mridula explains. She adds, "We needed something like that to draw our guests in and soften the contemporary side a bit." This room leads out to the bedrooms and the family room.
In the den, Mridula has cleverly compensated the space with concealed storage tucked within a dropped ceiling and tall bookshelves. "In our library, the cypress-panelled library walls were something we wanted to create because we are all avid readers. We also wanted to maximise the use of space, taking advantage of the high ceilings to give a large, airy and open feel to the home. Our den can double as a bedroom with a Murphy-style bed hidden behind our TV, and a sliding wooden partition allows it to be an extension of our living room," she adds. Handmade furniture is everywhere, including sofas, utility cupboard, armchairs and mirrors. "The process of customising is rare is inexpensive. The entire focus was to create a clean-lined and functional set, rather than an uncomfortable one," Mridula explains.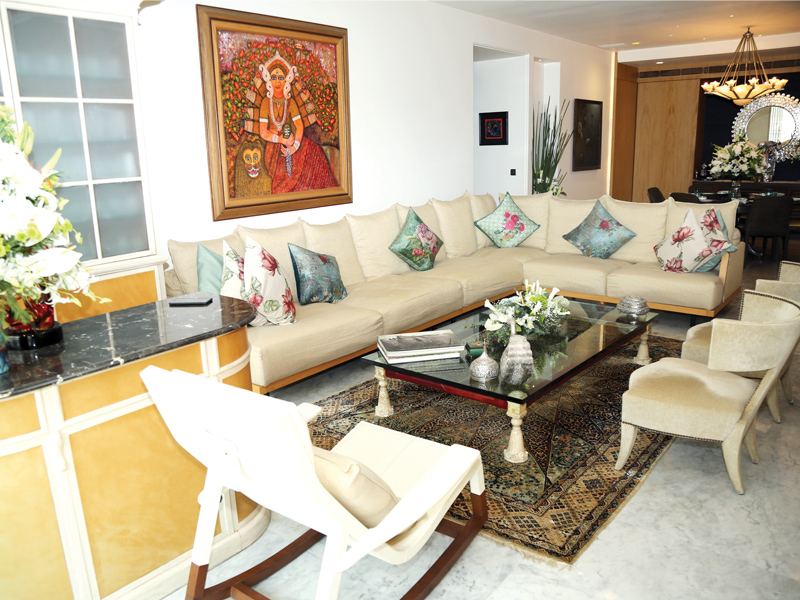 Throughout the house, the Kadams struck a note of uncluttered warmth by combining new, old and vintage pieces while emphasising its simple, modern architecture. "Our family's first love is travel. And the art and artefacts in our house reflect our travels," Mridula states. Ranging from ancient to modern, and abstract to representational – a Murano vase from Italy, Bohemian crystal from the Czech Republic, Mardi Gras masks and art from New Orleans – these treasures anything but bland. With a fabulous view and décor to match, the Kadams clearly enjoy every moment in their house.

– as told to Anisha