Festive Delicacies to Dig in! with Radhika Agarwal, Richa Chandra,Dr. Mrudula Ravi Kodipaka and Aanchal Bahirwani

Radhika Agarwal
Radhika Agarwal - Mrs. India Telangana 2019, Speaker and Awardee at World Economic Forum 2020 and the Managing Partner at a well-known jewellery store in Hyderabad - cooks according to her mood and occasion. If it is birthdays and anniversaries, she cooks fancy foods, and if it is festivals, then traditional food dominates. "I think no festival is complete without the traditional Indian food. Added to it, indulging in sweets especially homemade, mark a completion to our celebration. My children were fussy for traditional sweets and relished desserts and tarts. So I started giving a western touch to our desi sweets," explains Radhika. With the festive season around the corner, she is working on recipes and presentations with a twist to add colour and zeal to desi dishes. Speaking of her recipe of Nutty Bytes, she adds, "It is a customised sweet appetiser, mouth-watering and nutritious too."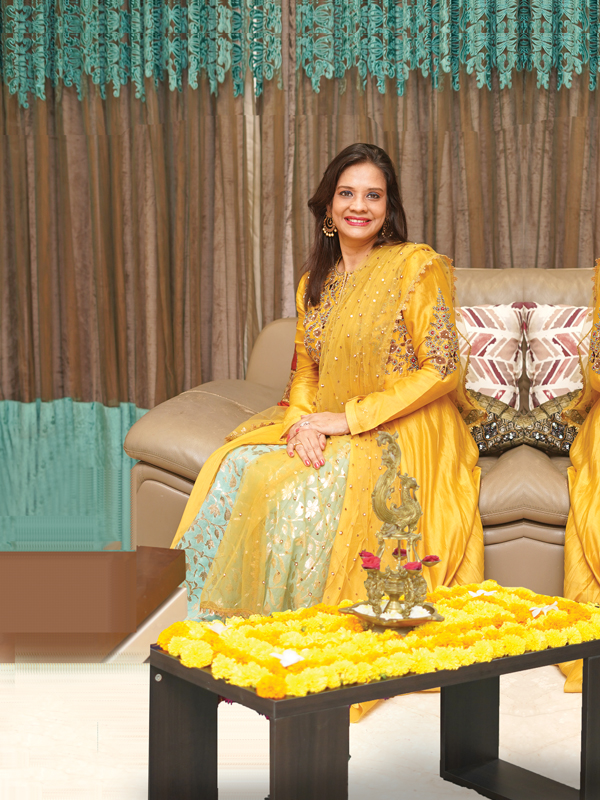 Nutty Bytes
Ingredients Qty
For Bar:
white chocolate
butter
milkmaid
flour
pistachio powder
cardamom powder
baking powder
milk
For Cream:
whipping cream
pistachio powder
cardamom powder

320 gms
150 gms
200 gms
175 gms
40 gms
1tsp (10pods)
2 tsp
120 ml

80 ml
1-2 tbsp
¼ tsp
Instructions
For Bar:
1. Pre-heat the oven to 160 degree C. Grease a pan with oil or line with parchment paper.
2. In a bowl, add the butter and white chocolate and melt in the microwave in 30 seconds interval.
3. Add the milkmaid and whisk.
4. Add the flour, baking powder, pistachio and cardamom powder and whisk again.
5. Lastly, add the milk and mix it all with a spatula. Do not over-mix.
6. Pour into the prepared pan and bake for 30-35 minutes till a toothpick comes out clean.
7. Let it cool completely and then cut into shapes.
For Pistachio Cream:
1. Whip the cream over an ice-bath till it reaches firm peaks.
2. Add the pistachio and cardamom powder and fold it in.
3. Using a piping bag fitted with a nozzle, make swirls over the cooled and cut bars.
---
Richa Chandra
Being a health professional and fitness freak Richa Chandra makes sure to cook everything fresh and healthy. Sharing her idea on the festive spirit, she says, "Most festivals in India are marked by the onset of a new season. So festive food for us is partly about introducing something seasonal and traditional in our festivities, anad it's partly about a bit of indulgence." Cherishing the Navratri memories of her childhood, Richa shares with us the recipe of besan laddus that her grandmother used to make. "It checks all the boxes for me - it has nostalgia attached to it, all three generations in my family love it, and it's a bit of a healthy indulgence!" she adds.
Besan Laddus
Ingredients Qty
chana dal
powdered sugar
dry ginger powder
cardamom powder
ghee
crushed pista
1 cup
1 cup
½ tsp
2-3 pods
½ cup
10-15 pcs
Instructions
1. Dry roast the chana dal in wide pan or kadhai.
2. Let it cool down and grind it into a fine powder.
3. Add powdered sugar.
4. Mix the powdered chana dal and sugar powder nicely.
5. Add the crushed nuts, dry ginger powder and cardamom powder
6. Gradually add ghee and knead it into a dough.
7. Then roll small laddus from the dough.
8. Decorate it with pistachios, yay laddus are ready!
---
Dr. Mrudula Ravi Kodipaka
Dr. Mrudula Ravi Kodipaka, Head of the Department, Century Super Speciality Hospital in the city, cooks all kinds of vegetarian and non-vegetarian food at home. Speaking about festive delicacies, she says, "Festive season brings along house parties and with that comes plates full of delicious mouth-watering dishes, we tend to consume an excessive amount of unhealthy food. So it's important to make a variety of food while taking health into consideration." This Dussehra, Mrudula puts down Karanji (also called Kajjikayalu) recipe and adds, "Traditional Maharashtrian Karanji recipe is a bit tricky and requires lot more effort than normal Gujiyas. But the final rich, flaky and puff pastry like texture is worth all the work".
Karanji
Ingredients Qty
For Filling:
clarified butter (ghee
semolina (sooji)
chopped almonds (badam)
chopped cashews (kaju)
charoli (chironji) seeds
poppy seeds (khaskhas),
desiccated coconut (nariyal bura)
cardamom (elaichi) seeds powder
raisins (kishmish)
powdered sugar
For spread:
clarified butter (ghee)
corn flour
For crust:
plain flour (maida)
salt
clarified butter (ghee)
Other ingredients:
water (to knead the dough)
ghee (for frying the Karanji)
plain flour (for dusting)
milk (for binding)

1 tbsp
1 tbsp
1 tbsp
1 tbsp
1 tbsp
1 tbsp
1 cup
½ tsp
1 tsp
¾ cup

2 tbsp
3 tbsp

2 cups + 2tbsp
a pinch
2 tbsp

as required
as required
1tbsp
1tbsp
Instructions
1. Heat 1 tbsp of clarified butter or ghee in a pan, add semolina, roast and stir continuously on medium flame till golden brown.
2. Add chopped almonds and cashews, charoli seeds, poppy seeds, and desiccated coconut. Mix well (after adding each ingredient).
3. Roast the mixture well by stirring continuously on a low flame till it turns light golden brown.
4. Place the mixture in a bowl; add cardamom seeds powder, raisin and powdered sugar. Mix well and keep aside.
5. Take 2 tbsp ghee in a bowl, mix 2-3 min and add cornflour. Mix till it turns smooth and creamy and keep aside.
6. In a large bowl, put plain flour, add a pinch of salt. Mix well.
7. Heat 2 tbsp ghee in a pan, when it turns piping hot; pour it on the flour. Mix well and form a lump. Add water and knead the dough.
8. Roll the dough into a cylindrical shape, divide into three equal parts and make a circular shape with each.
9. Take the first circular disk of dough, place it on a flat surface and apply prepared spread evenly on it. Place the second disc on it, press firmly.
10. Again, apply (spread) evenly on top of the second disk and place the last disc on top.
11. Roll the disk again using rolling pin, such that all discs are glued to each other; apply spread one last time and roll it in a cylindrical form.
12. Seal both the ends, cut it into two halves, and further divide into small chunks. The crust is ready.
13. Take some plain flour (1 tbsp) in a bowl. Take a prepared dough chunk in your hand, dust the side having layers with maida.
14. Place the dusted layered side downwards, press the dough, roll it using from only one side into a size of a Poori (repeat with all). Keep it aside.
15. Take 1 tbsp milk in a bowl. Place the disk on a flat surface, the same side as rolled and apply milk on the edges of the crust.
16. Place some prepared filling in the centre of the crust, stick the edges to make a half-moon shape, cut the edges with knife/ Karanji cutter. Press the edges with a fork to make a pattern. Cover and repeat with all.
17. Fry in hot ghee till golden brown (Karanji should be submerged in ghee).
18. Strain them out, let it cool and then store in an airtight container. Absolutely delicious, flaky and layered Karanji is ready to be served.
---
Aanchal Bahirwani
Aanchal Bahirwani is a designer who owns a chain of bridal designer wear in Hyderabad and has had numerous shows and exhibitions worldwide. The designer and her family love to experiment with various cuisines. However, their go-to comfort food is traditional Sindhi cuisine. "As Indians, I think in general, we always associate food with love. Food is our way of expressing love and hospitality. Moreover, Sindhi's are known to be foodies, and our family is no exception," she tells us and adds, "Every celebration is incomplete without good food. I have chosen Sindhi curry as it's our traditional family recipe and is an all-time favourite. Every family has a different recipe, and this recipe is one that has been taught to me by my mother, and she learnt it from hers".
Sindhi Kadhi
Ingredients Qty
oil
jeera seeds (cumin)
curry leaves
hing (asafoetida)
besan (gram flour)
green chilly (chopped)
turmeric powder
red chilli powder
water
curds (yogurt)
tomato (diced in big pieces)
vegetables largely diced (potato, gawa, peas, cauliflower, okra)
salt
coriander leaves (dhania)
2tbsp
1 tsp
handful
pinch
4tbsp
1
1 tsp
1 tsp
1 cup (as per required consistency)
1½ cup
1
2 cups
to taste
as required
Instructions
1. Take curd in a large bowl and beat well. Add water to it to prepare it to a chaas consistency.
2. Put oil in a pan and add jeera and hing. Stir in curry leaves and green chilli.
3. Add the besan and roast it on a slow flame until it turns to a golden brown. You would also get the aroma of the roasted besan.
4. Add the turmeric and red chilli powder and cook for a few seconds with the besan.
5. Pour in the chaas mixture get it to boil on low flame.
6. Add the salt, mixed vegetables and tomato. If you are using a pressure cooker, then cook it for two whistles. Otherwise, allow it to boil on a slow flame until the vegetables are fully cooked.
7. Garnish with coriander leaves.
8. Serve hot with rice.