Fast, Fun, and Futuristic

The Huracán Performante has reworked the concept of super sports cars and has taken the notion of performance to levels that were never seen before. The vehicle has been re-engineered in its entirety, in regards to its weight, engine power, chassis, and above all, with the introduction of an innovative system of active aerodynamics: ALA. The combination of these modifications and the skilled work of the team at Lamborghini took the Huracán Performante to complete a lap at Nürburgring in 00:06:52:01, setting a new record for best lap and becoming the fastest standard production car at the Shrine of Speed.
Exterior
All the new features of the Lamborghini's new sports car express performance. The front and rear spoilers, made entirely of Forged Composites, enable the aerodynamics to be actively exploited to achieve maximum performance by increasing or decreasing the downforce as required. The new, even lighter wheel rims hold the new Pirelli P Zero Corsa tyres, providing incredible grip.
Interior
The interior fully reflects the character of the supercar, that is to say being the fastest. The interior fittings are made from the highest quality materials— the seats are made of carbon fibre and parts of Forged Composites, while the upholstery is made from Alcantara. All extremely light materials contribute to an increase in performance.
Driving Dynamics
There are many aspects that make Huracán Performante the highest expression of the new concept of super sports car. These are: a more powerful V10 engine, massive use of Forged Composites to make it even lighter in weight, the LDF 7-speed dual-clutch transmission, and the new ALA active aerodynamic system that controls air and directs it in its favour. It has ruled the circuit and it will now rule the road.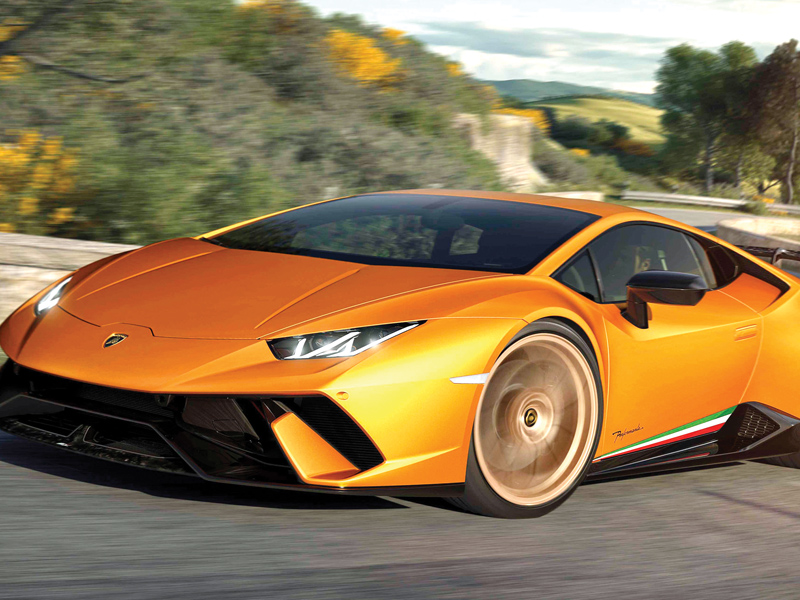 Engine
Totally renovated and redesigned with fluid dynamics optimised at both intake and exhaust, the engine in the Huracán Performante is the aspirated V10, with the highest specific power. The new intake ducts come directly from Lamborghini Motorsport's experience and improve response at all speeds. The double clutch transmission (LDF) has been further perfected and is now able to support even the highest performance. All this wrapped up in the even more vibrant and thrilling sound of the new lightened exhaust system. – Source: Lamborghini