The face of Cinema down the Road

Known as the largest producer of movies in the world, Indian Cinema as any other industry has been hit hard because of the Coronavirus outbreak. Everything came to stall after the country hit the lockdown; while some production houses opted for OTT releases, some are still looking forward to having a big opening at the theatres. The pandemic has led the film industry to rethink their game plan to survive the current and post-pandemic world. From producers, directors, actors, singers to spot boys, every person from the cinematic world has gone through some tough times in last few months and is waiting to be back on the sets and kick start the work. No doubt people will learn to live and shoot in the new normal; though a lot of aspects around the film making process will change in the coming times. To be able to paint a better picture of Cinema ahead of the road, we spoke to a few people from the industry about scripts, direction, production, styling and a lot more. – Srivalli

Elahe Hiptoola
Elahe Hiptoola is a successful producer in Bollywood industry who has worked on some coming-of-age movies such as Iqbal and Hyderabad Blues. The producer has also tried her hands on the movie-making craft as an actor and assistant director. In the city, Elahe is prominently known for starting and working for Lamakaan- an open cultural centre. Speaking of the pandemic, she says, "This is the first time we are all in the same boat. All we can do is, believe that good days will come back." Read ahead to know how the production houses are getting affected and the solution from the expert herself.
Ever since pandemic hit the world, a lot of movie releases have been postponed for next year. How has it affected the production houses?
I come from a side where movie release is a big thing. It's not an automatic thing that happens once you make a movie. Theatrical release is another struggle all together. People who are suffering are only big players. Other films that were lying in the producers' archives are finding a home on OTT platforms; they see responses like never before. But with big players, the pandemic is a bit challenging. They will not make as much money as theatre releases, but they will make money. They are being offered a lot for OTT releases.
Now when people are saying no to OTT, they're putting a lot of things at stake. This was the normal case when pandemic just hit us. Now we don't know when the theatres will open. The uncertainty is bothering people. The reason why people don't want to go to OTT's with their movies, could be that they want that film to be seen in the theatres! Another reason is that people consider it a step-down as most of the movies are made for theatres. Also, it's not always producers, but sometimes the stars are too holding back the film. Besides, even the platforms at present are becoming choosy as they know filmmakers don't have many options; negotiation has become tougher. Who are really suffering are the theatre owners and people working there.
So can we say that with pandemic only small budget films are getting better opportunities and filmmakers would incline towards such stories?
I don't think so. It's a different universe we occupy as artists. Even if you see history, recession or any such situation, it's not like entertainment took a back seat. The biggest films have come after that. For example, they started shooting superhero movies in the west. People eventually find a way to do it. They'll learn to live with the virus. We might figure out clever ways, and presentation might change a bit. It might take longer and seem difficult, but at the end of the day, we are too passionate about what we do. People are open to more ideas and concepts. Small stories are working on OTT which won't have worked in theatres. But the bottom line is storytelling won't be compromised.
As a producer would you opt for OTT releases for your movies or instead look forward to the theatrical release?
See a filmmaker wants to reach out to as many people as possible with reasonable returns. Even in Iqbal, the perception was big, and it was not about the numbers. For me, it has to get lauded. We have all seen movies that make big money, but the story doesn't talk much.
But, no filmmaker makes their film for OTT. All my films have gone to theatres. OTT are always a second mean of revenue unless they are making their original content. In that case, I'll definitely go for it, but otherwise, it's obviously going to be theatrical. And after that, the movie can go on to whatever platform it can.
Do you feel it'll be difficult to bring people to the theatres after the pandemic?
In my opinion, theatres will not go anywhere. It'll divide the audience definitely. Even before the pandemic, people went to theatres for an extravaganza. When you spend so much money, it has to be huge otherwise you'll want to watch it on OTT platforms. Nothing in this world can replace the cinematic experience. Sitting in a dark room to watch something larger than life unfold in front of you, that is what Cinema is.
---
Jayanth Paranji
Film director Jayanth Paranji is the veteran in the industry who is popularly known for his work in Telugu cinema. Over the years the director has created some blockbuster movies with several actors including megastar Chiranjeevi, superstar Mahesh Babu and power star Pawan Kalyan. Unlike many industry people, Jayant Paranji has a very positive outlook towards the pandemic and filmmaking scenario. Hear it from the expert.
In a post-pandemic era, how will the face of Cinema look like? What major changes will be seen in the storytelling process, and what are the challenges that a filmmaker may come across?
In the past six months, people got hooked to OTT platforms - the only source of entertainment right now. This scenario has led them to discover world cinema, and this will change audiences' taste. They are a lot more aware of what they are consuming. Earlier in our industry, we could get away with a lot of factors, but now there's no chance of that happening. People will point it out and call us out. Thanks to the pandemic as the audience will want original and quality content. I feel all the grandeur and star's aura is history now, and I am very thrilled about that. For filmmakers who want to create good content, this time has been a boon in disguise.
Also, getting people to the theatres is one of the difficult tasks as they are comfortable with this OTT exposure now, it going to be tough to break that.
With so many protocols to follow, it will definitely be difficult for a big crew to shoot in different locations the same as before. How are filmmakers planning to cope with that?
It depends on the script. If one wants to do something like Mahabharata or Ramayana, they'll have to wait till the vaccine comes and everyone is cured. I'll talk about myself; there were times when I had seven assistant directors on set. I would tell the first person what to do, he would tell the second and then the chain goes on, and the last person will eventually do the job. We need to cut unnecessary staff; it's not needed. So now the needy and talented will be able to hold on, others will disappear. Everyone will cut corners, and producers will be conscious about it.
The down part of all of this is that it has taken the livelihood of a lot of people, especially lower run labours, carpenter, junior artists, drivers; all those people who survive on daily wages. My heart goes out to those people.
With so much outrage in the society about nepotism lately (case in point RRR), will the filmmakers be more aware of casting?
Don't you find it's strange that people are only protesting about Alia Bhatt and not protesting about Ram Charan or Tarak who are both from film families? I don't understand society at all; people are becoming selective and completely biased. If nepotism is the issue, they should protest about everyone, but they don't do that, they see whatever is convenient for them. Nepotism has been in India for centuries. A big star's son will see opportunities easily, but if he's not good enough, people won't watch his films. I don't think filmmakers think about it, as eventually the talented will stay in the industry. Star kids might get more opportunities, but producers won't put money on someone who cannot get the audience to the theatres.
In the past few months, we have seen few movies release on OTT platforms, while few, on the other hand, are still on hold and are looking forward to a theatrical release. Which of these two scenarios speaks to you more?
Let's take an example of Avengers; I wouldn't want to see it on my laptop or phone. I would rather go to the theatres. On the other hand, small films that have good content should go to OTT as people are more receptive and movies will get viewership. Again, it depends on the script. Even before the pandemic, I know a lot of films that didn't do well at theatres but have worked on TV or OTT platforms later. You definitely can't release big-scale movies like RRR on OTT.
I'll be open to OTT releases; it all depends on the script. I have got two films, underproduction. One is a Rom-Com, young musical love story, and I would rather wait for the theatres to open up and release it. On the other hand, I have a gritty action film, it's a prison break film, and I have decided mentally to go straight to OTT with it. I know that content will work better on the OTT platform.
Any piece of advice for budding artists?
I am from a generation where projects were set up and not the scripts; if the star had dates, they would say let's set up a script for him. I am glad it has changed, and now there are better opportunities. I would say this is the best time for creative people, things are changing, and content is important. Now is the chance, the world has opened up, and the entertainment is going worldwide.
---
Priyadarshi Pulikonda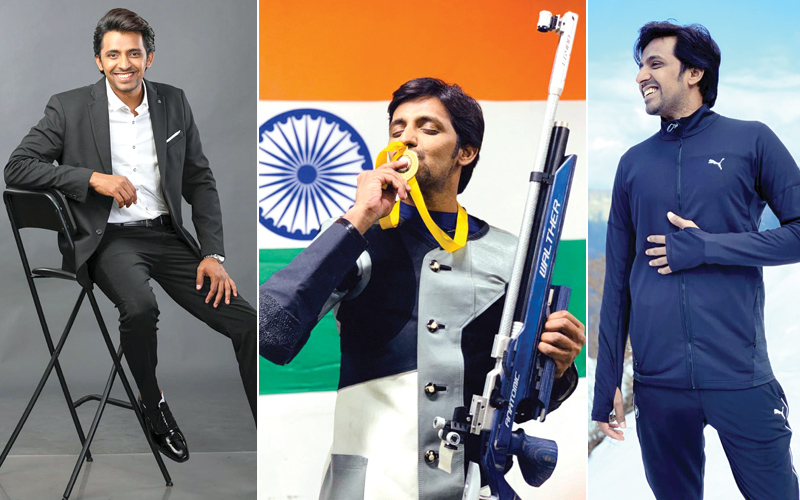 Priyadarshi Pulikonda is an actor who walked right into the audiences' heart as Kaushik with that one dialogue in Pelli Choopulu, "Naa Saavu Nenu Sastha Neekenduku". He shares with You&I the scenario of filmmaking from an actor's point of view and gives his opinion on the idea of OTT and theatrical releases in a post-pandemic world. The actor is now back on sets for his upcoming projects and is also looking forward to the theatrical release of Jathi Ratnalu and Naandhi in coming times. Adding to it, the actor says, "I envy my friends from different career backgrounds who are currently working from home. Being an actor, I have to take a few risks to survive."
Coronavirus outbreak has affected all the sectors massively, especially the film industry. It has come to a halt, and things will take time to move forward. Financially everyone is getting affected. Do you think actors and actresses can help or contribute to the film industry to help it get going?
In the past few months, a lot of actors and people from the industry have come together to raise funds and support ones who have been affected badly during this crisis. Now that the productions have started slowly, I am hoping that things will get better eventually. To be honest, actors like me have also gone through a difficult time and have survived this pandemic with the help of their families and a bit of the saving they had. And not just financially, but mentally too every stratum of our society has been trying to fight back, and nobody knows what tomorrow will be like.
Since you have tasted both OTT as well as theatrical releases, as an actor, what are the advantages and drawbacks of releasing movies in both the platforms?
It's a difficult question to answer what weighs more. I think COVID has settled the fight that both will be here and will survive. Theatrical and OTT releases are two parallel experiences, and there's no comparison. For an actor and the movie, it's important to understand the fragment of the audience; they are ones who have power in terms of consuming. OTT is not a threat to the theatre, but we have now understood such platforms' importance too.
Personally speaking, I am someone who has told short stories and has emerged as a small artist. When I was shooting in a small village recently, I saw that almost everyone there had a phone and had access to the internet. As an artist, I want my work to reach to more and more people, and in such a situation, OTT will be helpful. Last year I did a movie called Mallesham, it did not do so well in theatres, but when it came to Netflix, it received a great response. People loved the story. And now the love I am getting for Loser is irreplaceable. But then I have also had a few great releases on the big screen and would definitely love to see more of that. I think we are all discovering several facets slowly.
After the pandemic hit us and people locked themselves in, they have started to consume a lot more variety of content than usual. They also appreciate all the new ideas and genres that they have never explored before. So will you be more conscious while choosing scripts now onwards?
In those terms, nothing for me has changed. I have always chosen scripts that touch my heart. It is something that drives me to wake up and go to work every day. There should be a connection between the viewers and the storytellers. The story has to be the hero; that is what wins at the end of the day.
As you have already been to the sets and started working, what are your views on the entire process right now? How are things working?
Before starting the shoot, the entire crew has gone through a COVID test, and we are making sure that no infected person is on the sets. Plus, there are sanitizers, masks and gloves everywhere. Everyone is wearing masks and maintaining social distancing. While actors are in front of the camera, they are not wearing masks, but the rest of the time it's the same as others. It is so difficult to shoot in such times, but we are learning to survive. My biggest concern right now is my family; by stepping out, I am putting them at risk, and that is extremely alarming to me.
---
Ravikanth Perepu
Ravikanth Perepu is the co-writer and director of well-known Telugu films Kshanam starring Adivi Sesh and Adah Sharma in the lead and Krishna and His Leela featuring Siddu Jonnalagadda and Seerat Kapoor among others. The writer-director won a Nandi Award for Best Screenplay Writer for Kshanam and is now all set to give back something to the art community through his company Circus that he co-founded with his best friend. Taking from his experience, Ravikanth helps us understand different facets of filmmaking in a post COVID era.
In a post-pandemic era, how will the face of Cinema look like? What major changes will be seen in the storytelling process, and what are the challenges that a filmmaker has to go through?
Stories have always been about rooting for the characters we relate to. I don't necessarily see that changing. Like how we got used to seeing people using mobiles on screen, we'll get used to seeing masks I guess. Working with a lot of people on set would be the only challenge until we have a vaccine.
With so many protocols to follow, it will be difficult for the crew to shoot in different locations as before. So do you feel this will affect the authenticity of the plot in terms of the story setting? How are filmmakers planning to maintain that authenticity and culture of the particular place without having to go there?
Yes, there will be some turbulence getting the authenticity of the story right, but it all depends on the filmmakers and the story they want to tell until the situation comes back to normal. You need to see things in a different lens and smart-work your way out to get the desired output.
There are so many directors, actors and producers who are known for their larger than life movies. Be it the huge sets of the film, or big action sequels, to create such visuals it requires a lot of manpower, resources as well as a big budget. With the current and near-future challenges, would you say that the movies will become more basic and simple instead of maintaining the grandeur as earlier?
Having the OTTs on rising and content flowing, it works in favour of us (filmmakers). Until things come back to normal, we have the opportunity to tell a simple, warm and funny stories that won't need big setups. But the Cinema has always been about larger than life, and it will continue to be.
In the past few months, we have seen few movies release on OTT platforms, while few, on the other hand, are still on hold and are looking forward to a theatrical release. Which of these two scenarios speaks to you more?
It's actually tough to answer. The thought process varies from project to project based on their budgets. It is a financial call.
What are the positive changes that you see in a post-COVID movie culture?
Not just in the movies, but I'm hopeful to see hygiene as a big positive change in a post-pandemic world.
---
Raghu Kunche
From being a music director, producer, actor and singer, Raghu Kunche has a lot of feathers in his cap. He was recently seen playing villain on-screen in Palasa 1978 and has also given music to the film. In the times of pandemic, the music director tried his hands on a short film as well as a web series. One of the interesting projects ahead the road for Raghu is to play the character of Murugun, one of the accused in the Rajiv Gandhi assassination. In conversation with us, the music director speaks about the pandemic, OTT platforms, the essence of music and a lot more.
With a very few movie releases in 2020, how has it affected the music industry and what could be the challenges down the lane? How are musicians planning to cope with it?
Well, yes, there are a lot of challenges ahead. However, not only music but every craft has been affected. Speaking of music, a lot goes behind the making; from lyricist, sound technicians, singers to background scorers, 2020 has been a big loss for all the artists. To be honest, we don't exactly know how to cope with it. All we can do is practice our craft. Some people have turned towards social media in the times of crisis as things worked out that way for them. But, it can't be a case for all.
With OTT releases, will the essence of music get affected as listening to it in a theatre is much more different to listening to it on a TV or laptop?
To bring out one good song, we use different instruments, singers and other artists. Through OTT, the entire hard work gets affected as it is not at all impactful. Case in point, my recent work in a movie called Palasa 1978, which released on Amazon. For the film's background score, I worked straight for 35-40 days, and the needed music required a lot of musicians from different places. So we arranged all that, but when the movie came out, I noticed a lot of people were listening to the music on their phones and laptops, some were not even using headsets. That actually broke my heart, because all our efforts went into vain, and the essence of the music was completely lost. And on top of that, a few critics are writing about the technical issues and the poor sound quality; my question to them is how can they raise such questions just by listening to it on small screens.
Earlier, we used to test the music and sounds in generalized speakers, but now the pandemic has led us to test the sound on our phones, to reach out to the audience. The quality of music has certainly fallen.
How are musicians working during the pandemic? We saw a lot of them opting for virtual concerts. Do you feel like we can see more of it in future?
People have been conducting virtual concerts. In the first few days it seemed okay, but later there came some payments issues to put up a song on social media. This has led a lot of musicians to back out from that option. Additionally, virtual concerts are not easy to do because of technical and connectivity problems. So I hope we get through this pandemic soon and things can go back to the way they were.
Lockdown has affected a lot of us in terms of creativity and imagination. Some have seen a downfall while some have come out with even better ideas and art. Which one of these scenarios has been the case for you?
There's no doubt that this crisis has affected the creativity a lot. I believe this is a good time for us to discover new things, instead of sleeping all day and binge-watching movies. I learnt a lot about sounds and mixing, and practised those too. It'll definitely help me in the days to come when I go back to work. Instead of feeling bad about this time, I feel we can work on ourselves and enhance our skills.
---
Digangana Suryavanshi
Known for her work in movies like Dhanusu Raasi Neyargale, FryDay, Jalebi and the popular television show Ek Veer Ki Ardaas... Veera, Digangana is one of the multitalented artists in the industry. Besides, acting Digangana has immense love for music as well as words. The Dadasaheb Phalke Award-winning actor has also penned a book called 'Nixie the Mermaid and the Power of Love: A Globe with Several Different Worlds in It!' Read to know more about this emerging talent's views on the future of Cinema.
The coronavirus outbreak affected all the sectors massively, especially the film industry. Financially everyone is getting affected. How do you think actors can help or contribute to the industry to help it get going?
Well, definitely the entertainment industry has been affected by the Coronavirus. And I think everyone in a financially sound situation can be a help for the ones in need, especially for the daily wage workers. But I'd also like to shed light on the fact that just like all the other people in different industries have to deal with their expenses, actors too have to deal with theirs. And during the pandemic, a lot of actors don't necessarily have work, and that's sad!
Now, a lot of viewers are inclined towards the idea of watching films on OTT platforms because of several reasons, including the cost, social distancing, and comfort. As an actor are you now open to the idea of working in a web series and an OTT movie release or are you more inclined towards having a theatrical release?
I'd definitely like to do web series, and they are appealing for sure, there's no doubt about it. But in my opinion, films are made for theatres. And for me, it's not just a theatre; it's an experience! And I'm praying, and hoping that by God's grace things will be fine soon, and we will all be able to make more films and watch them in the movie halls.
Over the years, we all have seen male actors getting paid more than the female actors. However, with time, things started to change, and we saw many actresses get recognized for their work and get equal pay. Now that the pandemic might affect the budgets of the upcoming movies, do you feel that we might see female actors struggling to have equal opportunities?
If there's a cut in the budget, I think it'll be for all; then there will also be a cut in the fare of tickets; everything is related! And if that doesn't happen, then I don't think there can be bias just for actresses.
During the pandemic, people have started to consume a lot more variety of content than usual. They also appreciate all the new ideas and genres that they have never explored before. So will you be more conscious while choosing a script now and have a different outlook towards the entire process?
Content is the king, and that's the ultimate truth! Now I think it's far more important to do good scripts as people are exposed to global entertainment. And so naturally, the expectations have gone up really high! And for me, the script matters the most.
What is the one thing that you're worried and happy about the future of movies?
Right now I'm worried as there's tremendous uncertainty on the opening of theatres anytime soon. And the filmmaking process hasn't picked up yet. But somewhere I'm happy as I have faith that things will definitely be fine! And after we overcome this whole pandemic phase, there will be a conscious effort made by filmmakers to produce
better projects.
---
Supriya Madduri
With 11 years into the talent management business, Supriya Madduri is currently working with a few top production brands and creative agencies in the country under the banner 'A Cut Above'. The company till date has done over 180 odd films and 80+ brand associations. Supriya and her team offer one-stop solution services to all things entertainment with an emphasis on uber-transparent work the culture. Here's what she has to say about Cinema and pandemic.
Last few months have been a difficult time for all of us. How has it affected your work?
It's been the most unexpected-introspective few months. The year began as a googly for me as I woke up to my dad passing away on the very first day of the year. Given the prevalent scenario, work is on a standstill. Despite all this, I feel blessed in a way to be alive, healthy and able to extend help to people working with us.
The pandemic has forced a lot of filmmakers to opt for OTT releases. How has it changed the casting process, and what is the actors' take on it?
There's a new normal at force. Right from safety protocols to the incumbent commercials involved - we are on a two-pronged journey here; one is to understand where the clients are coming from and explaining the same from their talent perspective, another is making sure both sides are mutually at comfort. As far as OTT as a platform is concerned, most talents, both young and veteran, understand its impact and its far-reaching ability in the hour. Of course, there's no denying that the real magic of cinema watching in a darkened theatre is unmatched.
To cope with the time and adapt to the new normal, everyone has come up with a new survival plan. How are you planning to do that with your clients and yourself in terms of signing new projects?
You are aware that the last six odd months have been draining for each & every organization across various platforms. We have been working closely and considerately with several brands on revisiting associations- it's laudable that almost every talent has graciously understood the pandemic & its impact on businesses. Everyone's come together to handhold each other on best effort basis. As far as films are concerned, talents have been most supportive of the new practices. All are waiting to get back to work as before. Of course, there are financial casualties; it's almost a zero revenue year…but let's focus on new tidings.
According to you, what changes could be seen in movie sets in the near future, and how are you planning to manage things in such chaos and difficulties?
Definitely, a lesser number of people will be on sets to eliminate the risk of virus. Whilst movie sets are mostly safe places, a lot of sanitization practices will be in place. We will opt for more virtual meetings and lesser in person unless avoidable. Micromanagement will be a way of life as never before… we have to coordinate all logistics and support the staff from far cutting down set visits and not even thinking of the word- difficult, just happy to be able to get things going.
Because of the constrained interactive spaces, did social media do your work easy/hard in filling the gap between celebrities and audiences?
For someone who is not exactly a fan of zoom meetings and video calls, that is what one has been doing most work through the pandemic (laughs). We have a fantastic team that sets up all things digital to make things easy. It's a handy tool for celebs to stay in touch with their fan-families & extend aid as required from time to time. These past six months have taught us how resilient we can be, and I think social media has been an integral part of knowledge transfer.
---
Ashwin Mawle
Ashwin Mawle has been the stylist behind a lot of gorgeous ladies and handsome hunks in the film industry and mostly Tollywood. The celebrity fashion stylist has worked with Pooja Hedge, Lavanya Tripathi, Raashi Khanna, Varun Konidela and a lot more actors from the industry and helped them shine with his craft. Ashwin is also the name behind making the actors look good in several films, including Jr.NTR in Nanuko Prematho, Kajal Aggarwal in Darling, Allu Arjun in Arya 2. Speaking to us, Ashwin shares the challenges he went through during pandemic and his thoughts on the future of styling.
From movie shoots, award shows to press conferences, a lot of events have been postponed. This might have affected your professional life too. What were the challenges you came across, and in what ways are to coping with it?
Yes, I did face and am still facing a lot of problems. I had all the costumes ready for the shoots and even sourced outfits from various designers across India and abroad for styling that are still with us. I got customized outfits done for the award functions and have also sourced outfits for film shoots from the designers. There are continuity scenes where the outfits are used again; there is a lot to sort out…And this has not only affected me professionally but personally too. I have almost 11 projects going on and all of sudden when everything is at a standstill for such a long period; it's really getting tough.
When shooting for films begins, it might not be the same case as before. A lot of factors will change, including the size of the crew, the budget of the film, as well as the availability of resources. How do you think it will affect/change the craft of styling?
The film shoots will take time to resume. Lately, I have been working a couple of AD films. The set atmosphere is entirely different now; it's more like a hospital or chemical factory where everybody is in PPE kits, wearing masks, carrying sanitizer bottles. It's good that everybody is taking all the needed precautions, but vibe wise; the new normal should not be the actual normal. We all want to get back to the real normal life.
In the past few months, we came across a new concept, which is virtually styling a celebrity for their photoshoots, interviews or zoom conferences. What are your views on virtual styling? Do you see it as a future of styling?
Well, definitely I don't see a future of virtual styling, and I would not opt for it. The concept of virtual styling came because of the pandemic, and we should definitely not see this as a future. Styling involves one to one involved with the actors; I take many options, mix and match them, and the trails happen, and then we decide which is best, and further proceed with hairstyles and makeup… In virtual styling, we are restricted to very few options; this will definitely not work. Why do we have to get used to something that the pandemic has given us? We have to get back to our normal life, get back to a better life and a better future.