At just 20 years of age, Abhilasha Bhuraria is often referred to as a globetrotter by her friends. Born and brought up in Hyderabad, she is currently a global business student majoring in finance. An avid photographer and videographer, she loves capturing the little things on her travels. Her motto in life is "Fill your life with experiences and not things", and she believes her quest for global domination has just begun! A traveller, not a tourist, she shares with You & I her latest trip to Australia.
"Australia was one country I always had my eyes on. The country is for the adventurous soul, and the character of the people defined the place for me. I couldn't wait to travel to Australia, since it was a reflection of my personality," she says.
She travelled with several friends she made at her university. Over lunch one day, a conversation led them to book impromptu flights to the east coast of Australia, and so they began their adventurous trip in Sydney, the heart of the country.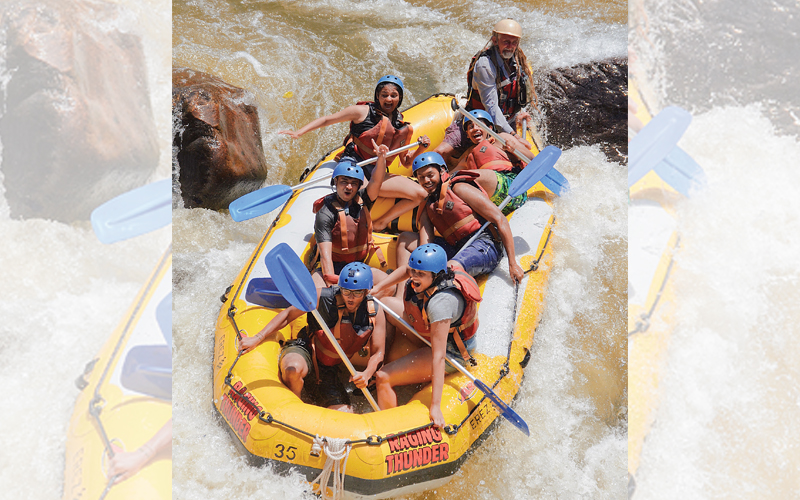 They began with the beautiful Harbour Bridge, and in addition to just gazing at it, they climbed over and kayaked under it. Their visit to the Opera House left them all awed by with its grand theatres and architectural intelligence. For the complete Sydneysider experience, they surfed at Bondi Beach, and lazed in the ocean baths and rock pools while enjoying a beer.
The next leg of their journey took them to Melbourne. Often referred to as Australia's cultural capital, they visited the beautiful art galleries, Hosier Lane with its remarkable graffiti, and touristy spots like Federation Square and Botanic Gardens. Walking around the Yarra River and Kilda Beach, they spotted penguins! Abhilasha took loads of pictures for her Instagram at Brighton Beach, with all the colourful bathing boxes, and the Great Ocean Road. She highly recommends renting a convertible for the drive, to better enjoy the breath-taking ocean views.
Next they flew to Cairns. At liberty to be their most adventurous, they started off with the Skyrail cable car overlooking the dense rainforest of Cairns. The guides explained how the rainforest was formed and talked about the peculiar species of flora and fauna. The group also got to experience the dancing and singing of the Aboriginal tribes that are native to the state. They returned through the Kuranda Railway, which passes through a waterfall and dense rainforest.
Next on their itinerary was the legendary Great BarrierReef – the highlight of their trip. They took two introductory dives, a snorkelling session where Abhilasha learnt the skill of deep-sea diving, and was introduced to someof the most extravagant living species she had ever seen. They were all awestruck by the brightly coloured corals that are home to a variety of species of fish and sea creatures. They spotted turtles, starfish, stingray, baby sharks, and even the classic clownfish (of Finding Nemo fame!). Quite a refreshing experience, it made her ponder over the fact that there's so much of the world humans still haven't seen.
The next day they off they went to Fitzroy Island, where they kayaked, paddle boarded, jumped on water trampolines, and learned about coral species and coral bleaching in a glass boat tour. After that, they drove up to the Tully River, an hour away from Cairns. Known for its rough and rocky flow of water, they jumped cliffs and rafted under the waterfalls of the majestic river – an experience she highly recommended.
They also visited Innisfail, Queensland, for skydiving. After a mesmerizing vineyard tour in Hunter Valley, where they tasted various wines, they took in a beautiful sunset overlooking the city from Bald Hill in Wollongong. They ended their trip feeding kangaroos and koalas at the Royal National Park, and trekking at Palm Beach, to get to stunning views of the beaches and cities.
"I would 100% recommend Australia to young people, to get out of their comfort zone and engulf themselves in the whirlwind of activities this place has to offer," she concludes.
– as told to Devanshi