When city event managers Neetu and Puneet Arora had to travel to Thailand on work, they were thrilled. It was the perfect chance for them to explore Chiang Mai, a quiet city in the north known for its cultural and natural attractions. Here's what they did on their trip.
It all began when we decided to explore a new place while away on work. After much research and many discussions, the destination was decided – Chiang Mai, Thailand, about an hour from Bangkok. A small and peaceful place, its people are warm and friendly, making visitors feel right at home. The first day in Chiang Mai began early; we didn't want to miss out on anything the city had to offer. Our itinerary was all chalked out – an amazing jungle trek, Jungle Flight, about 45 minutes from our hotel.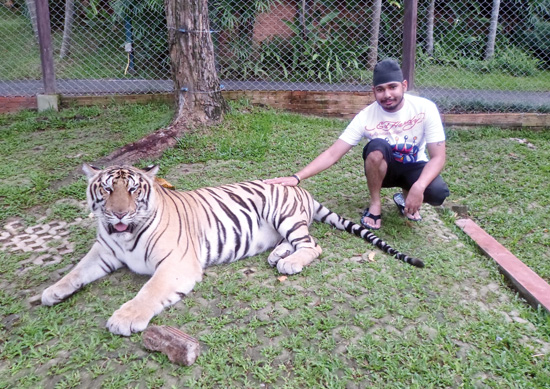 Soon after we got to Jungle Flight, we were strapped into all the necessary safety gear before heading off into the wilderness. A short hike later, we were zip-lining from tree to tree; it was exhilarating! We eventually arrived at the longest zip-line in the world, 300 metres long. Though we were a little scared, it turned out to be such a beautiful experience. Everything at Jungle Flight was interesting – zip-lining, trekking, and rappelling in the Chiang Mai jungles are definite must-dos whilst in Thailand.

The evening was reserved for nocturnal animals, and we were to meet them up close. It came as a surprise to see the herbivores roam free – giraffes, zebras, deer and wild cows were all strolling around, and some even climbed onto the tour buses! We got the chance to feed most of them – very surreal. After the safari, we ate at the restaurant overlooking the entire grounds – the view was to die for!
The following day was packed with more adventure headed our way as we arrived at the Elephant Village. We opted to go on a crazy river-rafting adventure with a twist: we had no seats, no sides, and no safety harness. The only things on us were our life jackets. It was quite the adrenaline rush clinging onto the raft, water splashing around us as we hoped not to fall into it. After 20 minutes, we were back on solid ground and off to go sightseeing in the jungle – on an elephant! The pachyderm took us into the jungle through a river crossing; we got drenched but were thoroughly happy!

Every night included a trip to the night market, where we enjoyed the roadside shopping experience. You can get almost anything at very affordable prices, and you can even bargain to less than 50% of what is quoted! Some of the stalls had really great merchandise that you can't even find at branded stores. There are eateries scattered around the place, too, including Subway and McDonald's. But it's the seafood that is the most delicious and popular; they have a huge variety of specialities.
Our last day in Chiang Mai was more relaxing, just right for recovering from the two busy ones before it. In the morning, we went to the Tiger Kingdom, where you get a true idea of how it feels to be powerless. You are given the choice of tiger you want to visit – small, medium or large. As adventurous souls, we picked the large cats. With fear and apprehension in our hearts, we entered the cage thinking there would be only one tiger. We were prepared to take a few pictures and leave, when to our astonishment we saw not one, but six big cats!

We were really scared, but we stuck it out. With the help of the trainers, we got some unimaginable snapshots, after which we made a swift walk to safety! Our only protective net was a rather skinny trainer – not the most comforting! Nonetheless, it was beautiful to be so close to and able to touch those magnificent creatures of the jungle.
Our next stop that day was at an orchid farm. We saw some stunning flowers and learnt a thing or two about growing and taking care of orchids. It turned out to be our last stop before heading back to Bangkok for a day of pampering and retail therapy. We shopped at the MBK and Platinum Malls, buying nearly everything we could get our hands on – clothes, watches, bags, and much more. We even had to buy a new suitcase to carry all the things we bought!

We headed back to Hyderabad with Chiang Mai fresh in our minds and a little bit of it in our hearts. It was a very special and unforgettable few days. – as told to Saloni